A victim of the Parkland school shooting fought back tears on Monday as she detailed her recovery from multiple gunshot wounds, and thanked the doctors and first responders who saved her life.
Maddy Wilford, a 17-year-old junior and basketball player at Marjory Stoneman Douglas High School, spoke alongside her parents, Missy and David; Dr. Igor Nichiporenko and Dr. Evan Boyar of Broward Health North hospital; and Lt. Laz Ojeda of the Coral Springs Fire Department following her release from the hospital.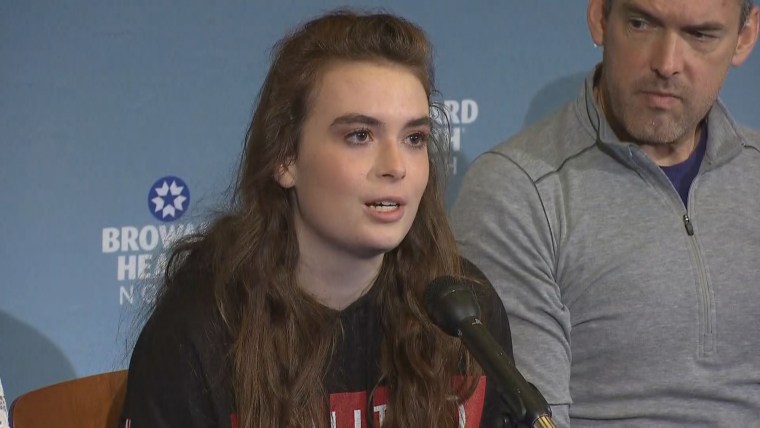 RELATED: How the Parkland survivors became advocates for gun reform
"I'm grateful to be here and it wouldn't be possible without those officers and first responders and these amazing doctors, and especially all the love that everyone has sent," Wilford said tearfully.
Wilford was transported to Broward Health by a team of first responders, including Ojeda, who said she "appeared deceased" and in shock when she was rescued. After being shaken by a Broward County sheriff's deputy, she showed signs of life and was given oxygen and fluids.
RELATED: Parkland school shooting: Authorities investigate deputies who stayed outside
According to Nichiporenko, the hospital's medical director of trauma services, Wilford sustained at least three large-caliber gunshot wounds during the shooting, in her chest, abdomen and right arm. She underwent three operations in 40 hours, including one to repair her shattered ribs, and will eventually require therapy for her right hand because of tendon damage.
Nichiporenko said Wilford was one of several shooting victims brought to the hospital. "At that time, we had three pediatric patients coming to us with multiple gunshot wounds. One of them was Maddy," Nichiporenko said. "When Maddy came in she was pale, she was not responsive, she was in shock."
Nichiporenko noted that Wilford's young age played a large part in her relatively fast recovery, limiting her hospital stay to less than seven days.
RELATED: FBI got tip on Florida shooting suspect Nikolas Cruz in January, but didn't 'follow protocols'
Echoing their daughter's praise for the medical workers, Wilford's parents also stressed the role that prayers and moral support played in their daughter's recovery.
"I see this as, yes it is a tragedy, but I would like to try to find a way to find the positive in what has happened here in our community," Mrs. Wilford said. "What I feel very strongly about, first and foremost, is the power of prayer. We have had an outpouring from people that we don't know, people that now I consider to be our friends."