The students of Marjory Stoneman Douglas High School just want a normal school year.
But as they return to class on Wednesday, six months and one day after a shooting at their Parkland, Florida high school killed 17 people and wounded 17 more, several students said "normal" still feels out of reach.
"At the end of the day, I'm not going to feel safe at school because I don't feel safe anywhere," Jaclyn Corin, 17, a senior and March for Our Lives activist whose friend Joaquin Oliver was killed in the shooting, said.
Haylee Shepherd, 16, a junior who was diagnosed with post-traumatic stress disorder after hearing the gunfire from her classroom, was not able to return to class last school year — whenever she approached the building, she began crying and had to turn around. Shepherd plans to finally go back for the first day of school, with her service dog, Spree, at her side to keep her calm.
"I think having Spree with me will help, but I'm sure I'll still be a little nervous," Shepherd said. "But honestly, Douglas is probably the safest school to be at right now."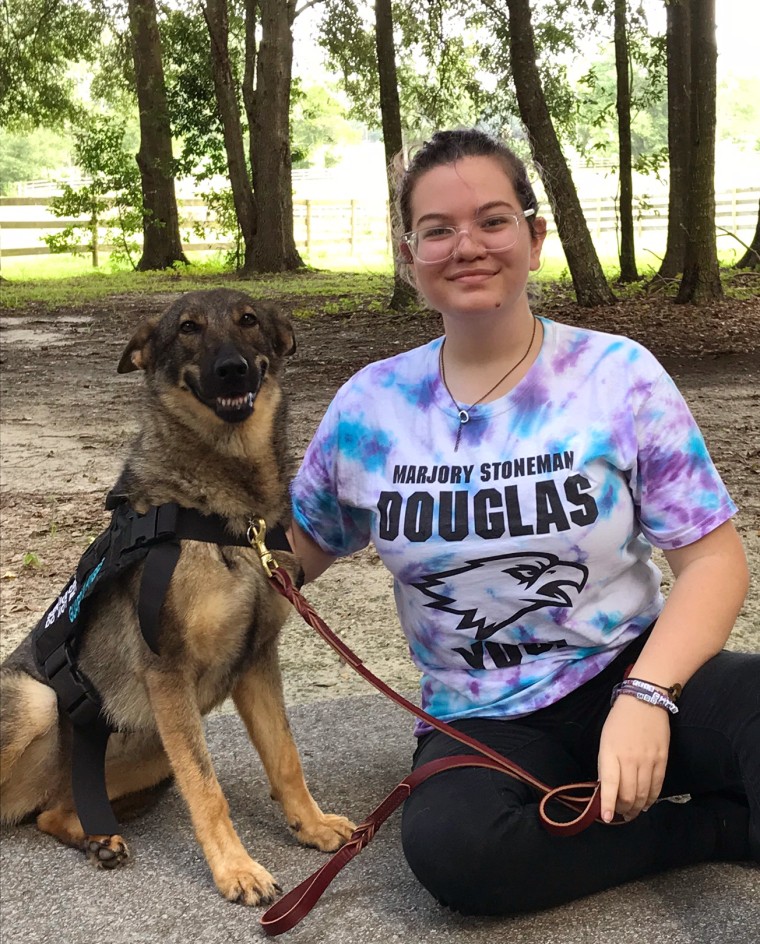 Still, several students said they're concerned about how new security measures will affect their routine, while others said they're nervous about returning to a normal academic workload, which never fully occurred last school year after the shooting.
Some teachers said they're worried about how to address the shooting with their students, with many apprehensive about the school's plan to resume Code Red drills, which aim to prepare students and staff for a campus intruder but could trigger students' anxiety. The school didn't do any Code Red drills after the shooting but teachers said they will do 10 this school year, and some said they worry the drills could trigger anxiety.
"Even the drill is a lot for people to handle," said senior Sawyer Garrity, 17, who hid in a closet in the drama room during the shooting.
"There's still a sense of tension, and it won't go away for a while," Garrity said last week. "It's so hard going back and expecting it to be normal again — or what normal was before everything that happened."
New security measures at Stoneman Douglas
Since the last school year ended, Broward County Public Schools has taken steps to make Stoneman Douglas safer, adding surveillance cameras and automatically locking doors. A new fence limits campus access to three points, which will be either locked or guarded. And security staff has been increased to 12 campus monitors who check students' IDs, and three security officers and three school resource officers provided by Parkland and the Broward County Sheriff's Office.
"There's no question that this first day of school will be profoundly different and extremely challenging from any other opening of school that has occurred in its 28-year history," Superintendent Robert Runcie said of Stoneman Douglas during an Aug. 8 news conference on the new security measures.
While many students expected to see metal detectors on Wednesday based on an initial security plan, Runcie said in an Aug. 3 letter to parents that the district planned to "have a more thoughtful discussion" with the community and staff members before making a final decision. Clear backpacks, a security measure mocked by some students last school year, will no longer be mandatory.
Is the school safe enough?
Some Stoneman Douglas students said that they don't want to see metal detectors, and that it's important to strike a balance on safety.
"There's always going to be people who think they should be doing more, but we don't want our school to feel like a jail," Garrity said. "We just want to feel safe. There's a fine line between feeling trapped and feeling safe."
But some parents of students who were killed in the shooting said the district has not done enough.
Tony Montalto, whose daughter, Gina, 14, was killed in the shooting, said at an Aug. 9 news conference that there is "no unified plan to keep" teachers and students in the county safe. He and other parents of victims said they are concerned about the district's decision to terminate an investigation by a retired U.S. Secret Service agent, Steve Wexler, who had been hired to review the response to the shooting.
Runcie has said Wexler's investigation was suspended because it duplicated the work of the Marjory Stoneman Douglas High School Public Safety Commission, formed by the state to analyze the shooting and strengthen Florida's school security. The commission is also investigating the shooting response and will issue recommended security changes. Runcie said he didn't want those traumatized by the shooting to face interviews by two separate investigators, The South Florida Sun Sentinel reported.
Broward County Public Schools did not immediately respond to questions about the investigation.
Bracing for the first day
Andrea Peña, 16, a junior who huddled with Garrity in the drama room closet during the shooting, is looking forward to seeing her friends on Wednesday and auditioning for the theater program's shows this fall.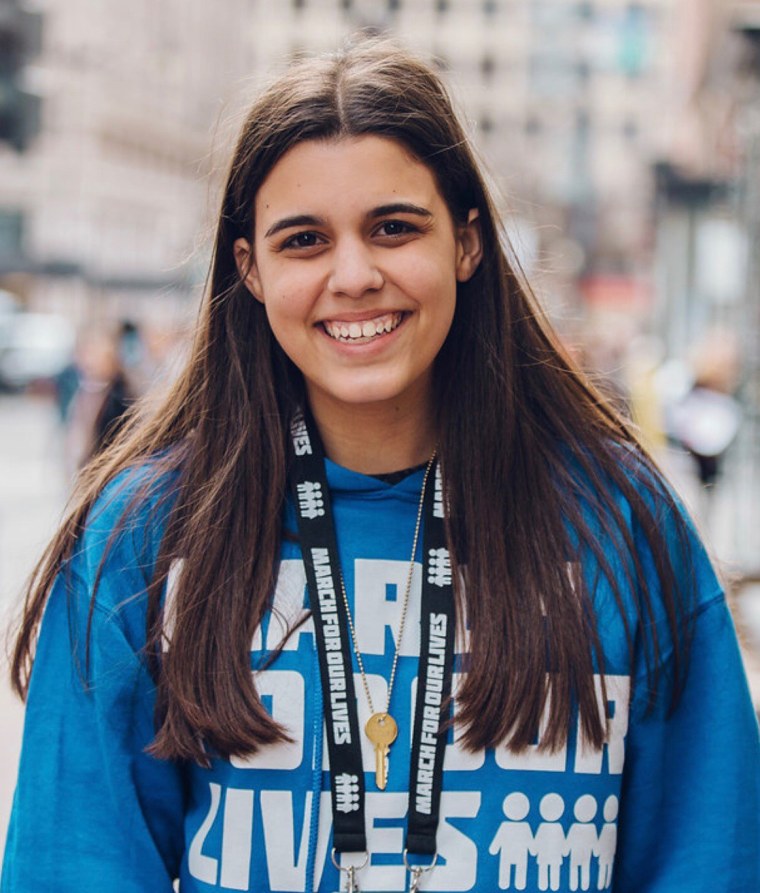 "It will never go back to how it was. It just won't," Peña said. "When something so drastic alters your world — but hopefully we'll find a new reality."
Fred Guttenberg, father of Jaime, 14, who was killed in the shooting, tweeted on Wednesday morning that he missed his daughter's enthusiasm for the first day of school.
"First day of school is not supposed to feel this way. Jaime was always most excited and I am missing her excitement today," Guttenberg tweeted.
Some students tweeted that because many survivors didn't learn the fate of their classmates until the day after the shooting, Wednesday marked six months since they received the news they dreaded.
For the teachers at Stoneman Douglas, even the veterans aren't sure what to expect. Jeff Foster, who has taught for 20 years and whose AP United States Government and Politics class was taken by some of the students who were most vocal against gun violence after the shooting, said he has been texting with other teachers who are excited to get back into the classroom but also "fearful of what's going to happen with the kids."
Eric Garner, a broadcast and film teacher, said he hopes students feel safe enough to be able to focus and learn.
"There's a component of — you need to feel safe," Garner said. "If they don't feel safe, they won't be learning in first place. This is a safe space for you. This is a good place. That side has to be No. 1."
After a school year in which his students experienced Hurricane Irma and then the shooting, Garner wants this one to be uneventful.
"I would like a very bland vanilla year," Garner said. "I'm looking forward to teaching my students and having nothing spectacular happen."