PARKLAND, Fla. — As Marjory Stoneman Douglas students entered their classes for the first time in two weeks, a golden retriever in a purple vest named Lola offered wet kisses and cuddles.
Students took out their phones to send videos of Lola to their friends on Snapchat. "Therapy dogs," one wrote over a video of several students petting the panting animal, adding two emojis with hearts for eyes.
In some classrooms, students sent Snapchat videos of their classmates marveling at Nintendo games they had been allowed to play. Elsewhere, a group of teens sat in a circle and passed around an orange jar of candy while a white dog weaved through stretched legs.
One clip even showed a classmate teasing senior David Hogg, 17, now known for his vocal gun reform advocacy, for being at the center of a "crisis actor" internet conspiracy theory.
"Like, he's not even supposed to be in our school. He's, like, 25, and he's from California even though he's my debate partner. What the hell?" a student can be heard joking as he zooms in on Hogg's face. Hogg, who smirks and replies, "Shocking."
Photos: Parkland students return to classes under heavy police presence
One Snapchat selfie simply said, "We back."
After weeks of gun reform rallies, marches to Florida's capitol and mourning the loss of the 17 people killed at the high school on Feb. 14, the students documented their day on the video-sharing app. But the video games, candy and more than 40 therapy dogs were just some of the new additions to Stoneman Douglas.
Others included armed law enforcement and a large police presence.
It was the culmination of actions intended to make the students feel safe as they returned to classes on Wednesday for the first time since the massacre.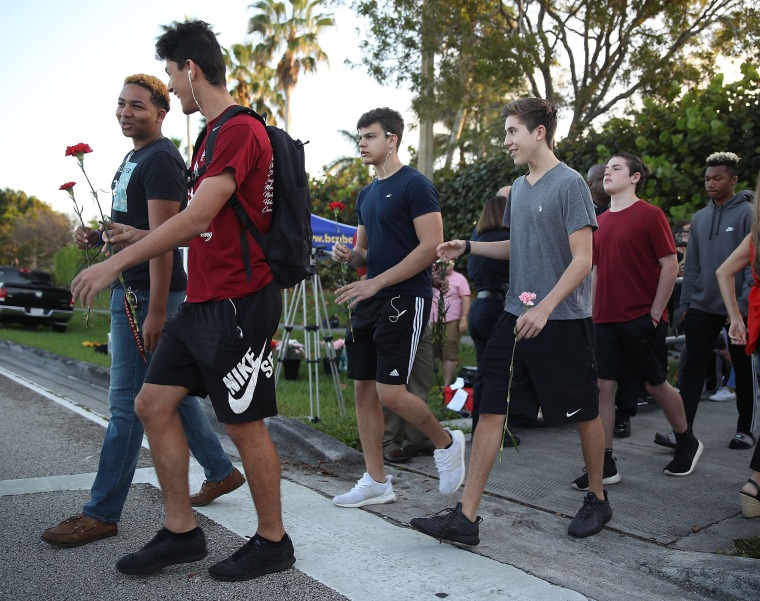 Broward Superintendent Robert Runcie said on Wednesday that an armed law enforcement presence would remain at the school for the foreseeable future.
"I don't think the solution is to turn our schools into prisons and build armed fortresses, but yes, we do need to enhance security," Runcie said.
As the more than 3,100 students streamed back, droves of adults holding signs and wearing burgundy "Douglas Strong" T-shirts lined the sidewalks and cheered them on. Police officers and teachers hugged the incoming teens. The school had a 95 percent attendance rate. Fifteen students and four employees have signaled interest in transferring.
But for some parents, there would be no return to the life they knew before Feb. 14.
Related: Parkland shooting victim Maddy Wilford speaks out following hospital release
Fred Guttenberg's 14-year-old daughter, Jaime, was killed, but on Wednesday, his son Jesse returned to campus. Guttenberg said the school's reopening was bittersweet.
His household has become quieter since Jaime died, he said, and his family was learning to live with the new normal.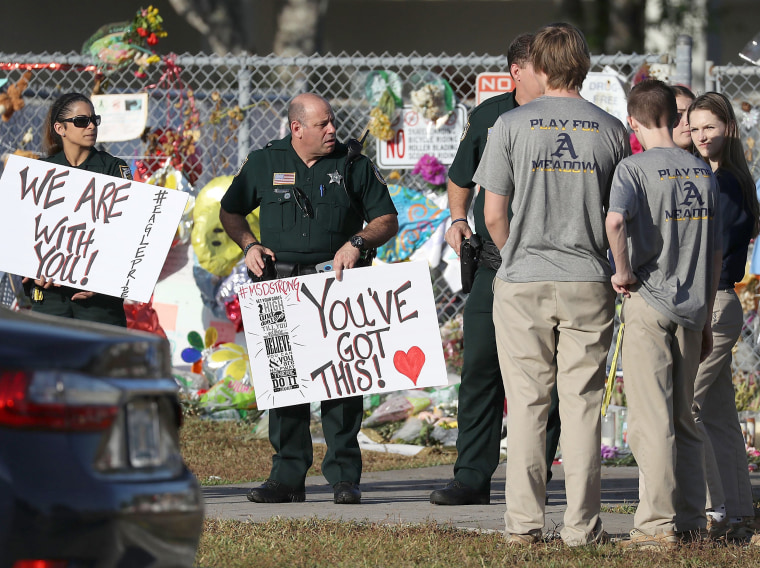 "I'm making him go," he said of Jesse. "In my family the basic belief is that you can't stand back and be afraid. You have to power through and face things. And, you know what, coming back to school today is the big first step."
Other parents who lost children returned to the school, vowing to make sure nothing like the Parkland shooting happened again.
"I'm like a lion, and I'm going to go out there, and I'm going to make sure every school is safe," said Andrew Pollack, father of murdered senior Meadow Pollack. "So when a kid goes into school, they're not worried about some shooter going in there and shooting up the school again."
Related: Florida officer Scot Peterson defends response to Parkland shooting
Ryan Petty, whose 14-year-old daughter, Alaina Petty, was killed, said he came to the school on Wednesday to support his son and the other kids who were returning to class.
"We miss her right now," Petty said. "We miss waking her up, getting her ready for school — trying to get her up out of bed and make sure she gets to school on time."
Parents like Petty and Guttenberg assured their children who returned to Stoneman Douglas on Wednesday that on this day they would be safe.
"It's going to be the safest building in America today. And probably the safest school in America for the rest of the year," Guttenberg said.
As students got back into the swing of school life, some couldn't help but notice the classmates that were missing.
Dylan Kraemer, 17, a junior, shared classes with Helena Ramsay and Joaquin Oliver, both 17 and killed in the shooting. On Wednesday, Kraemer said their absence was felt.
"Joaquin was in my first period and his desk was just like there and empty, and Helena was in my third period along with our fourth, and her desk was just — there was no one there," Kraemer said. "So it was weird."
Kerry Sanders, Tammy Leitner and Savannah Sellers reported from Parkland, Florida. Kalhan Rosenblatt reported from New York.