Twenty-two years after the deadliest mass shooting in British history, survivors of the Dunblane Primary School massacre are sharing words of compassion — and caution — to students in Parkland, Florida.
"Never let anyone forget. There will be attempts to deflect you, to divide you and doubtless to intimidate you, but you've already shown great wisdom and strength," the survivors and victims' families wrote Tuesday in an open letter published on BuzzFeed UK to mark the anniversary of the March 13, 1996, rampage in Scotland.
The mass shooting spurred political action that toughened British gun laws.
The survivors' letter comes as students of Marjory Stoneman Douglas High School and thousands of others across the United States are planning a school walkout Wednesday to protest gun violence. They will step out of classes for 17 minutes to honor the Parkland victims — 14 students and three staff members.
Another nationwide student-led demonstration known as the March for Our Lives is planned for Washington, D.C., and other U.S. cities on March 24.
"Wherever you march, whenever you protest, however you campaign for a more sensible approach to gun ownership we will be there with you in spirit," the Dunblane survivors wrote.
The small Scottish town became a symbol for gun reform in the wake of the mass shooting. A 43-year-old man carrying four handguns fatally shot a teacher and 16 children — aged 5 and 6 — before killing himself.
Related: How a school shooting changed British gun laws
In the incident's aftermath, gun reform advocates created the "Snowdrop Campaign" — named after the only spring flower in bloom at the time of the massacre. By the following year, British politicians approved a ban on the private ownership of most guns, including semiautomatic firearms.
The law is credited for Britain having one of the lowest gun homicide rates in the developed world — at 0.07 deaths per 100,000, compared to 3.85 in the U.S. in 2016, according to the University of Washington's Institute for Health Metrics and Evaluation.
Random shootings in Hungerford, England, also sparked a 1988 law that banned the ownership of high-powered self-loading rifles.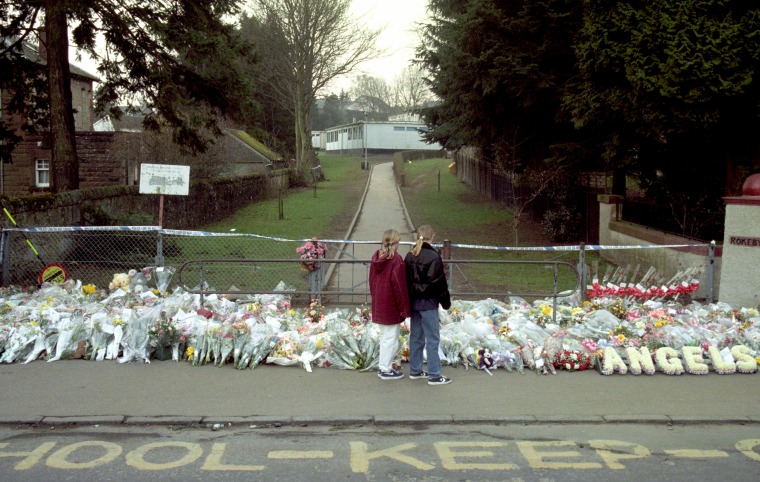 Other mass shootings in the United States, including the 2012 massacre at Sandy Hook Elementary School, have resulted in the Dunblane community sending messages of support. But the lack of any substantive action by America has puzzled some in the Scottish town.
"We got something done about it, whereas for families in America there is still suffering," Alison Ross, whose older sister was among the victims in Dunblane, told NBC's U.K. partner, ITV News, in 2016.
The letter in response to Parkland was organized by gun control advocate Mick North, whose daughter, Sophie, was killed in Dunblane.
"Like you we vowed to do something about it," the survivors and victims' families wrote. "We persuaded British lawmakers not to be swayed by the vested interests of the gun lobby, we asked them to put public safety first and to heed what the majority of the British people wanted. Most politicians listened and acted."
In the U.S., Democratic legislators have demanded stricter gun control laws, but face an uphill battle from the Trump administration.
The White House on Sunday said it will propose funding firearms training for school personnel and bolster firearm background checks, but steered clear of a previous idea floated by President Donald Trump to raise the minimum legal age to buy semiautomatic weapons from 18 to 21.
The state of Florida, meanwhile, agreed last week to enact new gun law restrictions, including raising the age to buy all firearms to 21 and imposing a three-day waiting period for most gun purchases.