ON THE BUS TO TALLAHASSEE, State Road 91 — One week ago they were normal high schoolers.
Now they are survivors, activists trying to change the laws of the land.
About 100 students traveled some 450 miles by bus Tuesday to the Florida capitol to convince state lawmakers the time for change is now, after 17 people were killed in a mass shooting at a high school.
Daniel and Julia Bishop, siblings who attend Marjory Stoneman Douglas High School — where 17 students and teachers lost their lives in last week's tragedy — hope the trip to Tallahassee will spur officials to enact gun reform.
Daniel, a 16-year-old sophomore, said his message to lawmakers was simple:
"We elected you to do things that we believe in. Now we believe in something, do it," he said from the bus on Tuesday.
Related: How the Parkland survivors became advocates for gun reform
"That's why we elected you and we cannot have people roaming the streets with semi-automatic weapons — and I'm not saying that the Second Amendment is all bad, but I mean, people roaming the streets and killing innocent like people is just not right, it's never been right, and it never will be," he added.
Julia, an 18-year-old senior, said she was at the school when the deadly shooting took place.
"I heard the gunshots and my classmates died, that happened," she said.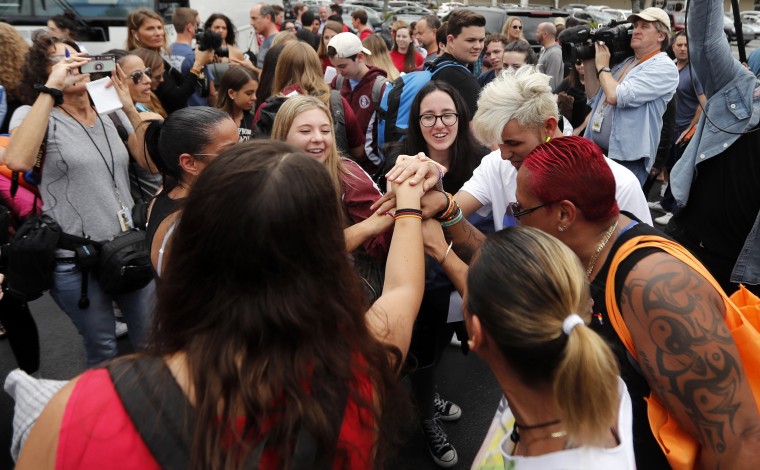 "We were named one of the safest cities in the country and it still occurred," she said. "It doesn't matter who you are, and I don't think the politicians understand that."
She said that while she knew enacting change would be difficult, she hoped officials would come together and compromise on legislation.
"This could happen to their son or daughter. It could happen to anyone. And we need to prevent this from happening in the future," she said. "We need to come together, now is the time. It can't be any time in the future. Now is the time to make compromise, to come together."
Cindy Damien, a fourth-grade teacher at nearby Park Trails Elementary said she was delivering more than 200 letters that students had written to state lawmakers.
"They all knew I was headed up [to Tallahassee] with Stoneman students, and they wrote their hearts out to get their voices heard," she said.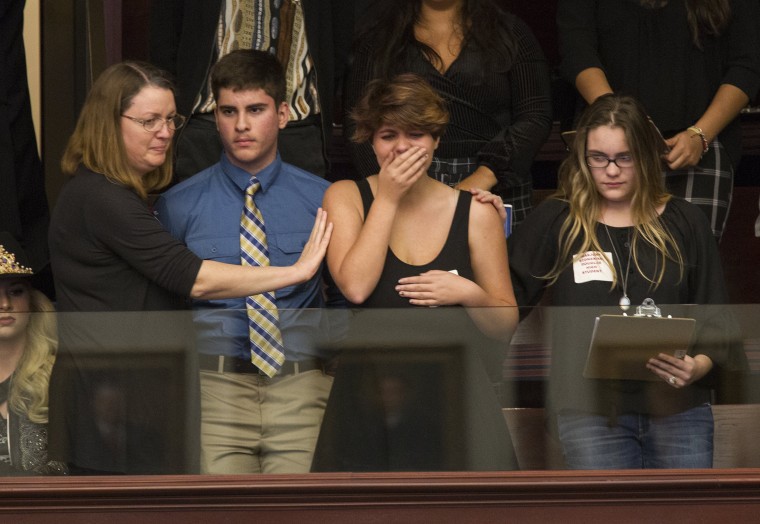 Meanwhile, The Florida state lawmakers voted down a motion to take up a bill that would have banned assault rifles Tuesday afternoon, effectively killing the measure this legislative session, according to The Associated Press. The motion failed by a 36-71 vote.
Emma González, another Parkland student at the school who has called for "common sense" in America's gun laws, tweeted that the move would not be forgotten.
"How could they do that to us ? Are you Kidding me ??? #NeverAgain We are not forgetting this come Midterm Elections - the Anger that I feel right now is indescribable," she said on Twitter.
The students on the bus were still going to continue calling for change in Tallahassee on Wednesday with a planned #NeverAgain rally to support "common sense gun control."
And they and their fellow students have organized another event on March 24 in Washington called the "March for Our Lives."
Oprah Winfrey, George and Amal Clooney, and Steve Spielberg all said on Tuesday that they were each donating $500,000 to the march.
Kyle Kashuv, a 16-year-old student from Parkland, said he was pro-gun prior to the shooting.
"I had no issue with anyone having a gun of any caliber," said Kashuv, as he rode in the bus to Tallahassee. "I was all for it. But after the situation, I realized we have some issues in our society and it has to be addressed.
Tammy Leitner reported from Florida, Daniella Silva reported from New York