The widow of Pat Tillman, the former NFL player and Army Ranger who was killed by friendly fire in Afghanistan, said she doesn't want his image used as a politically divisive ploy in the president's feud with the league's players.
On Monday, President Donald Trump retweeted an image of Tillman from user @jayMAGA45, with the caption, "NFLplayer PatTillman joined U.S. Army in 2002. He was killed in action 2004. He fought 4our country/freedom. #StandForOurAnthem #BoycottNFL."
The retweet came amid Trump's comments — beginning at a rally Friday and stretching into Tuesday — railing against football players who have taken a knee during the national anthem in protest of police brutality in the United States.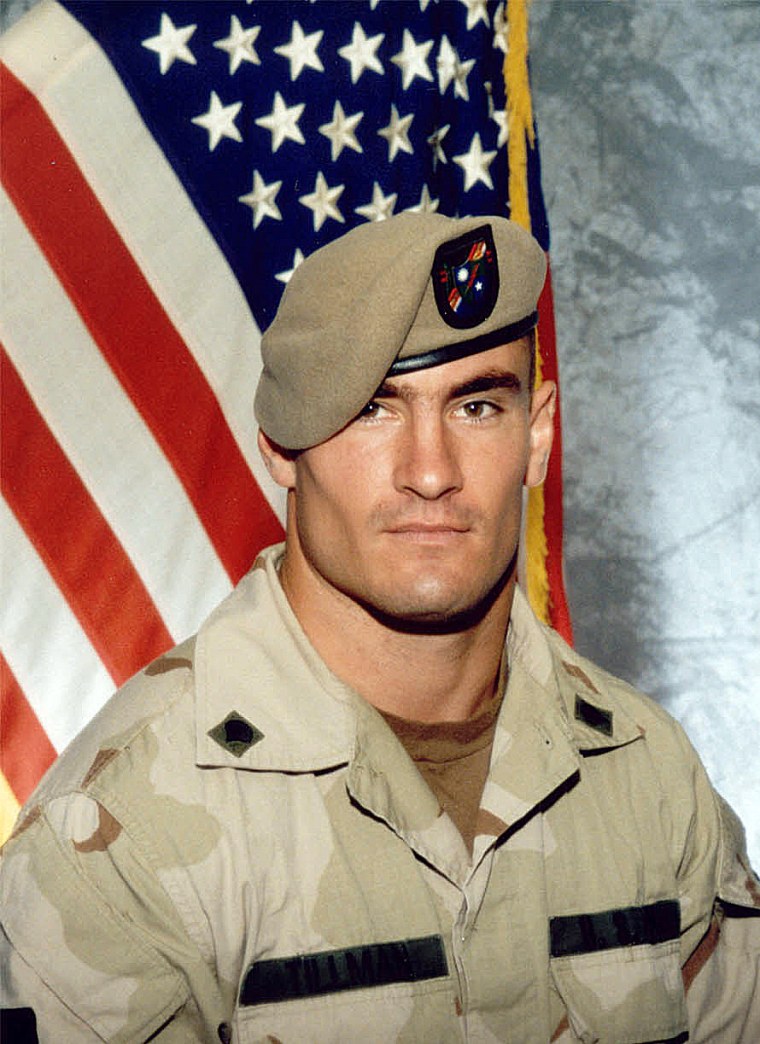 "The issue of kneeling has nothing to do with race. It is about respect for our Country, Flag and National Anthem. NFL must respect this!" Trump tweeted just hours before sharing Tillman's image.
On Monday evening, Pat Tillman's wife, Marie, said in a statement to CNN that her husband's legacy was one of unity.
Related: Reaction to Trump's NFL Feud Mount as Protests Continue in Monday Night Game
"It is my hope that his memory should always remind people that we must come together. Pat's service, along with that of every man and woman's service, should never be politicized in a way that divides us. We are too great of a country for that," Marie Tillman wrote. "Those that serve fight for American ideals of freedom, justice and democracy. They and their families know the cost of that fight. I know the very personal cost in a way I feel acutely every day."
Pat Tillman turned down a three-year, $3.6 million contract with the Arizona Cardinals to enlist in the military in May 2002. Deeply moved by the terrorist attacks of Sept. 11, 2001, Tillman said he felt an obligation to make his life count.
"My great grandfather was at Pearl Harbor, and a lot of my family has ... gone and fought in wars, and I really haven't done a damn thing as far as laying myself on the line like that," Tillman told NBC News on Sept. 12, 2001.
While serving in Khost Province in southeastern Afghanistan in April 2004, Tillman was killed during a firefight. Initially said to have been killed by enemy fire in a battle with the Taliban, the U.S. military later revealed that Tillman was killed by friendly fire.
While many who served with Tillman insist he understood the validity of the war in Afghanistan, the football star was vehemently against the war in Iraq and President George W. Bush.
"This war is so f---ing illegal," Tillman told Spc. Russell Baer, according to a report from SF Gate after the NFL star's death.
In a biography written by Jon Krakauer, a friend recalled Tillman saying that if he died, he didn't want to be turned into a poster boy.
Related: Trump's Tweets Don't Help TV Ratings
"I don't want them to parade me through the streets," Tillman said.
It was this sentiment Marie Tillman reiterated as her husband's image spread across Twitter as an argument against NFL players' current anthem protests. She added that Americans' right to protest was why her husband gave his life.
"The very action of self expression and the freedom to speak from one's heart — no matter those views — is what Pat and so many other Americans have given their lives for. Even if they didn't always agree with those views," Marie Tillman wrote. "It is my sincere hope that our leaders both understand and learn from the lessons of Pat's life and death, and also those of so many other brave Americans."