New England Patriots owner Robert Kraft allegedly flashed his Super Bowl ring and bragged about leaving for a conference championship in Kansas City after engaging in an illegal sex act, according to a new filing by Florida prosecutors.
Kraft, 77, pleaded not guilty in February to two counts of soliciting a prostitute at the Orchids of Asia Day Spa in Jupiter, Florida. Authorities claim he paid for a sex act at the spa on Jan. 19 and again the next morning, hours before the Patriots won the AFC Championship that sent them to the Super Bowl, according to court documents filed Thursday.
After authorities watched surveillance video of a man engage in a sex act at the spa, a Jupiter police officer pulled him over in a traffic stop to confirm his identity. The man seen on body camera footage was Kraft, according to the documents.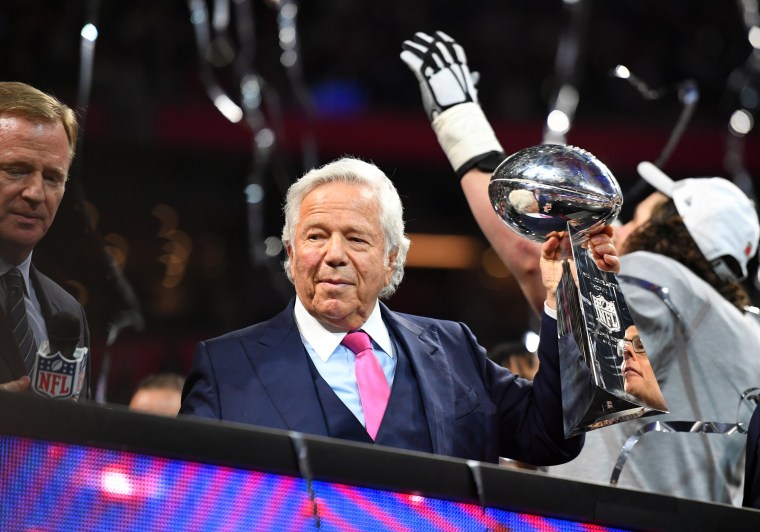 Kraft asked the officer if he was a Miami Dolphins fan and said he was the owner of the Patriots, the filing stated. Kraft told the officer, unprompted, that he was leaving for Kansas City the next day to play the Chiefs.
The NFL team owner then showed the officer his Super Bowl Ring before handing over his license, the filing stated. It's unclear which of Kraft's then-five Super Bowl rings he displayed.
Florida prosecutors filed the documents to the court as Kraft fights to suppress the video as evidence in his trial. A judge heard arguments Friday but did not make a ruling.
Kraft already scored a procedural win against the public release of video of his alleged sex act at the spa. His attorneys filed a motion for a protective order, claiming that releasing the evidence would invade his privacy and jeopardize his right to a fair trial on the misdemeanor charges.
Judge Leonard Hanser of Palm Beach County ruled Tuesday that the video should not be handed to the media as a public record until a jury is seated, a plea agreement is reached or the state of Florida drops the case.
"This case has drawn extraordinary media attention, and it is not because of the nature of the alleged crime," the ruling states. "Rather, it is because Defendant is who he is."
Police say the video shows Kraft and other customers engaged in sexual acts with masseuses at the spa.
Lawyers for several media organizations, including NBC News, had filed a motion to argue for the release of the video.