A spokesman for Paul Manafort said the former Trump campaign manager has consulted with federal authorities about whether he should register as a foreign agent because of his past political work in Ukraine, and will now take "appropriate steps in response to the guidance."
Asked by NBC News whether that meant Manafort would be registering as a foreign agent, Manafort spokesman Jason Maloni would not say yes or no. He also could not say when the "appropriate steps" would be taken.
Related: FBI Inquiring Into Manafort's Foreign Business Connections
Maloni said that Manafort began talking to officials about the advisability of registering under the Foreign Agents Registration Act prior to the 2016 presidential election, and "received formal guidance recently from the authorities."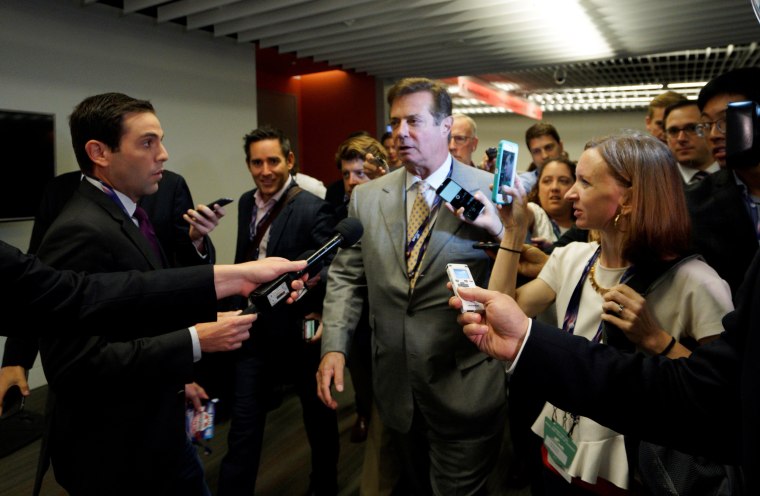 The political work in question, said Maloni, "was widely known, concluded before Manafort began working with the Trump campaign, and was not conducted on behalf of the Russian government."
NBC has previously reported that the FBI is inquiring into Manafort's foreign business connections. Manafort earned millions working for a pro-Russian Ukrainian political party, and also did business with a Russian oligarch and a Ukrainian oligarch. The FBI is also investigating whether any Trump associates colluded with Russian government efforts to interfere in the U.S. presidential election.
Related: Ex-Trump Campaign Manager Manafort's Firm Received Payment Listed in Ukraine Ledger
Earlier Wednesday, the AP reported that it had obtained financial records showing that at least $1.2 million in payment listed in a black ledger next to Manafort's name were actually received by his consulting firm in the U.S. in 2007 and 2009. Ukrainian investigators had cited the black ledger entries as evidence of off-the-books payments by the political party that employed Manafort. Manafort has publicly questioned the ledger's authenticity.
Related: Donald Trump Aide Manafort Scrutinized for Russian Business Ties
On Wednesday, Maloni said, "Manafort's work in Ukraine was totally open and appropriate and wire transfers for international work are perfectly legal."
The claim by a Ukrainian investigator "that he has evidence of a wire transfer to a U.S. bank account of Mr. Manafort," said Maloni, "completely undercuts [the] long-time charge that the Party of Regions ledger detailed 'illegal cash payments' to Mr. Manafort. On the face of his own words, the payments were not 'cash' and were not 'illegal.'"