The two leaders of the House Intelligence Committee continued their back-and-forth Friday as tension mounts over the panel's inquiry into whether there were ties between Russia and Trump campaign officials as well as the Kremlin's potential meddling in the 2016 elections.
Into the fray steps Paul Manafort, President Donald Trump's embattled former campaign chairman, who will voluntarily appear before the panel, committee chairman Devin Nunes told reporters Friday.
A Senate aide confirmed to NBC News that Manafort has also offered to be interviewed by the Senate Intelligence Committee as a part of their investigation into Russian interference in the U.S. elections last year.
Nunes said his committee asked FBI Director James Comey and National Security Agency Director Adm. Michael Rogers to also return to testify in a closed session on Tuesday.
"There are questions we have for Director Comey and Admiral Rogers probably that they couldn't answer in a public setting," Nunes said.
Nunes urged others to voluntarily come forward for interviews as well while cautioning against a "new McCarthyism era where we bring people in because they're in a press story."
Carter Page, who served as the Trump campaign foreign policy adviser, told NBC News he has sent a letter to the House Intelligence Committee, volunteering to be interviewed. Page said he sent a similar letter to the Senate Intelligence Committee "weeks ago."
Former Trump adviser Roger Stone Tweeted that he, too, wanted to testify and that his attorneys have informed the committee of his request to do so voluntarily in a public session.
But even as Nunes announced plans to press ahead with investigating the matter in a more collaborative manner with his colleagues, his Democratic counterpart, Adam Schiff, the ranking Democrat on the House Intelligence Committee, raised questions about Nunes' actions thus far.
Schiff accused Nunes of skirting around the committee and leaving members and the public "in the dark."
Schiff called it a "serious mistake" to cancel Tuesday's previously scheduled public hearing with former Attorney General Sally Yates, former CIA Director John Brennan, and former Director of National Intelligence James Clapper in favor of a closed door interview. The trio of former Obama-administration appointees were set to appear for public hearings on Russian interference in the 2016 election.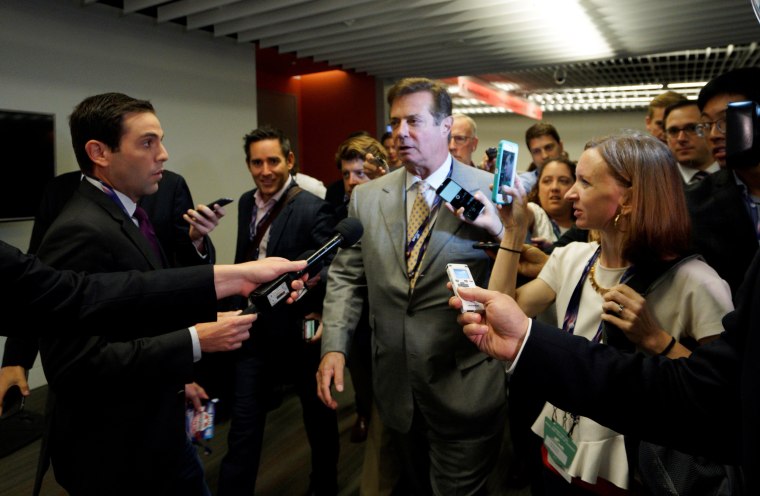 The cancellation of their open testimony in favor of more private interviews with Comey and Rogers is "at most a dodge," Schiff said.
"There must have been very strong pushback from the White House," Schiff said.
He again called for an independent commission to investigate what happened during the November presidential election. On Wednesday, Schiff told NBC News' Chuck Todd the lawmaker has seen "more than circumstantial evidence" that Trump associates colluded with Russia and the Kremlin tried to to interfere in last fall's presidential election.
On Thursday, Nunes offered an apology to his fellow committee members for bypassing them and going straight to the White House to offer what he saw as revelations based on reports from the U.S. intelligence community. Those reports, he said, showed communiques from members of the Trump transition team — and possibly from the president himself — were "incidentally collected" as part of a broader surveillance effort.
Earlier this week, Comey testified before Congress that he did not have evidence to support Trump's claim that former President Barack Obama wiretapped his communications. The FBI, the NSA, the Department of Justice, the top Republican and Democrat on the House Intelligence Committee, the top Republican and Democrat on the Senate Intelligence Committee, and former Director of National Intelligence James Clapper had all previously said they hadn't seen any evidence to support Trump's claims.
Trump told reporters Wednesday he felt "somewhat" vindicated by Nunes' revelations.
Asked whether Trump and his associates were monitored or mentioned in the documents he's seen, Nunes told reporters Friday he doesn't have enough information to clarify what happened.
Nunes declined to answer specifics about the dozens of reports he said he saw until they are provided to the House Intelligence Committee by the NSA and other intelligence agencies.
That could be as soon as Friday, he said, but they could come over the weekend or early next week.
Though supporters of the president have trumpeted Nunes' findings as vindication for Trump's tweeted allegations that President Obama wiretapped him in Trump Tower, Nunes told reporters Friday "that didn't happen."
And while Nunes expressed alarm and concern earlier this week over the reports, he stated again Friday that the surveillance appeared to be "all legal."