Pearl Jam became the latest performers Monday to boycott North Carolina because of its new ban on local anti-discrimination ordinances, calling the law a "despicable" assault on gay, lesbian and transgender North Carolinians.
Many bands and other performers have canceled appearances in North Carolina since Gov. Pat McCrory signed the controversial measure last month.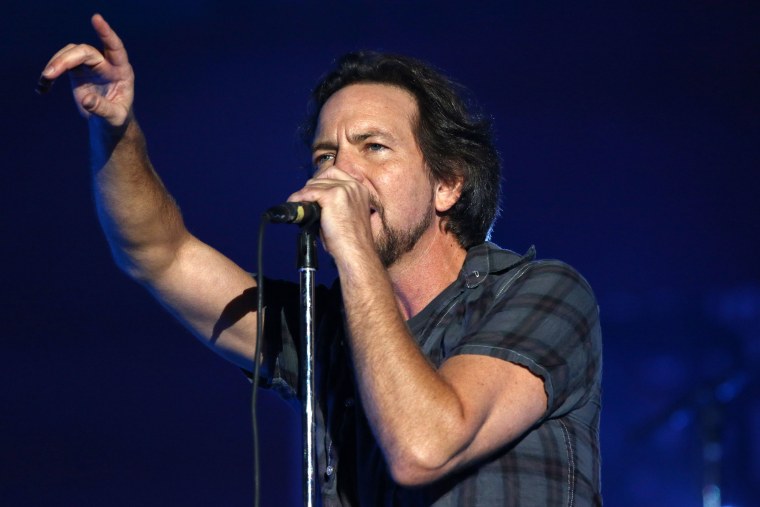 Pearl Jam frontman Eddie Vedder is a prominent human rights activist, and his band had been scheduled to perform Wednesday night in Raleigh.
In addition, the band Boston also said Monday that it was canceling its three North Carolina shows in May — joining Bruce Springsteen, Ani DiFranco, Ringo Starr and Cirque du Soleil among the acts that have previously announced boycotts.
Director Rob Reiner has said he won't produce any movies in the state, while a coalition of U.S. senators hopes to persuade the National Basketball Association to move its 2017 All-Star Game out of Charlotte.
And porn site XHamster blocked North Carolina IP addresses from accessing its content.
Related: Group Asks Artists to Keep N.C. Shows After Springsteen Pulls Out Over Law
The new law requires transgender people to use public restrooms matching the sex listed on their birth certificates, excludes LGBT people from state anti-discrimination protections, blocks local governments from expanding LGBT protections and bars all workplace discrimination lawsuits.
The backlash has put McCrory and legislative Republicans on the defensive as major companies have also pulled business from the state, including PayPal and Deutsche Bank, and other cities have banned official travel to the state, among them Los Angeles, Madison, Wisconsin, and Seattle.
McCrory has backtracked slightly, issuing an executive order last week to expand protection for LGBT state employees, but in an interview Sunday on NBC's "Meet the Press," he said he still backs the law.
"I do believe in our high schools, in our middle schools, in our universities, we should continue to have the tradition that we've been having in this country for years. And we have a women's facility and a men's facility," McCrory said.
"You know, it's worked out pretty well. And I don't think we need any further government interference," he said.