Crossing the street on foot grew more dangerous last year, according to a new study that found an 11 percent increase in the number of pedestrians killed on U.S. roadways in 2016.
The study released Thursday by the Governors Highway Safety Association (GHSA) documented 2,660 pedestrian fatalities in the first six months of 2016, compared to 2,486 deaths during the same time period in the previous year. Pedestrian deaths were up last year were up 22 percent over 2014.
Abhishek Tulsyan told NBC Boston that he is lucky to be alive after being hit by a car while standing at a crosswalk in Miami, Florida, in December.
"I had no clue, I didn't see that car it just hit me," Tulsyan said. "I've been going through a lot of physical struggles, as well as psychological struggles."
The growing problem is two-fold, experts say: more cars on the road due to an improved economy and lower gas prices, and more people walking for health and to improve the environment.
The circumstances of pedestrian deaths vary, but there are patterns, according to the study. The increase in smartphone use poses a huge distraction for both drivers and pedestrians. People behind the wheel are routinely text or browse social media on their phones, and people walk and look at their phones often with headphones on, making them oblivious to their surroundings.
"When it comes to cell phone use and smart phones and our constant need to connect, it's also just as important to disconnect from time to time."
"I think the fact that our frenzied pace of life and our frenzied need to stay in touch on our smart phones is certainly a contributing factor to a lot of these fatalities," said Kara Macek, Senior Director of Communications and Programs for GHSA.
Delaware had the most pedestrian deaths per capita, followed by Florida, Arizona, South Carolina and New Mexico in 2016. New York City, the most heavily walked city in America, doesn't make the top ten. Experts believe that is because pedestrians are often part of large crowds, and heavy traffic tends to mean slower cars.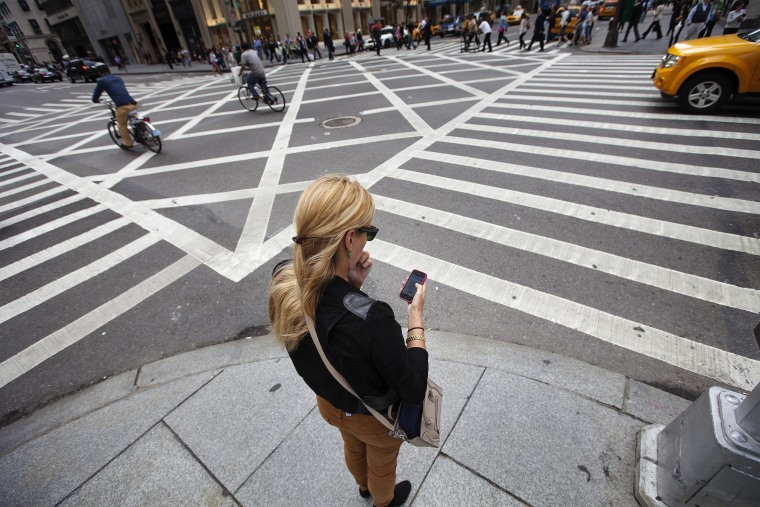 "We really think that distraction plays a huge part in the increase in traffic fatalities of every type, including those involving pedestrians," Macek said.
Traffic engineers have been designing solutions in recent years that include medians to cut off J-walking routes, roundabouts that cause drivers to slow down, and speed bumps to slow cars in an attempt to cut down on accidents.
But the best advice for this growing problem, experts say, is to just put the phone down, even while walking.
"When it comes to cell phone use and smart phones and our constant need to connect, it's also just as important to disconnect from time to time," Macek said. "And one of those times is when you're on the road."