Pedestrians will be fined for looking at mobile phones and other electronic devices while crossing a street on the Hawaiian island of Oahu starting Wednesday.
City officials say Honolulu is the first major city in the nation to pass this law, according to NBC affiliate Hawaii News Now.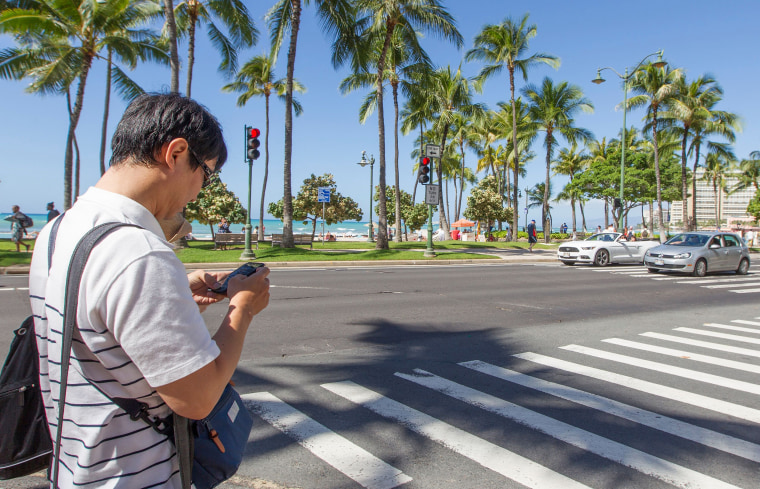 In July, Honolulu Mayor Kirk Caldwell signed the bill into a law, and the police department had 90 days to inform the public about the new rule. The ban pertains to cellphones, video games and tablets.
The proposal is known as the Electronic Devices Pedestrian Safety Bill and was introduced by Councilman Brandon Elefante. It is meant to encourage pedestrians to take responsibility for their safety.
The city has received mixed feedback after residents have learned of the new law. Some feel the bill is intrusive, but others say it's necessary to keep pedestrians safe.
"We've heard everything. We heard some unhappy comments, but most people realize it is a problem," Sgt. James Shyer of the Honolulu Police Department said according to Hawaii News Now.
According to a statement from the City and County of Honolulu, the penalty for violating the new law is $15 to $35 for the first offense. Additional violations within one year could bring fines of $75 to $99.
Just looking down for one text can take a pedestrian's eyes off the road for five seconds, Shyer said. Sometimes that's all it take for an accident to occur.
About 11,101 people reported being injured while walking and using cellphones from 2000 to 2011, the National Safety Council reported. The council backs the law, saying it's just as important to walk cell free as it is to drive cell free.