Nearly two dozen members of a Penn State University fraternity are facing criminal charges, including involuntary manslaughter and aggravated assault, after a pledge fatally fell down stairs during an alcohol-fueled event, Pennsylvania prosecutors announced Friday.
Ten of the 18 brothers belonging to Beta Theta Pi were arraigned Friday afternoon following a months-long investigation into the death of 19-year-old Timothy Piazza, a sophomore engineering major from Lebanon, New Jersey. They did not comment about the charges, and were later released on bail.
The charges include aggravated assault, hazing, furnishing alcohol to minors and consumption of alcohol by a minor, said Centre County District Attorney Stacy Parks Miller. Eight of the brothers have also been charged with involuntary manslaughter and the fraternity itself has been charged.
The involuntary manslaughter counts carry a maximum punishment of 2-1/2 years to 5 years, while the aggravated assault counts, a first-degree felony, carry a maximum prison term of 10 years to 20 years.
"I've said this before: This didn't have to happen," Piazza's father, Jim Piazza, said at a news conference after the charges were announced. "This is the result of a feeling of entitlement, flagrant disobedience of the law and disregard for moral values that was then exacerbated by egregious acts of self-preservation. Again, this did not have to happen."
The State College-based school shut down the Beta chapter permanently following the Feb. 2 pledge event that led to Piazza's death. Police said he fell head first down 15 basement steps at around 11 p.m., but first responders were not called until almost 12 hours later.
Related: First of 37 Defendants Sentenced in Fatal Hazing Case
Four brothers allegedly carried him upstairs after the fall and placed him on a couch that night, but no one called 911 until the next morning. Piazza died at the hospital.
The coroner ruled Piazza's death accidental and said he sustained multiple traumatic injuries from the fall.
According to prosecutors, members of the fraternity testified to a grand jury that Beta was supposed to be a "dry" house, but alcohol was still consumed during its events.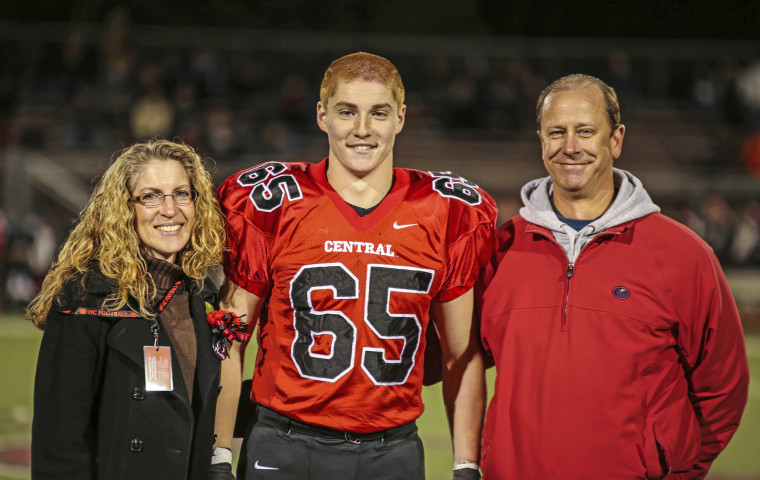 About 40 students lived at the house. Members partook in alcohol-filled festivities such as a Four Loko night and a cigar and beer night.
From Jan. 25 to Feb. 2, one Beta brother bought nearly $1,180 worth of alcohol, including Four Loko and Crown Russe vodka, prosecutors said. Text messages and a chat group called "we f--- moms" revealed members allegedly asking about buying alcohol, including for pledges, and collecting money for their so-called "slush fund."
During the pledge night event, the recruits were required to drink various types of alcohol at stations as part of a contest known as "the gauntlet," prosecutors said.
Cameras Capture Pledge Event
Surveillance footage from inside the house shows much of what was happening that night and the aftermath of Piazza's fall, according to the grand jury investigation.
The brothers first gathered in the house's "great hall" with the lights turned off, according to the report. Pledges wearing khakis, button-down shirts and sports jackets were led into the room and then back out before they started the "gauntlet."
The report describes the pledges engaging in heavy drinking, and Piazza at one point is seen swigging from a bottle of vodka and then consuming beer.
About 20 minutes later, a "visibly intoxicated" Piazza was assisted to a couch, but he got up and staggered toward the front door, detectives said. He was unable to open the front door and instead headed toward the basement steps.
Although the fall itself was not caught on camera, fraternity members told police that they heard a sound and then found Piazza lying unconscious on the landing with his legs still on the staircase.
One of the brothers said they needed to take Piazza to the hospital, but the others told him to leave the room, according to the report.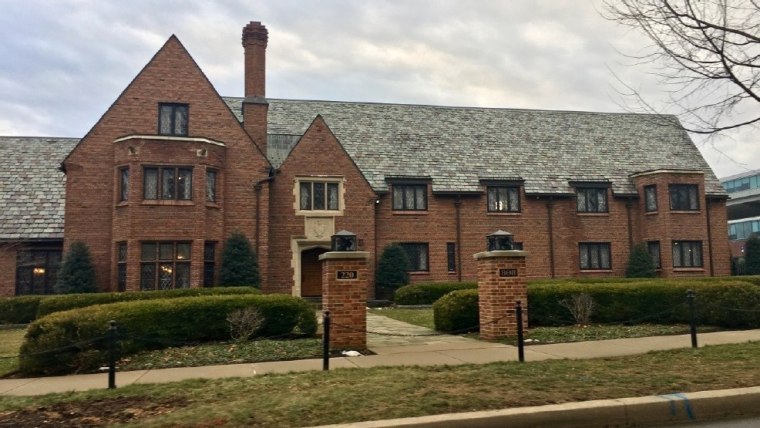 They were seen on camera trying to slap him awake, and at one point, two of the brothers landed on top of his unconscious body. Piazza also vomited. The brothers became frustrated and one even struck Piazza "hard one time in the abdomen with his open right hand," detectives said.
Detectives said four of the brothers carried him upstairs. They tried to coax him up, but he did not respond. His arm was limp and he had a bruise on his chest.
Eventually, after midnight, Piazza became physically responsive and managed to move around. The brothers failed to provide any meaningful assistance, detectives said, even as Piazza staggered around and somehow managed to end up back on the basement floor.
At around 10 a.m., the brothers found him down there. One brother told investigators Piazza "felt cold to the touch, his skin appeared pale, and his eyes remained half-open."
Instead of calling 911, the brothers attempted to shake him, the report said. The brothers searched "falling asleep after a head injury" and "cold extremities in drunk person," according to a search of their cellphones by detectives.
It wasn't until 10:48 a.m. that one of the brothers finally called 911. Detectives said the brothers used a group chat discussion to come up with a plan to cover up what happened.
'Heart-Wrenching and Incomprehensible'
In a statement, the Beta Theta Pi International Fraternity called the charges "incredibly disheartening" and said it was standing by its decision to disband the chapter.
Fraternity leaders have "clearly and consistently expressed its position that it does not tolerate hazing or alcohol abuse in any form by its members," they said. "The former undergraduate members were well educated by the International Fraternity and Penn State on these policies; however, they are entitled to the presumption of innocence as they face these charges."
Penn State President Eric Barron added that the charges were "heart-wrenching and incomprehensible."
"All indicators suggested Beta Theta Phi was a model fraternity — the house, privately-owned and situated like all other fraternity houses on private property, was beautiful, the subject of a multi-million dollar renovation; both the Beta alumni and the national organization provided strict rules of behavior; and, the brothers had a no alcohol policy which stated that anyone caught drinking would be expelled," Barron said. "It is clear, however, this was no 'model' fraternity.'"
Piazza's death led to a number of changes on campus, including a ban on all social activities involving alcohol for the rest of the semester, monitoring at social events to prevent underage and excessive drinking, no hard liquor at events that allow for alcohol, and probation and immediate revocation of a Greek-letter chapter's status if rules are violated.
Barron said the university has since suspended Sigma Alpha Mu for two years for violating its alcohol-use policy.