The parents of a Penn State University student who fatally fell down stairs during an alcohol-fueled event described their son's death as "torture" and said the fraternity brothers involved "treated our son as road kill."
Timothy Piazza was a sophomore at the university when he died after tumbling down a flight of stairsat an initiation event for new pledges at the Beta Theta Pi frat house in February, according to investigators.
"It was horrific. This — this wasn't boys being boys," the teen's dad, Jim Piazza, said on TODAY. "This was men who intended to force feed lethal amounts of alcohol into other young men."
Police said the 19-year-old had been drinking heavily throughout the night, and suffered multiple brain injuries from the fall.
But as he lay injured, about 20 fraternity brothers failed to dial 911 or get Piazza help from campus authorities and waited nearly 12 hours before one of them finally called emergency responders. He would die almost two days later.
"And what happened throughout the night was just careless disregard for human life," he said. "They basically treated our son as road kill and a ragdoll."
RELATED: What's 'Groupthink' and How it Explains Why No One Called 911 for Timothy Piazza?
During the fraternity event, pledges were required to drink various types of alcohol at stations during a contest known as "the gauntlet," according to a prosecutor.
Timothy's mom, Evelyn Piazza said, "Nobody should consume that much alcohol. That's torture."
The dad said he resented that no official from Penn State attended his son's funeral.
"No one from the fraternity or from Penn State came to the wake or the funeral," he said.
He said when he later met with school's president, he brought a copy of the mass book.
"I slid it across the table and I said, 'Here, since no one had the time to come to the services, I thought you might want to see this."
The university said a representative did share in advance with Piazza's family that "he was unfortunately likely unable to attend the funeral" but said they did participate in a campus vigil with the family.
The heartbroken dad also described the painful moment doctors told him his son wasn't going to survive, and blamed the fraternity brothers for not calling for help sooner.
"They said he had a non-recoverable brain injury," he said, his voice breaking. "So we knew at that point he wasn't gonna make it. We were hoping that there would be something different, an outcome. They let us go in and see him. You know, we talked to him a little bit. We held his hand."
Piazza said he asked a doctor if Timothy had been brought to the hospital earlier, could he have survived. The doctor said yes.
"They killed him," he said of the fraternity members.
Eighteen members of the frat are facing criminal charges, including involuntary manslaughter and felony aggravated assault. The fraternity is also facing charges.
Jim Piazza said that while it was up to a jury to decide their fates, in his heart "they were all morally culpable" for his son's death.
"What is a life worth? It's our son. We're not gonna see him ever again," he said.
"He doesn't get to graduate," Evelyn added. "He doesn't get to get married."
Penn State officials and the Beta Theta Pi International Fraternity closed the school's chapter after an investigation into Piazza's death.
The incident led to a number of other changes on campus, including a ban on all social activities involving alcohol for the rest of the semester, monitoring of school events to prevent underage or excessive drinking, and probation and immediate revocation of a Greek-letter chapter's status if rules are violated.
Beta Theta Pi leaders have said they have "clearly and consistently expressed its position that it does not tolerate hazing or alcohol abuse," and supported disbanding the Penn State chapter.
Police have said Piazza fell head first down 15 basement steps at around 11 p.m. on the night of Feb. 2, but no one called 911 until the next morning.
Surveillance video from inside the frat house showed much of the aftermath of Piazza's fall, according to a grand jury investigation of the incident.
Fraternity members allegedly carried Piazza upstairs and were seen on camera trying to slap Piazza awake. At one point, two of the brothers even land on his unconscious body. One even struck Piazza in the abdomen.
Eventually after midnight, the pledge became physically responsive and managed to move around, making his way back to the basement floor.
At around 10 a.m. the next day, the brothers found him there. One brother told investigators Piazza "felt cold to the touch, his skin appeared pale, and his eyes remained half-open."
Instead of calling 911, they attempted to shake him, according to a report of the incident. It wasn't until 10:48 a.m. that one of the brothers finally called for help.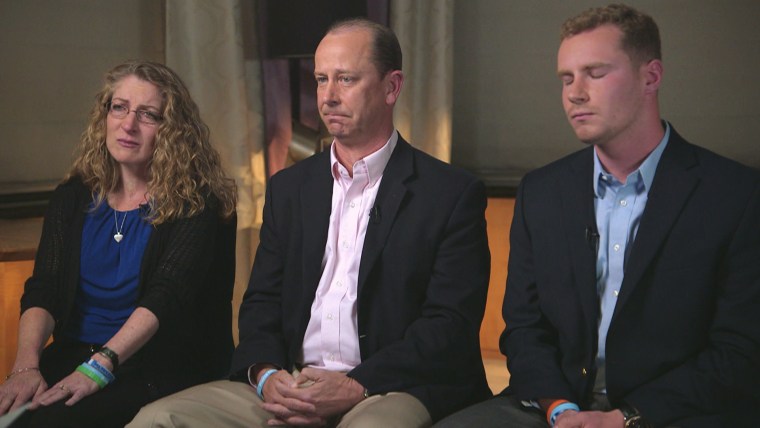 Penn State said in a statement that Piazza's death was "heart wrenching for the family, and our entire community."
The university pointed to the changes it had made since the incident and said, "Our actions will continue, and represent our ongoing commitment to drive change in tackling binge drinking at universities."
As investigators and Piazza's family are left to piece together why the brothers failed to act that night, psychologists said the case was an apparent example of "groupthink," where the human desire for group consensus can undermine common sense.
Jim Piazza said he can't bear to watch the video footage as a parent, but would summon the strength needed to view it with school officials since they could make decisions that would make a difference.
"I don't wanna see it as a parent, because I feel like it's gonna be incredibly painful," he said. "And the last memories of my son will be him being abused for 12 hours and dying a slow and painful death."