BELLEFONTE, Pa. — A judge will soon reveal the fate of more than a dozen Penn State fraternity members charged in the death of a 19-year-old pledge that followed a night of alleged hazing and heavy drinking.
District Judge Allen Sinclair said in court Thursday afternoon that he would deliver his decision Friday morning on whether there is enough evidence to send the charges to a county court for a trial in the death of Timothy Piazza.
District Attorney Stacy Parks Miller urged the judge to send the fraternity members to trial, saying they had acted like "savages."
"They have been acting as out of control savages for so long," she said during a seventh day of the preliminary hearing on Thursday.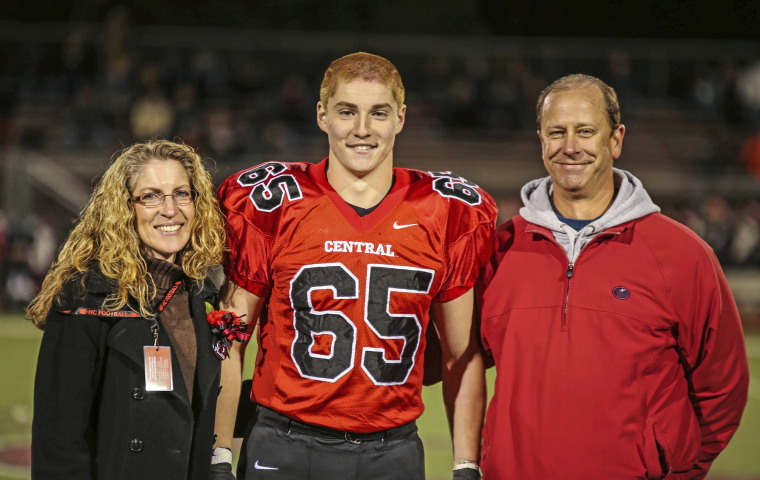 "They don't think they need to be held responsible because it is a way of life, "she said.
Piazza died on February 4 — two days after falling down a flight of stairs in the Penn State chapter's Beta Theta Pi frat house following a night of heavy drinking, authorities said.
The preliminary hearing, which began in June, has examined how 18 former members of the now-shuttered frat house responded to events leading up to and following the death of Piazza.
The men are facing charges ranging from involuntary manslaughter and felony aggravated assault to tampering with evidence.
Sixteen of the accused appeared in court during the preliminary hearings, while two waived their right to the hearing.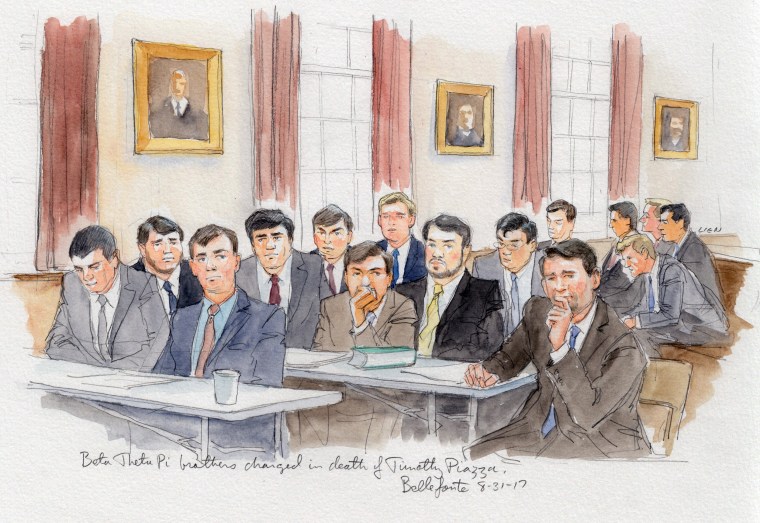 Defense attorneys said in their closing arguments that what their clients had done did not amount to criminal behavior.
Lawyer Theodore Simon, who represents Luke Visser, who is charged with aggravated assault, said Piazza's death was a tragic accident, but did not constitute criminal conduct.
"Yes, there's excessive drinking on college campuses," he said, according to the Associated Press. "That does not transform it into criminal behavior."
Lawyer Rocco Cipparone Jr., who represents 19-year-old Michael Bonatucci, argued that his client was unaware of how much alcohol Piazza had consumed or that he had fallen.
Bonatucci is also among those facing the most serious charges, including aggravated assault.
On Wednesday, Tim Bream, a live-in resident adviser for Beta Theta Pi, testified before the court, saying although he lived in the frat house, he went to bed before any of the activities leading to Piazza's death occurred.
District Judge Allen Sinclair had subpoenaed Bream, 56, for a contempt hearing after the defense unsuccessfully attempted to serve its own subpoena to have the adviser testify as a witness in the case.
When asked if he checked on the fraternity members during the alcohol-fueled night, Bream said that wasn't his role in the household, adding that he was more of a "guidance counselor" and less of an "overlord."
Sinclair ultimately determined that Bream was not in contempt of court and he was dismissed before the defense attorneys representing the 16 fraternity brothers and the prosecution, who have broken out into shouting matches during the hearing, went toe-to-toe for closing arguments.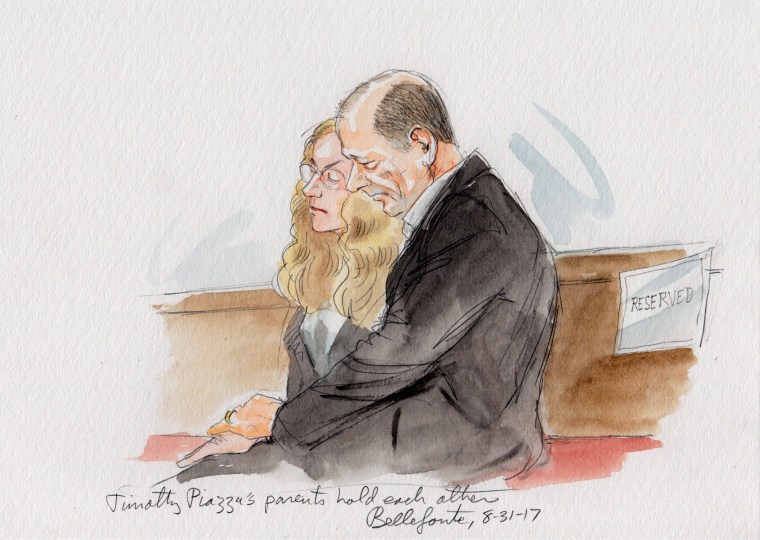 That behavior, she argued, meets state standards for criminal liability.
Much of the night of the party was captured on security camera video, which has served as a key piece of evidence throughout the hearings, Timothy's parents, Jim and Evelyn Piazza, have left the room every time portions of the video have played.
Earlier this month,a detective investigating the case testified that someone had deleted basement footage from the night in question, although it is unclear what that video would have shown.
Lainey Moseley reported from Bellefonte, Pennsylvania, and Daniella Silva and Kalhan Rosenblatt reported from New York City.