BELLEFONTE, Pa. — Fourteen members of a disbanded Penn State fraternity must stand trial in the hazing death of a pledge, but a judge on Friday tossed out the most serious charges, including involuntary manslaughter and aggravated assault.
Eight of the former Beta Theta Pi brothers saw those serious charges dismissed. In addition, four of the total 18 defendants charged with only single counts were dropped entirely from the case.
The parents of Timothy Piazza, the 19-year-old who died following a party at the Beta house in February, said they are looking to the trial for justice.
"There needs to be a deterrent because we lost our son, and it can happen to anybody," mother Evelyn Piazza told NBC News.
She added that if the defendants "acted like a brother or a friend or a responsible human being, it would have been a lot different. We wouldn't be here."
The charges that still remain against some of the former fraternity brothers are misdemeanors, including a reckless endangerment charge, which carries up to a two-year prison sentence, as well as hazing and alcohol-related charges.
Some originally faced aggravated assault counts, a first-degree felony, and could have seen as many as 10 to 20 years in prison if found guilty.
"This court has dismissed those charges and has done it in a resounding way," defense attorney Theodore Simon, whose client, Luke Visser, had been facing a felony charge, told reporters.
The former fraternity members who are set to go to trial are: Brendan Young, 21; Daniel Casey, 19; Jonah Neuman, 19; Nicholas Kubera, 19; Michael Bonatucci, 19; Gary Dibileo, 21; Luke Visser, 19; Joseph Sala, 19; Michael Schiavone, 21; Craig Heimer, 21; Lars Kenyon, 19; Parker Yochim, 19; Edward Gilmartin, 20; and Ryan Foster, 21.
Another arraignment is scheduled for Sept. 27, and the fraternity itself also remains charged with hazing and furnishing alcohol to minors.
After the judge's ruling, District Attorney Stacy Parks Miller announced that she plans to refile charges and denied there was prosecutorial overreach because the more serious charges were dropped.
"We obviously believe in the original charges or we wouldn't have brought them," said Parks Miller, who initially filed more than 1,000 criminal charges in the case.
"It looked like [the judge] was assessing individual roles, which is a huge, huge error," she added. "And if you did that, this could be the result. It's a group effort and the group responsibility has to be assessed."
It was not immediately clear if the students will be tried together, but District Judge Allen Sinclair said he wouldn't expect the trials to begin until at least the spring.
Two other fraternity members had earlier waived their right to a preliminary hearing, but must still have their cases heard before a jury.
The defendants have denied all charges.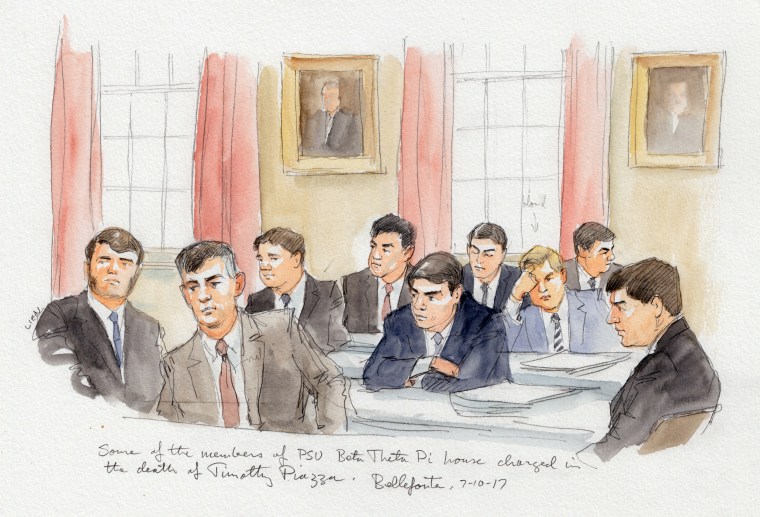 Piazza was at a Beta pledge event on Feb. 2, when police said he fell down basement steps during a night of excessive drinking. First responders were not called until almost 12 hours later — after various brothers tried unsuccessfully to give him any meaningful assistance, prosecutors alleged.
Piazza died two days later. A coroner ruled his death accidental and said he sustained multiple traumatic injuries from the fall.
Related: Do Penn State's Reforms After Hazing Death Go Far Enough?
During the course of the preliminary hearing, which began in June, Centre County prosecutors and defense attorneys sniped and bickered — causing the judge to threaten to throw out both sides from the courtroom.
Prosecutors painted the fraternity brothers "savages" who pressured their pledges to drink at dangerous levels, while defense attorneys said their various clients didn't know the full extent of what happened that night and Piazza wasn't forced to consume alcohol after the initial pledge ritual.
"Yes, there's excessive drinking on college campuses," Simon argued Thursday. "That does not transform it into criminal behavior."
On Wednesday, Tim Bream, the fraternity's live-in adviser and a Penn State Athletics employee, testified that although he lived in the house, he went to bed before any of the activities leading to Piazza's death occurred and he was more of a "guidance counselor" than an "overlord."
The judge had subpoenaed Bream, 56, for a contempt hearing after the defense unsuccessfully tried to have him testify as a witness in the case. Some of the students' attorneys argued Bream was in a position of authority and could have stopped members from deleting group text messages after the incident, but never did.
Related: Why Did No One Call 911 After Pledge Timothy Piazza Got Hurt?
Joseph Ems Jr., who had his reckless endangerment charge dropped Friday, said he didn't realize how serious Piazza's condition was at the time.
To his parents, "I would just say that I'm sorry that they have to deal with this," Ems said. "No parent should have to endure this."
He added that his former fraternity brothers have stuck together: What happened "wasn't savagery, wasn't debauchery."
Penn State shut down the Beta chapter permanently after an investigation into Piazza's death and the Beta Theta Pi International Fraternity suspended the group. The international's leaders said they have "clearly and consistently expressed its position that it does not tolerate hazing or alcohol abuse."
Penn State also seized disciplinary control over Greek fraternities and sororities, including a zero tolerance for hazing.
The Piazzas called the reforms a "step in the right direction."
Lainey Moseley and Ezra Kaplan reported from Bellefonte, Pa., and Erik Ortiz reported from New York.