BELLEFONTE, Pa. — A lawyer for the family of the Penn State University student who died during a pledge event this year blasted fraternity members outside the courtroom Tuesday — the third day of a raucous preliminary hearing.
With the mother of Timothy Piazza visibly crying during a recess, family lawyer Tom Kline disputed defense attorneys who have been arguing that no one forced the 19-year-old student to engage in binge drinking before he tumbled down basement steps and suffered multiple traumatic brain injuries.
"There is no changing the ultimate facts that a collective group plotted this, executed this and tried to cover it up," Kline said.
In a statement, Piazza's father said the hearings have "tried our patience" and that "Tim's death was no accident."
"It's very sad that their own desire for self-preservation, as evidenced by their own text messages ... prevented Tim from getting the help he needed," Jim Piazza wrote.
The emotional hearing, which has put a spotlight on alcohol abuse and hazing in the Greek system, centers on the now-shuttered fraternity, Beta Theta Pi, and 18 of its members, two of whom waived the hearing. Some are accused of involuntary manslaughter and aggravated assault, while others face less serious allegations.
District Judge Allen Sinclair must decide whether prosecutors have put forward enough evidence to send the charges to county court for a trial.
Kline told reporters after the session that the conflict was "remarkably difficult" for the Piazza family to sit through.
"Hearing those things was disturbing. They were among the best of the best of parents," Kline said. But he said the family intended to attend every day for as long as it takes.
Related: Prosecutors to Show Timothy Piazza's Final Hours at Hearing
Defense attorneys on Tuesday took turns cross-examining State College police Detective Dave Scicchitano about his investigation into the pledge ceremony and the subsequent party that preceded Piazza's death on Feb. 4. Prosecutors say it took the brothers 12 hours before they alerted 911 to Piazza's deteriorating condition.
Several times, loud arguments erupted between prosecutors and defense attorneys in the courtroom.
Defense attorney Andrew Shuban stood up, pointed at Centre County District Attorney Stacy Parks Miller and told her: "Stop lying and tell the truth!"
At one point, Sinclair was frustrated by the lack of order and threatened to throw out both the defense and the prosecution. He also intervened and called a recess to regain control.
Defense attorneys have been trying to cast doubt on the fundamental aspect of the case: that Piazza got extremely intoxicated as a result of forced drinking during a pledge event.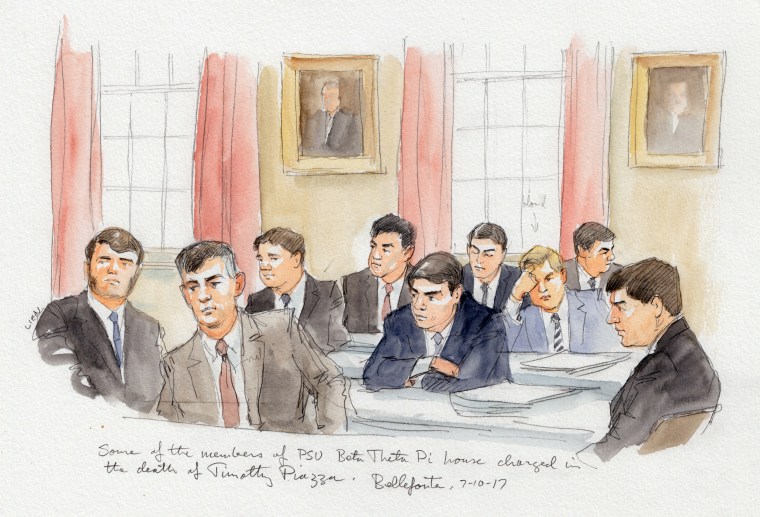 Defense attorneys grilled Scicchitano about exactly how much alcohol Piazza consumed during the ritual and a drinking obstacle course known as The Gauntlet. The detective wasn't able to definitively say how much Piazza drank during the activities.
Scicchitano testified that in the nine days of rush leading up to the pledge acceptance party, members of the fraternity bought around $2,000 worth of alcohol. At one point, members allegedly bragged that they had 240 Four Loko malt liquor drinks.
Scicchitano said joining in the drinking was a "rite of passage and the way to get in" to the fraternity.
The detective also told the judge that the fraternity brothers used group chat to discuss buying the alcohol and had a function to delete incriminating messages from their phones.
While there were surveillance cameras inside the fraternity house, those didn't capture the moment Piazza first fell down the basement steps at about 11 p.m. or when he was found at the bottom of them again the following morning. The cameras did show him staggering around the house and the Beta brothers failing to come to his aide, police said.
Related: Do Penn State's Reforms After Hazing Death of Timothy Piazza Go Far Enough?
Piazza later died at a hospital. Authorities have said he suffered severe head and abdominal injuries and had consumed a dangerous amount of alcohol.
Jim Piazza said in his statement that he would encourage any of the defendants' parents who believe their sons were improperly charged to "come forward with everything they have that is helpful."
"If they do, I will be extremely supportive. However, it must be now, not later," he added.
Prosecutors said this preliminary hearing was likely to stretch another day or two and continue in August, given the number of defendants.
Penn State's Beta Theta Pi chapter was disbanded after Piazza died. The school's trustees agreed in June to seize disciplinary control over Greek fraternities and sororities, as well as to implement more stringent rules about alcohol use.
Ezra Kaplan reported from Bellefonte, Pa. Erik Ortiz reported from New York.