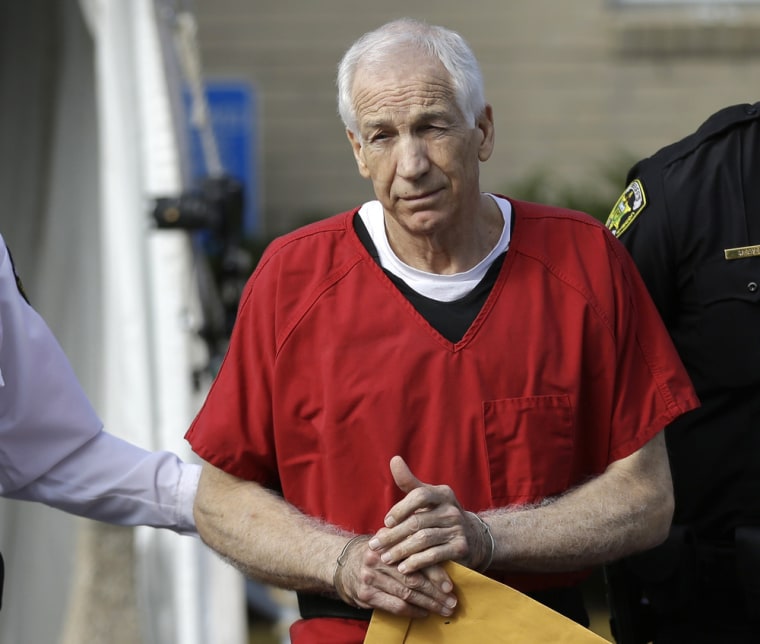 Penn State announced Monday it will pay $59.7 million to settle claims by 26 young men who said they were sexually abused by former assistant football coach Jerry Sandusky, capping a year of negotiations.
News of some of the settlements has been trickling out in recent months. The university said six claims are still outstanding. It has rejected some of them and is in talks to settle the others.
"We hope this is another step forward in the healing process for those hurt by Mr. Sandusky, and another step forward for Penn State," University President Rodney Erickson said in a statement.
"We cannot undo what has been done, but we can and must do everything possible to learn from this and ensure it never happens again at Penn State."
Sandusky, 69, is serving 30 to 60 years in prison after being convicted of 45 counts of child sexual abuse last year. He is appealing.
During the trial, jurors heard from eight victims, who described how Sandusky lavished them with gifts, trips and attention before molesting them.
In statements earlier this year, several victims who had just settled said the college did not deserve praise.
"Penn State is not great for settling something that could have been stopped years ago," a man known as Victim 3 said.
"What makes a school great is stopping these things no matter what negative effect it has on their reputation or what bad press it might bring."
The victims who have made deals include Sandusky's adopted son, who stood by his father until the first day of trial, when he suddenly told prosecutors he had been abused for years.
Also settled is the well-known case of Victim 2, who was 10 years old when assistant Mike McQueary saw him in a team shower with Sandusky in 2001.
McQueary reported what he saw, but police were never told. A decade later, legendary head coach Joe Paterno was fired over the incident and accused of turning a blind eye to the abuse. Paterno died five months later.
While most of the suits against Penn State have been put to rest, the legal fallout from the scandal is far from over.
Former university president Graham Spanier, former vice president Gary Schultz and former athletic director Tim Curley are awaiting trial on charges they took part in a coverup of complaints about Sandusky. They deny the allegations, and Spanier has sued the university's investigator, former FBI Director Louis Freeh, for defamation.
Paterno's family is suing the NCAA over penalties it imposed on Penn State, including the elimination of 112 wins by the Nittany Lions, a $60 million fine and a four-year-ban on post-season play.
Penn State is also fighting with its insurers about whether the settlements should be covered. In its statement, it said insurance will cover much of the cost and that tuition, donations and taxpayer funds will not be used for the 26 payouts.
The Associated Press contributed to this report.