A prison guard who was on duty when a convicted murderer escaped from a Pennsylvania prison more than a week ago has been fired, officials said Friday.
The prison guard, who was not publicly identified, was an 18-year veteran and was fired Thursday, a Chester County spokesperson confirmed to NBC News.
The guard had a cell phone in the tower, a violation of Chester County Prison policy, the county spokesperson confirmed.
Danelo Cavalcante, 34, escaped from the prison in Pocopson Township on Aug. 31. About 400 law enforcement personnel are assisting in the search for him, authorities said Friday.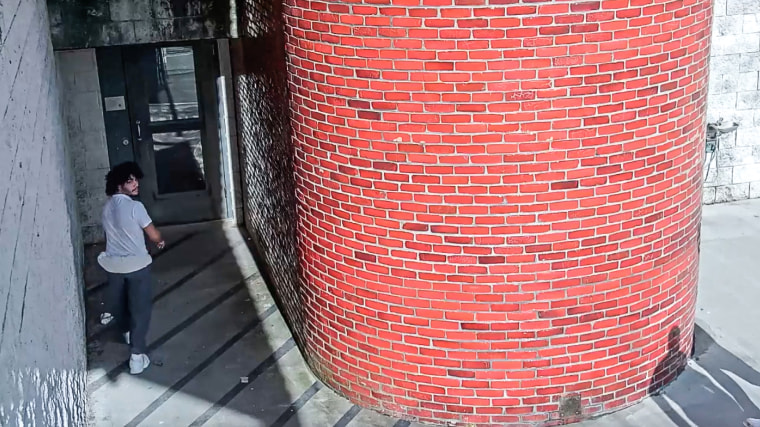 According to surveillance video, Cavalcante stretched himself across the brick and cinderblock walls in the exercise yard to push himself to the roof.
In May, Another inmate, Igor Bolte, had briefly escaped in a similar way. Bolte was captured about five minutes later in a residential neighborhood less than a mile from the prison. 
Earlier this week, acting warden Howard Holland detailed how Cavalcante managed to escape and elude some measures that were put in place following Bolte's escape.
Razor wire installed on the roof after the May escape — and deemed sufficient by security advisors — did not stop Cavalcante, Holland said. 
Though a tower officer saw Bolte on the roof and he was apprehended shortly after, Cavalcante scaled the wall in the exercise yard and made his way onto the roof without being spotted by a tower officer or on surveillance video in a control room, he said.
The tower officer was placed on administrative leave. It's unclear whether that officer was the same prison guard who was fired Thursday.
It took 10 minutes for guards to realize they were missing a prisoner after they returned to their cells from the exercise yard on Aug. 31. And it was another 16 minutes before the public escape siren sounded, Holland said.
Police said Thursday they suspect Cavalcante is within the perimeter of Routes 926 and 52, Hillendale Road and Creek Road. He's been spotted eight times.
A reward of up to $20,000 is being offered for information that leads to his apprehension.
Cavalcante was convicted Aug. 16 of first-degree murder in the fatal stabbing of his ex-girlfriend. He was sentenced to life in prison without the possibility of parole.