A Pentagon police officer has died after he was attacked outside the Pentagon Metro entrance Tuesday morning, officials said.
The officer, who was stabbed multiple times in the neck, fired on the assailant after the stabbing began, but it's not clear whether officer or another one hit the assailant with gunfire, said officials familiar with the matter. The assailant was killed.
"Pentagon Force Protection Agency mourns the tragic loss of a Pentagon Police Officer, killed during this morning's incident at the Pentagon bus platform," the agency said in a statement. "Our thoughts and prayers are with the Officer's family."
The officer, who has not been identified, was attacked at a bus platform at around 10:37 a.m., and gunfire was exchanged, Pentagon Police Chief Woodrow Kusse said at a briefing Tuesday afternoon.
Kusse said that the incident was over and that the scene was "safe and secure." He added that there is no active search for a suspect and that the motive is unknown.
The FBI is leading the investigation.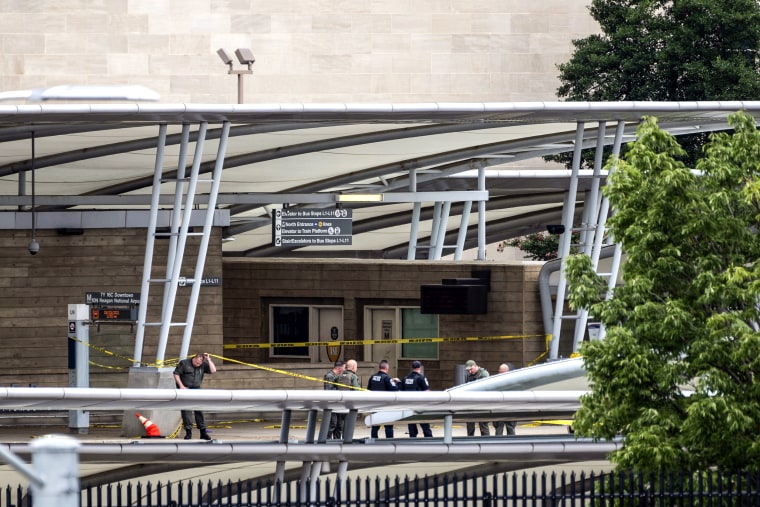 Defense Secretary Lloyd Austin ordered flags be flown at half-staff at the Pentagon and extended his "deepest sympathies to the family, loved ones and colleagues" of the officer.
"This fallen officer died in the line of duty, helping protect the tens of thousands of people who work in — and who visit — the Pentagon on a daily basis," Austin said.
"He and his fellow officers are members of the Pentagon family, and known to us all as professional, skilled and brave. This tragic death today is a stark reminder of the dangers they face and the sacrifices they make. We are forever grateful for that service and the courage with which it is rendered."
An Associated Press reporter near the building heard multiple gunshots. Another AP journalist heard police yelling "shooter," the news agency reported.
The Arlington County, Virginia, Fire Department wrote on Twitter that crews "did encounter multiple patients." Officials have not released details about the extent of their injuries.
About an hour after having tweeted that there had been an "incident at the Pentagon Transit Center," the Pentagon Force Protection Agency posted that the scene was "secure." The lockdown was lifted just before 12:15 p.m., according to the agency, which is charged with safeguarding occupants of the Pentagon.
"It is still an active crime scene. We request that everyone stay away from the Metro rail entrance and bus platform area," the agency said.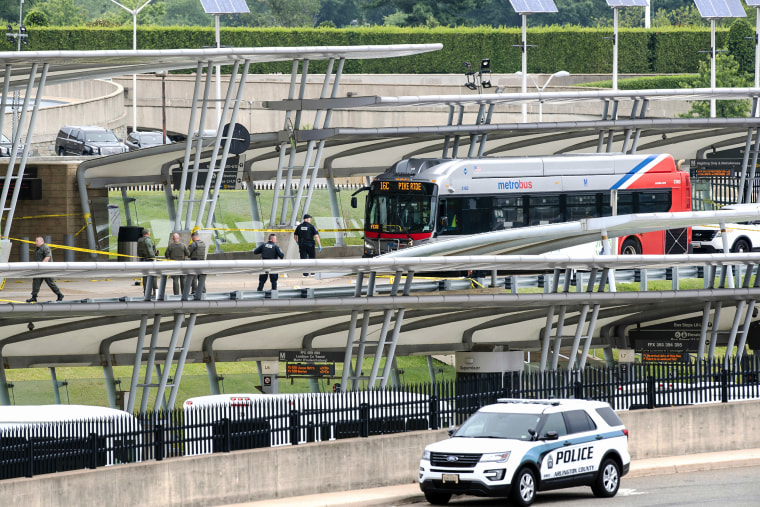 Sherri Ly of the Washington Metropolitan Area Transit Authority said that Metrobuses were being diverted from the transit hub and that trains were bypassing the Pentagon Transit Center "due to an active police investigation on the Pentagon Reservation."
CORRECTION (Aug. 3, 2021, 5:15 p.m. ET): Two photo captions in an earlier version of this article misstated where the Pentagon is located. It is in Arlington, Virginia, not Washington, D.C.