The Salvation Army was handing out bottled water. Parents were calling pediatricians to find out if their kids should get tested for lead.
These aren't scenes from Flint, Michigan, where a lead-poisoning crisis exploded into the national consciousness a month ago — but from Jackson, Mississippi, a thousand miles to the south, where the toxin has also been found in some drinking water.
"I'm very disturbed," said Monica Cable, 32, a mother of three young children who said it was "ironic" that she had recently donated money to help families in Flint.
"Now we're in need of water!" she said. "It's right at our back door."
Jackson officials announced Wednesday that pregnant women and children age 5 and younger should not drink unfiltered water from the tap, and everyone else should run their cold water for up to two minutes before consuming or cooking with it.
Water samples in 13 out of 58 homes that were collected in June tested above the level at which federal regulators say action must be taken. A new round of tests in January found 11 out of 100 homes were above that level.
"We are nowhere near the levels seen in Flint," said Kishia Powell, the director of Public Works in Jackson. "We're dealing with the issue and managing it so it does not become a crisis situation."
The city has been ordered by the state to take steps to stop its water from corroding water pipes and leaching lead into the system.
Powell said one of the plants has been having trouble keeping the pH of the water steady. An engineer has been brought in to figure out why and come up with a solution, but officials say it could be six months before the problems is solved.
In the meantime, health officials said all children 6 and younger should be tested for lead, which can cause serious developmental and physical problems.
"We've had a lot of parents calling and finding out what they need to do," said Dr. Sarah Jones, a pediatrician in Jackson whose patients live in the poorer sections of the city where lead pipes are more likely to be found.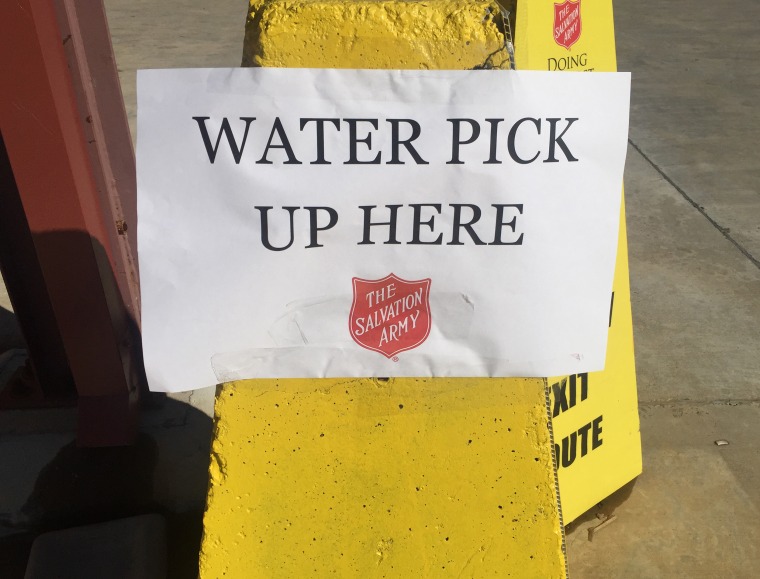 She said she was telling parents not to panic but to take the warnings seriously.
"It's better to be safe than sorry," she said.
The state Health Department said families below the poverty line can get bottled water through social service programs, but people were also clearing off store shelves.
"We are just about sold out of our gallon water," said Courtney Ruffin, manager of the Piggly Wiggly on Meadowbrook Road.
A day after the precautions were announced, the Salvation Army handed out 150 gallons of water. Spokeswoman Erin Campbell said that when the giveaway started at 10 a.m., a crowd was waiting.
"People are scared," she said. "If we don't have clean water, what are we supposed to feed our children?"
At a press conference on Wednesday night, Jackson officials sought to downplay fears, insisting their water had not been deemed unsafe and that the recommendations for pregnant women and children were issued out of an abundance of caution.
The samples that initially came back high were drawn in June, but the state Health Department did not analyze them until January. A spokeswoman for the agency said they have since changed their policy and will now analyze samples on a weekly basis.
When new samples were taken from the original 13 houses in January, all but two came back normal, possibly because the city was working to improve the chemistry of its water even before it knew lead levels were elevated, Powell said.
But the January tests also found nine new houses had lead levels above 15 parts per billion, the federal action level.
Powell said the city is trying to identify whether the lead is in service lines that run from mains to homes or only in-house plumbing. Part of the problem is there are no records showing whether there are any lead lines underground, she said.
Adrienne Katner, a professor of environmental science at Louisiana State University Health, said the situation in Jackson is no surprise and will continue to happen across the country as long as water flows through lead pipes that have been used in cities since the 19th century.
"Lead lines were used all over the country," she said. "This is going to become a national issue."