Edward Snowden's exclusive, wide-ranging interview with Brian Williams attracted intense attention on social media Wednesday, with Americans divided on whether the fugitive leaker is a patriot or a traitor — but leaning toward the prior.
Tracking the two terms on Twitter over a 36-hour window (from 2 p.m. ET Tuesday through 2 a.m. Thursday), they were extremely close until Snowden spoke in the hour-long interview, his first with a U.S. television network, and #Patriot spiked. During the broadcast, tweets mentioning #Patriot outnumbered #Traitor nearly two to one.
Overall through 9 a.m. ET Thursday, 59% of Twitter users are calling Snowden a #Patriot versus 41% #Traitor.
With the help of Twitter, see how the conversation changed in the below video and chart. On the video, the blue dots show those tweeting #Patriot, while the green dots show those tweeting #Traitor.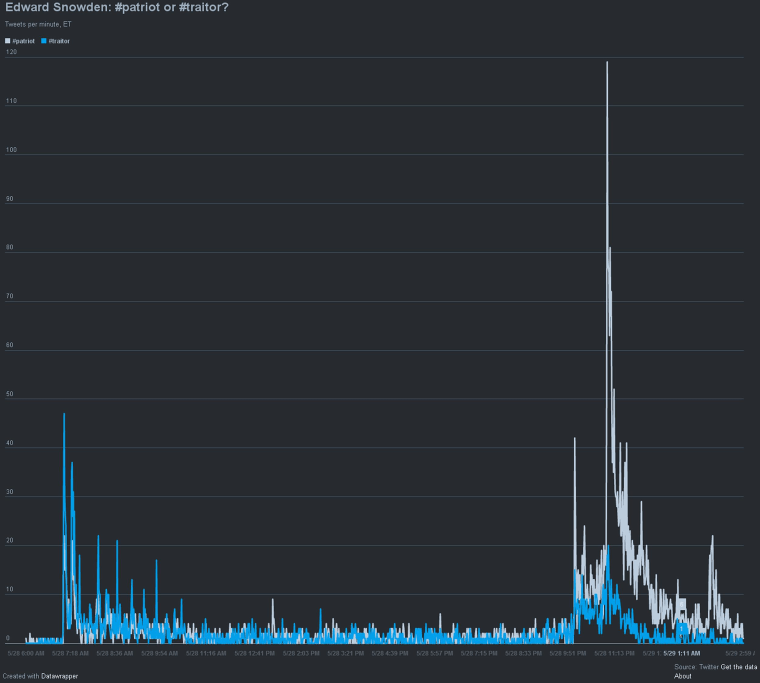 The interview was referred to thousands of times on Twitter, and the hashtag #InsideSnowden was trending during the NBC broadcast of the hour-long interview, Snowden's first with a U.S. television network.
Secretary of State John Kerry, during a live interview Wednesday on TODAY, made his opinion clear: "Edward Snowden is a coward, he is a traitor, and he has betrayed his country."
Snowden classified himself as a patriot.
"Being a patriot means knowing when to protect your country, knowing when to protect your Constitution, knowing when to protect your countrymen from the — the violations of and encroachments of adversaries," he said.
On social media, people aired their opinions all day.
Some remained undecided.
Many also referred to Snowden's demeanor throughout the interview, as he appeared calm and calculated in his responses.
When asked by Williams about how he spends his time in Russia, Snowden mentioned watching the HBO crime TV series "The Wire," which first aired more than 10 years ago. His assessment of the show's second season, which he said was not great, generated more than 800 mentions — few in agreement.
— Becky Bratu and Lou Dubois