A parking garage collapsed in New York City's Financial District on Tuesday afternoon, killing one person and injuring other people.
Firefighters responded but pulled rescuers out because of concerns about the building's structural stability, the New York Fire Department said.
One employee of the garage was killed and five other employees were injured, one of whom refused medical attention, said James Esposito, the fire department's chief of operations.
Mayor Eric Adams said one person was found dead after first responders arrived.
"We had firefighters inside the building conducting searches. The building was continuing to collapse," Esposito said at a news conference, calling the operation extremely dangerous.
The workers inside the building were doing parking garage operations at the time of the collapse, Esposito said.
A worker was trapped on the upper floors of the building and called for help, Esposito said. Firefighters assisted him across the roof to another building to safety.
Officials believe everyone in the four-story building has been accounted for, but the fire department will continue to conduct searches to confirm.
Authorities used a robotic dog with a camera to stream video from within the building as conditions were too unstable for first responders to go inside.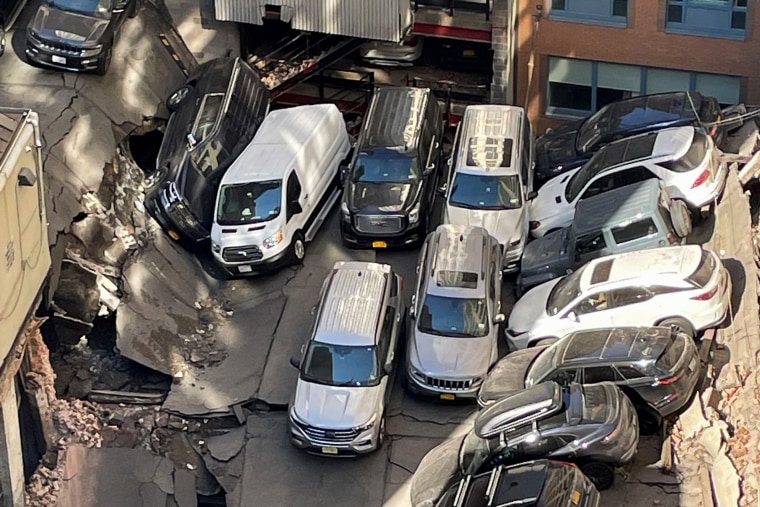 Records show the building had a 2003 violation for a crack in the first-floor ceiling slab. A hearing was set in 2004 for the "hazardous" condition, but the status remained in violation.
Another violation in 2009 reported that fire stairs were broken and defective and that there was a "loose piece of concrete in danger of falling." A hearing was scheduled in 2010, but the records show there was no compliance recorded for this violation.
Police asked people to avoid the area near Ann Street between Nassau and William streets at 4:42 p.m. because of a structural collapse.
Images and videos shared on social media showed multiple vehicles that had parked on the roof crashed into the floor below.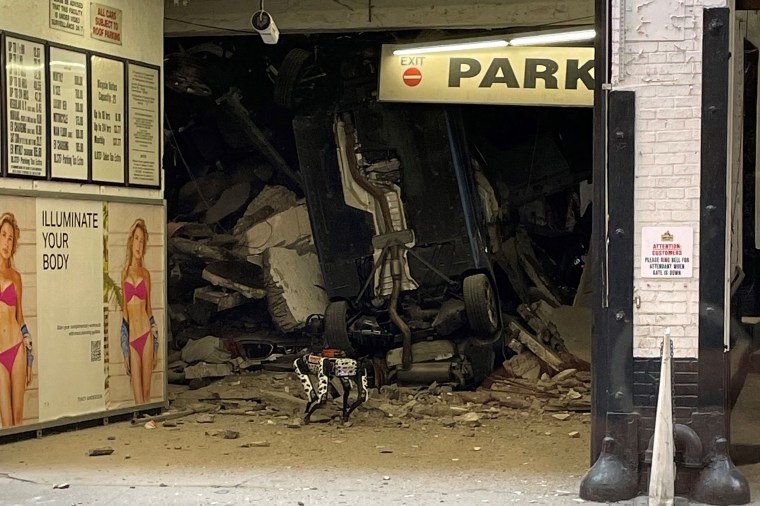 Pace University, which has multiple buildings in the area, canceled classes Tuesday evening. It also tweeted that its 33 Beekman and 161 William buildings have been evacuated, with accommodations being made for residential students.
An investigation into the collapse is ongoing, officials said.
The building has been used as a parking garage since 1957, and it had four stories with a cellar, city Department of Buildings Acting Commissioner Kazimir Vilenchik said.
Records from the department indicate a certificate of occupancy was issued in 1926.