America's second-favorite frog hasn't croaked yet.
Pepe the Frog creator Matt Furie announced his plans to resurrect and rebrand the character this week as a "universal symbol for peace, love and acceptance"
Amid the 2016 presidential campaign, Pepe had become a symbol of the so-called "alt-right" — a loose affiliation of ultra-right-wingers, white nationalists and white supremacists — and many Trump supporters in general.
Frustrated with the racist and hateful appropriation of his character, Furie literally killed off and buried the once "chill frog dude" in May.
But he then launched a $10,000 Kickstarter campaign to "Save Pepe" last Monday.
"This project is an effort to re-rebrand Pepe the frog as a symbol of love, peace and acceptance," Furie said in a Kickstarter video. "And my aim for the project is to create a brand new zine in the spirit of the original 'Boy's Club,' and tell the story of Pepe's resurrection and rebirth and the story that follows."
The fundraiser has raised more than $17,000 so far, nearly doubling its initial goal.
"It is a very messy situation," Jason Furie, Matt's brother who is helping with the project, told MSNBC's Joy Reid on Sunday. "And him as the creator of the image is the most upset by this, but at the end of the day we're trying to symbolically rebrand him into something more positive.
Matt Furie, who in June was named one of the 25 most influential people on the internet by TIME, has also acquired the help of a lawyer to explore legal challenges against alt-right figures profiting from Pepe's use.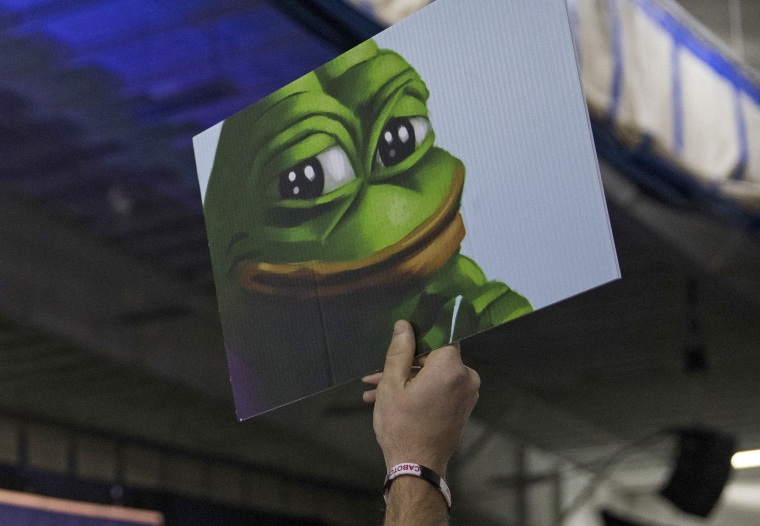 "We do reject the right of other people taking Matt's character and hijacking him and making a profit from Pepe," that attorney, Kimberly Motley, said on MSNBC on Sunday. "That's where they legal challenges lie. You don't have the right to take a person's creation and then profit off that creation, which we see many people in the alt-right movement have done so."
In September, the Anti-Defamation League added the character to its "Hate on Display" database and describe its use by the alt-right as carrying "racist, anti-Semitic or other bigoted themes."
In the fall, the ADL and Furie joined forces to launch the #SavePepe campaign.