On any other day, the Pentagon's tweet about a Marine who came to the U.S. as an Iraqi refugee wouldn't have raised an eyebrow.
But the fact that the Department of Defense decided to highlight the story of Cpl. Ali Mohammed hours after reports that President Trump is expected to ink a temporary ban on most refugees did not go without notice.
Online observers wondered if someone on the military's social media team was subtweeting the White House by pointing out the contribution a former refugee is making to the U.S.
But a Pentagon official told NBC News the tweet's timing was simply a coincidence, that tweets are planned well in advance and that this one had nothing to do with any expected announcements.
The tweet directed followers to a feature story on the Marines website, published two days earlier, that recounts how Mohammed's family was driven from Baghdad because of their support for the United States.
He joined the Marines in 2014 and is now serving as a translator for a team that supports Iraqi forces in their fight against ISIS.
"America is my home, but Iraq is my homeland," Mohammed is quoted as saying.
Defense Department spokeswoman Laura Ochoa said the tweet about the profile was simply "an opportunity to highlight the unique story of one of our U.S. Marines and his service to our country."
Two days earlier, another Defense Department post about social media posting and mental health was seen by some as a possible dig at the prolific tweeter-in-chief. But that tweet actually linked to a Jan. 19 report about suicide-prevention, a priority issue for the Pentagon.
Scrutiny of government tweets may be more intense after incidents involving another federal agency.
The Interior Department was temporarily banned from using its Twitter accounts after the National Park Service shared tweets from others that were seen as critical of the Trump Administration. The Park Service later apologized.
An ex-employee of the Badlands National Park then posted a series of messages about climate change that were viewed as a protest against Trump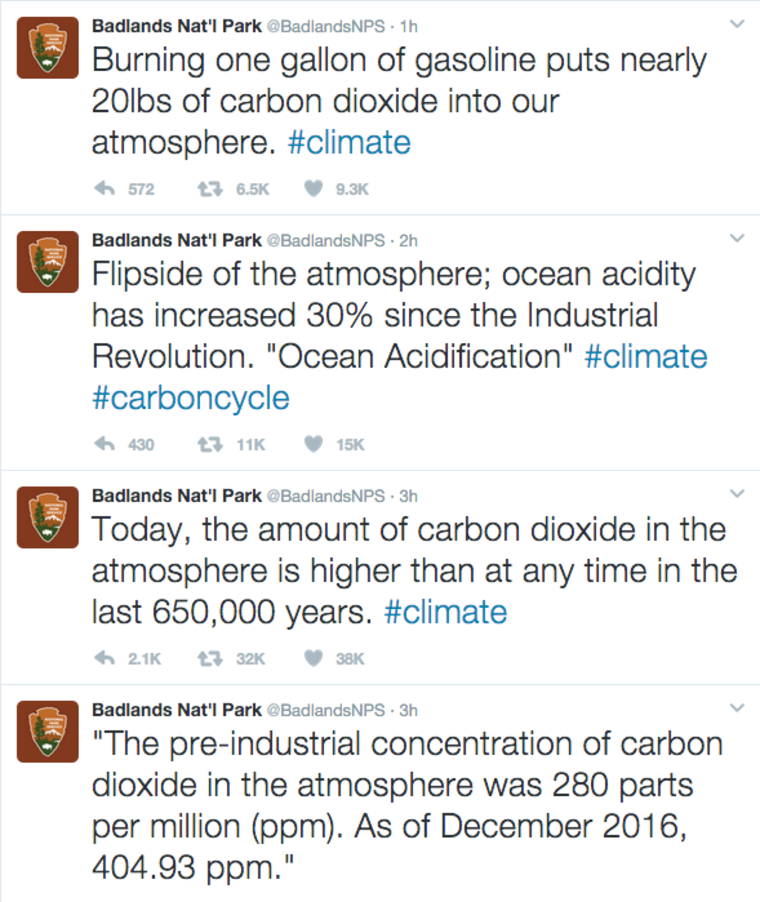 The tweets were unauthorized and were removed by the park after it realized its account had been breached, a park service official said.