A $120,000 work of art consisting of a banana duct-taped to a wall was ripped from its perch and eaten by a performance artist Saturday afternoon.
David Datuna posted video of his gastronomical action, which he proclaimed was an "art performance" he has titled "Hungry Artist."
The banana piece, "Comedian" by Maurizio Cattelan, was on display at the annual showcase Art Basel in Miami Beach, which runs through Sunday.
The Italian artist sold two editions of the piece to private collectors for $120,000 each and was negotiating a third sale to a museum for $150,000, said a spokeswoman for Paris-based Galerie Perrotin, which displayed the work in its booth at Art Basel.
"I love Maurizio Cattelan artwork and I really love this installation," Datuna said on Instagram. "It's very delicious."
In September, a $1 million, 18-karat gold toilet Cattelan created was stolen from a British palace that was the birthplace of Winston Churchill.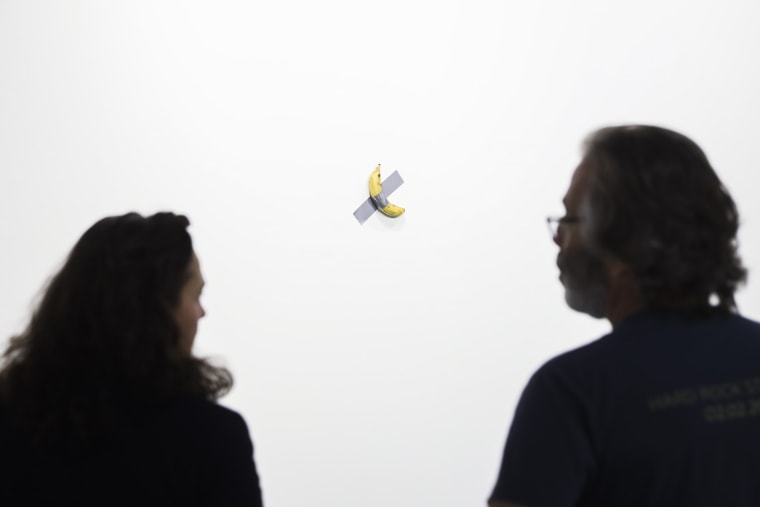 In 2016, New York's Guggenheim Museum described him in a press release as "the art world's resident prankster."
Miami Beach police spokesman Ernesto Rodriguez said Saturday the department had no interactions with Datuna, and the gallery spokeswoman said there had been no complaints about the performance artist.
She said the artwork comes with "instructions" that "the banana should be replaced as necessary."
Gallery spokesman Lucien Terras told the Miami Herald that Datuna's snacking would have no impact on the piece's value because the banana was meant to be replaced as needed.
"He did not destroy the art work," he told the newspaper. "The banana is the idea."