The person accused in three stabbings in a California college town was a university student who was "separated" from the school two days before the first attack, police and university officials said Thursday.
Two people were killed and a third was injured in the stabbings at parks in Davis, which is the home of the University of California, Davis, since late April.
Carlos Dominguez, 21, was detained Wednesday in a park where the second killing occurred, and he was arrested Thursday on two counts of homicide and one count of attempted murder, Davis Police Chief Darren Pytel said.
The stabbings left the city of 66,800, west of Sacramento, on edge. The violence prompted UC Davis to switch evening classes to remote classes.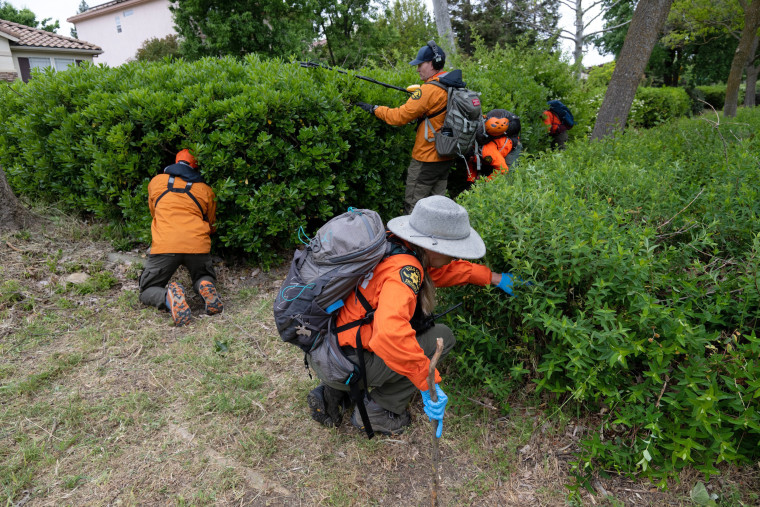 Police received more than 500 tips. Over a dozen people called Wednesday after they saw a man matching a suspect description at the park where one of the attacks occurred, which led to the arrest, Pytel said.
Killed were David Henry Breaux, 50, and UC Davis student Karim Abou-Najm, 20, police said. A woman was stabbed and critically injured.
A motive is under investigation. Police said that they have no information that Dominguez knew any of the victims but that they are still investigating.
"These crimes were horrific. They're hard to imagine," Pytel said.
Dominguez, who was a UC Davis student until last week, lived in Davis for the last couple of years, Pytel said. He enrolled in 2020 and was a biological sciences major, the university said.
Dominguez was in his third year until April 25, "when he was separated for academic reasons," UC Davis said in a statement.
The first fatal stabbing was reported around 11:20 a.m. April 27, when officers responded to a request for a welfare check at the city's Central Park. They found Breaux, who is homeless, hunched over a bench with "very significant" stab wounds, Pytel previously told reporters.
Two days later, on Saturday, Abou-Najm died of injuries he sustained in a stabbing near Sycamore Park around 9:14 p.m., Pytel said.
They were both stabbed "many times," he said.
The third stabbing occurred around 11:36 p.m. Monday. A woman who was homeless had gone to sleep in a tent when someone stabbed through the tent and then reached in and began stabbing her, Pytel said.
The woman was able to call 911 and survived, but she suffered serious wounds and underwent surgery, officials said.
The back-to-back stabbings prompted pleas from police for residents to stay vigilant, and UC Davis officials moved to hold evening classes online rather than in person. The school also added extra security at night, Chancellor Gary May announced.
Both the victim in Monday's slashing and a witness in the attack Saturday provided authorities with descriptions of the attacker.
Witnesses who saw someone matching the description at Sycamore Park on Wednesday afternoon led to the arrest of Dominguez, police said. Around 15 people in the area called police.
"One of the callers said, 'I'm following him right now,' and was able to lead us to the person," Pytel said.
Dominguez was wearing the same clothes as in the description police released after the third attack, Pytel said, and he had a backpack containing a large "hunting-style" knife.
Dominguez was initially arrested for the knife, and he was arrested on the homicide and attempted murder counts Thursday afternoon, police said.
The Yolo County district attorney will review the case and decide on formal charges.
Police said investigators have blood and fiber evidence, and they also said the investigation is ongoing. The victims are believed to have fought back, and Dominguez had some injuries to his hands and wrists, Pytel said.
A phone number connected to Dominguez or anyone related to him could not immediately be found. It was unclear whether he had an attorney who could speak on his behalf.
UC Davis said in a statement Thursday it was fully cooperating with investigators and would share more updates with the campus community as they are available.
"We are grateful for law enforcement's quick response and resolution during an extremely difficult period for the city and campus," it said.
CORRECTION (May 5, 2023, 9:30 a.m. ET): An earlier version of this article had the wrong dates for the detention and arrest of Carlos Dominguez on homicide charges. He was detained on Wednesday, not Thursday, and was arrested on those charges on Thursday, not Friday.