The man believed to be responsible for a series of shootings deaths in Tampa, Florida was detained Tuesday and police plan to charge him with four counts of first-degree murder, authorities said.
Acting on a tip about someone with a gun, officers found the man, identified as Howell E. Donaldson III, 24, at a McDonald's in Tampa's Ybor City neighborhood, Police Chief Brian Dugan told reporters.
"Tonight, goodness has won," Tampa Mayor Bob Buckhorn said. "Tonight in the battle between darkness and light, light has won."
Dugan gave no further information about Donaldson, including his hometown, saying charging documents were still being drafted. But he said he believed Donaldson may have worked at the restaurant at some point.
Florida records indicated that Donaldson has no criminal past beyond a handful of traffic citations. He was arrested in New York City in May 2014 but details about the case were not immediately available.
Donaldson graduated St. John's University in Queens, New York last January. He first enrolled in the school in 2011 and was a walk-on member of the school's basketball team during the 2011-12 season, the school's spokesman said.
Peabo Johnson, an employee of the McDonald's, told NBC affiliate WFLA that he was working the grill station when a man walked into the restaurant carrying a book bag. He said that the man asked the manager to hold the bag for him while he went to cash a check but that he told her not to look inside it.
She looked anyway, Johnson said. That was when she found the gun and called police. When the man came back, officers converged to "swarm him, get him to the ground," Johnson said.
Police have said they believe the deaths of four people since early October in the Seminole Heights neighborhood may be connected, although they haven't said why.
Benjamin Mitchell, 22, was shot while he was waiting for a bus on Oct. 9. Monica Hoffa, 32, was found dead in a vacant lot on Oct. 13. Anthony Naiboa, 20, was killed while he was walking on Oct. 19. The body of Ronald Felton, 60, was found Nov. 14 near the scene of a memorial honoring the first three victims.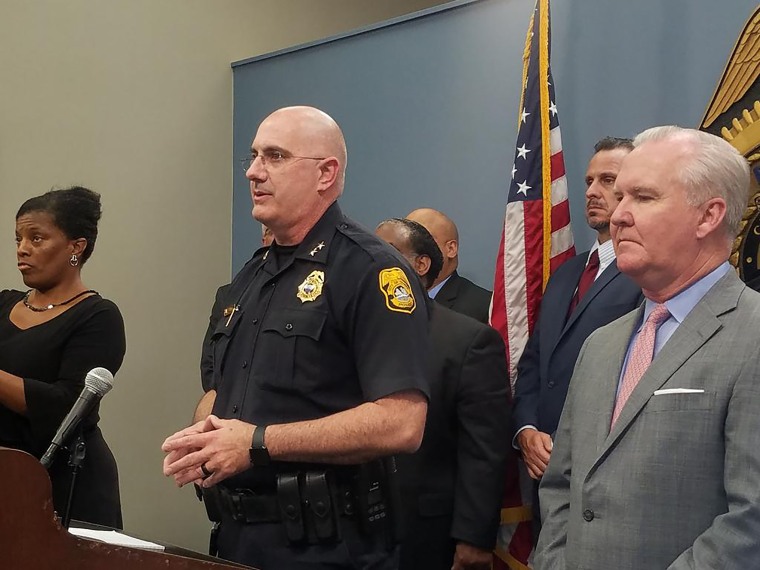 Dugan said at a news conference earlier in the day that officers had recovered a gun but that it wasn't yet known whether it was the gun used in one or more of the recent killings.
Angelique DuPree, Mitchell's cousin, said in an interview that an arrest "would bring closure and relief, relief for us, but more so for the city itself, because it's been on pins and needles."
"Even if it's not the guy, just to know they got somebody with a gun off the street is a good thing," DuPree said.
Hoffa's father, Kenny Hoffa, said, "I'm praying this is the end to all this nightmare we've been going through."
Hoffa told NBC News that he plans to travel to Tampa from South Carolina, where he lives, to be in court as soon charges are brought.
"I want to know who he is and why he did such a terrible thing," he said.