SANTA ROSA, Calif. — Thaddeus Palmese runs a restaurant and is supposed to cater three weddings this weekend. As of Thursday afternoon, he had no electricity to do either.
Palmese, 46, was among more than 2 million people in California struggling to cope with an unprecedented decision by utility PG&E to cut power across wide swaths of the state to prevent wildfires.
The blackouts in the nation's largest state have shuttered businesses, forced schools and universities to close, disrupted home health services and upended daily home life. The cost to the world's fifth-largest economy could be upwards of $2 billion, according to some estimates.
PG&E, which was found to be responsible for last year's Camp Fire, the state's deadliest, has said the shutdowns will help prevent its power lines from sparking fires.
The swap of major disruptions in exchange for potentially fewer wildfires is one many Californians aren't sure they can withstand for long.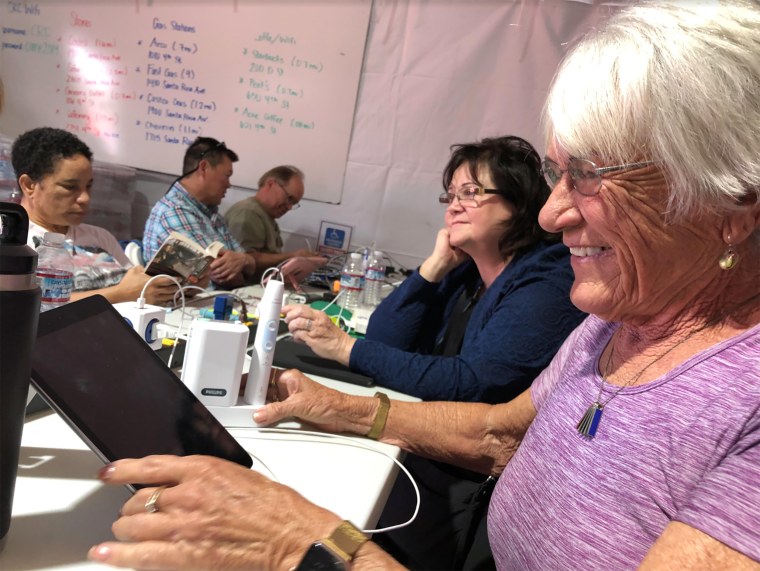 "No, we don't want all our homes to burn down," said Palmese, the executive chef of Tips Roadside in Sonoma County. "But if people are having their hours cut because their business is closed, how can they pay for the homes that didn't burn down?"
Wildfires swept through Sonoma County in 2017, killing 22 people in Santa Rosa, its largest city, wiping out neighborhoods and leaving behind more than $10 billion in damage.
Palmese's restaurant was serving food Thursday cooked in one of its catering food trucks, and his bar was open to serve beer and wine, but he said at least seven staffers at the restaurant were idle because the blackout forced him to scale back operations.
The local health department stopped by Thursday to make sure the restaurant was complying with food safety regulations, and Palmese said the inspectors might need to come back on Friday as he prepares to use the food trucks to cater the weddings. One on Saturday is scheduled to have 165 guests.
So far his food suppliers, spread across Northern California, were still open and planning to make daily deliveries, but he couldn't use his freezers and refrigerators to keep raw food cold. The restaurant also uses an electric pump to access well water.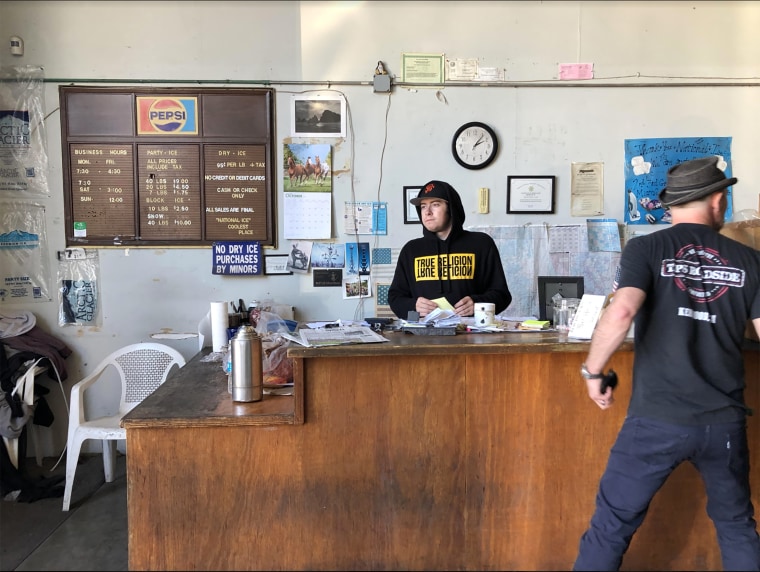 "The normal, day-to-day running of a business becomes a f------ logistical nightmare," he said.
Palmese said his restaurant has looked into a more permanent solution should blackouts become more common. He estimated a generator would cost about $100,000 to buy and install, not including fuel costs. Although a huge cost for a single restaurant, it might be less than the alternative.
"Do you want to take these losses that add up incrementally?" he asked. "Restaurants have a small margin."
The blackout in Santa Rosa came almost exactly two years after the Tubbs Fire started on Oct. 8, 2017, destroying 3,000 homes and killing 22 people.
"Two years ago yesterday, I left my house at 3 a.m. with my dog and pajamas," Inga Torok, 75, said Thursday, her second day without power. "I was surrounded by fire on three sides."
Torok, a retired state employee, said she thinks of the Tubbs Fire every time she smells smoke, and knows that more large wildfires are likely because of California's climate.
"When you have open space and dry vegetation, it really is spooky," she said.
But she said tries not to let the memories from 2017 or the increased caution by PG&E faze her. Before the power went out, she said she filled every bucket she could find with water — she's on a well that uses an electric pump — and bought 20 pounds of dry ice.
"If you have lemons, you need to make lemonade," she said. She and several neighbors were planning an outdoor cookout Thursday night, using a wood oven.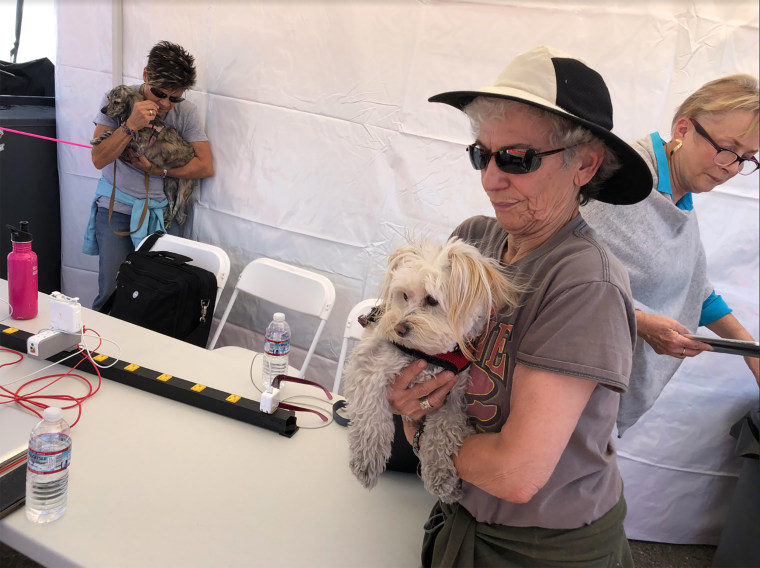 The blackout led to a run on dry ice, which was suddenly a rare and valuable commodity as people tried to preserve frozen foods.
Nathan Flynn, whose family owns National Ice Inc. in Santa Rosa, said the ice shop never sells out of dry ice, but it did so twice on Thursday — once in the morning, and again in the afternoon, after a delivery. He didn't expect another delivery until Friday morning.
"Usually our business is people who are smiling and happy, going camping and wanting to have a good ol' time," said Flynn, 26, between helping customers. "The last two days, we've seen lines out the door that we've never seen before. People are scared, and it's horrible."
The shop sells dry ice for $1 a pound and regular ice for $2.50 for a 10-pound block slightly bigger than a box of tissues. Flynn said one customer was trying to save 60 pounds of salmon that he had caught in Alaska, brought home and froze.
"We're a very agricultural county," he said. "Everybody has a little meat they hunted themselves, or fish that they brought all this way."
PG&E set up a temporary community center in a Santa Rosa parking lot, essentially, air-conditioned tents with tables, chairs, power outlets, water and other basic amenities. A steady flow of people came on Thursday to charge their phones, laptops and other electronic devices.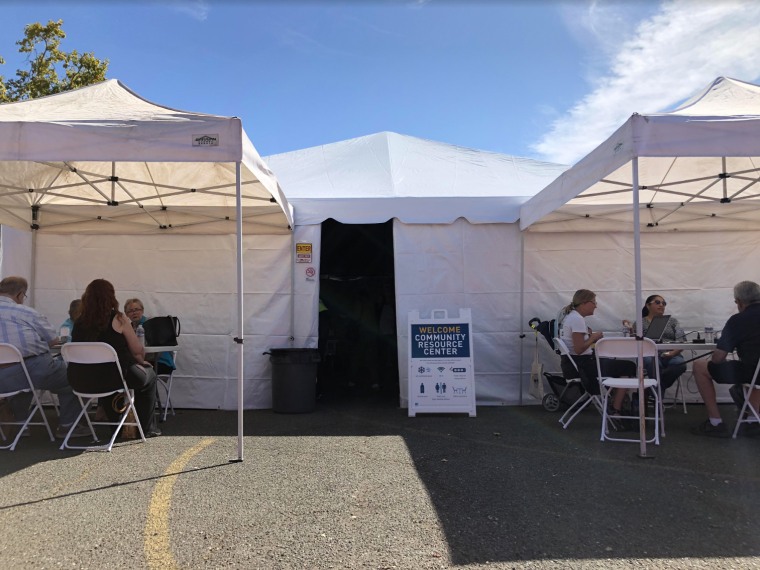 Santa Rosa residents said they were grateful for the center but exasperated by the utility's failure for years to do more to prevent wildfires.
"It's a massive inconvenience for everybody, and it underscores how dependent we are on PG&E to do its job," said Renee Lopilato, 72, a retired college administrator who was charging her phone at the temporary center with her dog, Windy.
"I wish PG&E had spent the last 10 years insulating its lines, putting its lines underground and trimming its vegetation," she said. "This makes me very, very angry."
Lopilato said the full impact of the blackout was difficult to measure because it was affecting millions of people in so many ways, from spoiled food to canceled college classes to a possible uptick in traffic accidents because many street lights are out.
She said she fears this won't be the only blackout imposed by PG&E as a precaution: "If this is going to be a yearly event, then I'm going to be more angry than I've ever been."