When so-called "Pharma Bro" Martin Shkreli was convicted of securities fraud this summer, he boasted that he would probably spend less than a year at a "Club Fed," a cushy minimum security prison where he could work on his tennis game and Xbox skills.
Instead, until his sentencing in January, he will be locked up at a holding jail on Brooklyn's gritty waterfront that's home to accused mobsters, drug smugglers and terror suspects; one federal judge has likened it to "a Third World country."
Shkreli, 34, was hauled off to the Brooklyn Metropolitan Correctional Center on Wednesday night after a judge revoked his bail over a Facebook posting that offered $5,000 to any follower who would grab a hair off Hillary Clinton's head during her book tour.
The former pharmaceutical executive — who first came to national attention for hiking the price of a life-saving drug — insisted the posting was a joke. The judge, however, wasn't laughing.
"This is not protected by the First Amendment," U.S. District Judge Kiyo Matsumoto said before revoking the $5 million bond. "There's a risk that somebody may take him up on it."
Shkreli's attorney, Benjamin Brafman, said Friday he would not be commenting on his unruly client until he's sentenced for allegedly lying to investors about the performance of two hedge funds he controlled.
Once that happens, Shkreli could indeed be transferred to a minimum-security prison where other white-collar criminals are doing time. But for now, his environs are far more forbidding.
The concrete block holds more than 1,800 inmates — among them reputed Bonanno crime family captain Vincent Asaro, a former Mexican prosecutor accused of drug-smuggling, terrorist wannabes who allegedly tried to join ISIS, and a man arrested for threatening to bomb synagogues.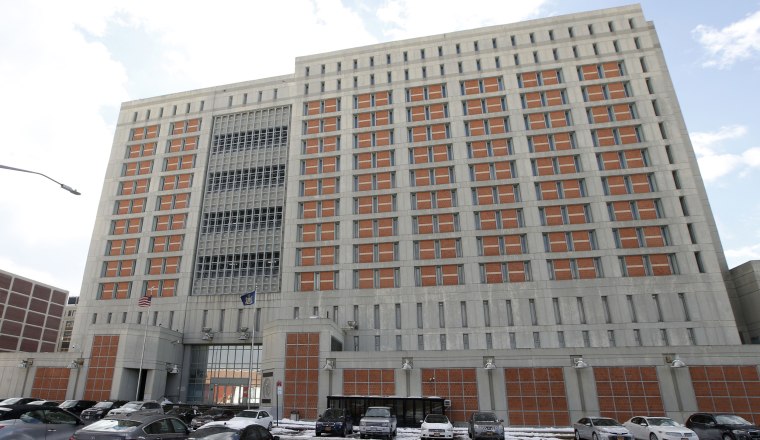 One of Brafman's former clients, Jacob Alexander, a tech CEO charged with a stock fraud scheme, complained about the conditions at the Brooklyn facility last year.
"Mr. Alexander and other male prisoners at the MDC are deprived of fresh air or sunlight, any reasonable opportunity to exercise (Mr. Alexander spends large parts of his day walking in circles in his unit, when he is permitted to do so), and adequate health care (Mr. Alexander has been unable to get authorization to receive the hearing aids or insoles that he previously wore)," the lawyer wrote to the court.
He cited a June 2016 report by the National Association of Women Judges that found conditions in the female wing were "unconscionable."
"The absence of fresh, clean air, the complete absence of sunlight, and the absence of ANY outdoor time and activities are immediate issues which BOP has failed to address in any meaningful fashion," the report said.
That led a Brooklyn magistrate to announce she was reluctant to send female defendants to the jail, saying, "Some of these conditions wouldn't surprise me if we were dealing with a prison in Turkey or a Third World country."
In May, federal prosecutors charged three guards — two of them supervisors — with sexually abusing female inmates at the Brooklyn MDC.
The U.S. Bureau of Prisons, which runs the jail, said it could not discuss the conditions of Shkreli's confinement. It did note that inmates do not have access to the Internet, so Shkreli will be cut off from his Facebook page, his YouTube account, and eBay — where his auction of the sole copy of an unreleased Wu-Tang Clan album he bought for $2 million is currently hovering at just over $1 million.