/ Source: Associated Press
BOSTON — Barry Cadden, the pharmacy co-owner found responsible for the deaths of 76 people in a national meningitis outbreak, was sentenced to nine years in prison on Monday, far less than the victims had wanted.
"I'm sorry for your extraordinary losses," Cadden, wiping his eyes, said in U.S. District Court in Boston.
A dozen victims who were sickened or lost loved ones had asked Judge Richard Stearns to sentence Cadden to 35 years for the deadly 2012 nationwide fungal meningitis outbreak, which sickened hundreds of people. Cadden's lawyer asked for only 2½ to three years.
Cadden was acquitted of second-degree murder under federal racketeering law in March, but he was convicted of conspiracy and fraud. The outbreak was traced to contaminated injections of medical steroids made by the New England Compounding Center in Framingham.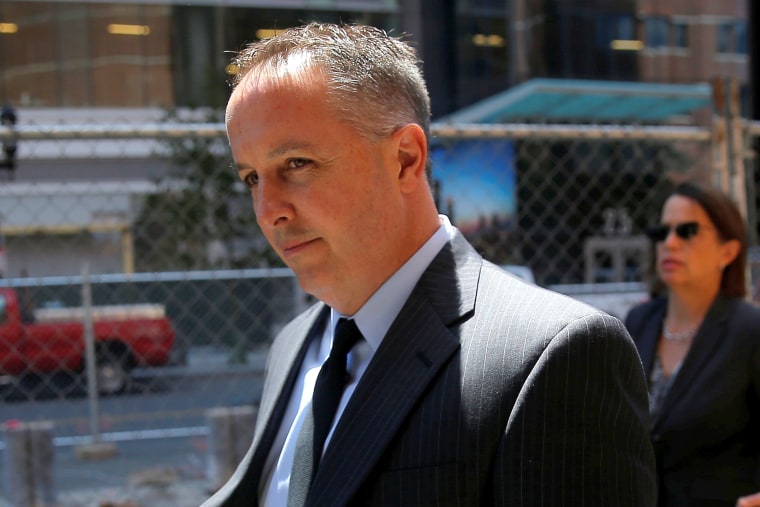 Prosecutors say Cadden, 50, ran the center in a dangerous way by skirting industry regulations on sterility to push production and make more money. Assistant U.S. Attorney Amanda Strachan said the center was "a massive, reckless and fraudulent organization."
At Cadden's sentencing Monday, victims told stories of shattered lives and unbearable loss caused by the tainted steroids made by Cadden's company.
Penny Laperriere of Detroit, whose husband, Lyn, died in 2012 after receiving a contaminated steroid shot, said Cadden destroyed her family.
"Who gave him the right to play God?" Laperriere said.
The Centers for Disease Control and Prevention traced outbreak of fungal meningitis and other infections in 20 states to contaminated injections of medical steroids, given mainly to people with back pain.
The CDC put the death toll at 64 as of October 2013. Federal prosecutors say 12 more people have died since then, raising the total to 76. More than 700 other people were sickened. Indiana, Michigan and Tennessee were hit the hardest.
The scandal prompted increased scrutiny on compounding pharmacies, which differ from ordinary drugstores in that they custom-mix medications and supply them directly to hospitals and doctors. In 2013, in reaction to the outbreak, Congress increased federal oversight of such pharmacies.
NECC used expired ingredients and falsified logs to make it look as if its so-called clean rooms, where drugs were made, had been disinfected, prosecutors said. After the outbreak, regulators found multiple potential sources of contamination, including standing water, as well as mold and bacteria in the air and on workers' gloved fingertips.
Cadden's lawyer, Bruce Singal, told the jury that Cadden wasn't responsible and pointed the finger at Glenn Chin, a supervisory pharmacist who ran the clean rooms. Chin, who has pleaded not guilty, is scheduled to go on trial in September.
NECC filed for bankruptcy after getting hit with hundreds of lawsuits. NECC and several related companies reached a $200 million settlement with victims and their families.