Police were trying to identify the vandals who knocked over or damaged at least 100 headstones at a Jewish cemetery in Philadelphia as the nation grappled Monday with yet another wave of anti-Semitic incidents.
Meanwhile, bomb threats forced the evacuations of Jewish Community Centers in New York and in 10 other states.
"When we got there, I saw the degree of desecration," Rabbi Yosef Goldman of Temple Beth Zion-Beth Israel in Philadelphia told NBC News after viewing the damage at Mount Carmel Cemetery. "Seeing it in person was heartbreaking and devastating..,You feel the violation."
"This is not just a random act," Rabbi Shawn Zevit of the Mishkan Shalom synagogue in Philadelphia told the local NBC affiliate. "To topple so many headstones clearly is a concerted effort with intent."
Philadelphia Mayor Jim Kenney agreed, noting that there are four cemeteries in the area "and the only one that was vandalized is a Jewish cemetery." He said what happened at the cemetery was a sad sign of the times when bigots feel "empowered, emboldened to act out."
"If we let this go on and on and on, we're gonna spiral down this slope of bigotry and hatred and we can't go there," Kenney said.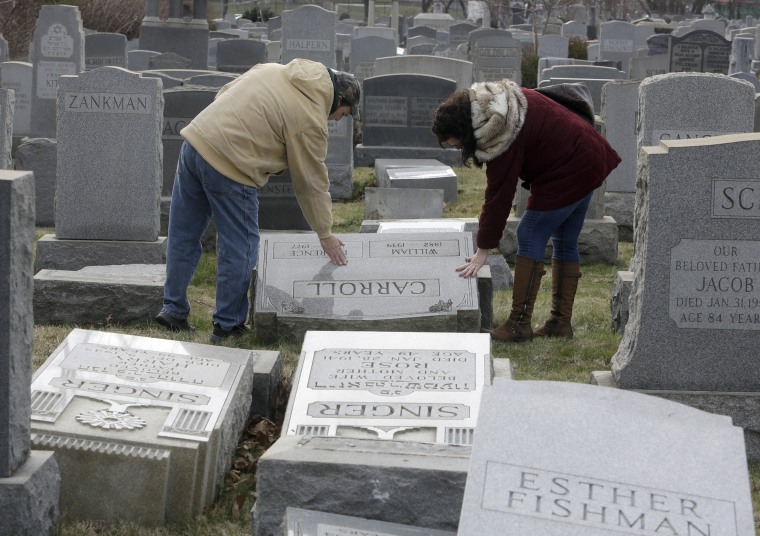 No injuries were reported in the latest anti-Jewish bomb threats to crash over the country, a spate of hate that also hit Alabama, Delaware, Florida, Indiana, Maryland, Michigan, New Jersey, North Carolina, Pennsylvania and Virginia, according to local police and media reports.
White House spokesman Sean Spicer said authorities are trying to track down the culprits.
"The president continues to condemn these and any other form of anti-Semitic and hateful acts in the strongest terms," Spicer said. "From our country's founding we've been dedicated to protecting the freedom of our citizens' rights to worship."
Jonathan Greenblatt of the Anti-Defamation League, whose Manhattan offices were targeted by a bomb hoax last week, said he hopes President Donald Trump lays out a "plan of action" to combat the scourge Tuesday when he addresses a joint session of Congress.
"This is not normal when pre-schoolers are evacuated from schools, when relatives have to wonder whether the graves of their loved ones are destroyed," he said.
The ADL has recorded a sharp rise in anti-Semitic incidents since Trump was elected president and the most recent round of bomb threats "appear to be coming in from the same person or persons," Greenblatt said.
New York Gov. Cuomo called the bomb threats on JCC facilities in the cities of Tarrytown, New Rochelle, Plainview and the New York City borough of Staten Island "assaults on all New Yorkers."
"In response to these anti-Semitic attacks, I am ordering the State Police to work with our federal and local law enforcement partners to investigate these threats and apprehend those responsible," he said.
Cuomo last week announced a $25 million grant program "to boost safety and security at New York's schools and day care centers at risk of hate crimes or attacks because of their ideology, beliefs or mission."
This was the fifth time this year that JCC facilities were targeted by hoax bomb threats, the organization reported.
Previously, the JCC was targeted 68 times at 53 facilities in 26 states and one Canadian province. All turned out to be hoaxes.
Last week, the FBI confirmed it was investigating the bomb threats as well as the vandalism at Jewish cemetery in Missouri where more than 100 headstones were vandalized or knocked over. Vice President Mike Pence visited the community to show his support in the wake of the attack.
The ADL has already issued a security advisory warning Jewish institutions across the country to boost security and follow the guidance provides by the FBI and Department of Homeland Security.
Ryan Lenz of the Southern Poverty Law Center, which monitors hate groups, told NBC News last week they don't know who is behind the spate of bomb threats. But he said there has been a spike in hate speech and hate group activity since Trump was elected.