Workers in Philadelphia took on the name "Crisco Cops" as they greased up light poles in anticipation of Philadelphia Eagles fans' celebrating or mourning the results of the NFC Championship Game against the Minnesota Vikings.
Philadelphia fans are known for their intensity — win or lose — and the city prepared throughout the week in case things get physical. Greasing Philadelphia's poles isn't unheard of, as fans tried to climb poles slathered in grease after the Phillies won the baseball World Series in 2008 and after the team took the 2009 National League pennant.
"It is to ensure no one climbs poles," said Troy T. Brown, a Philadelphia police spokesman.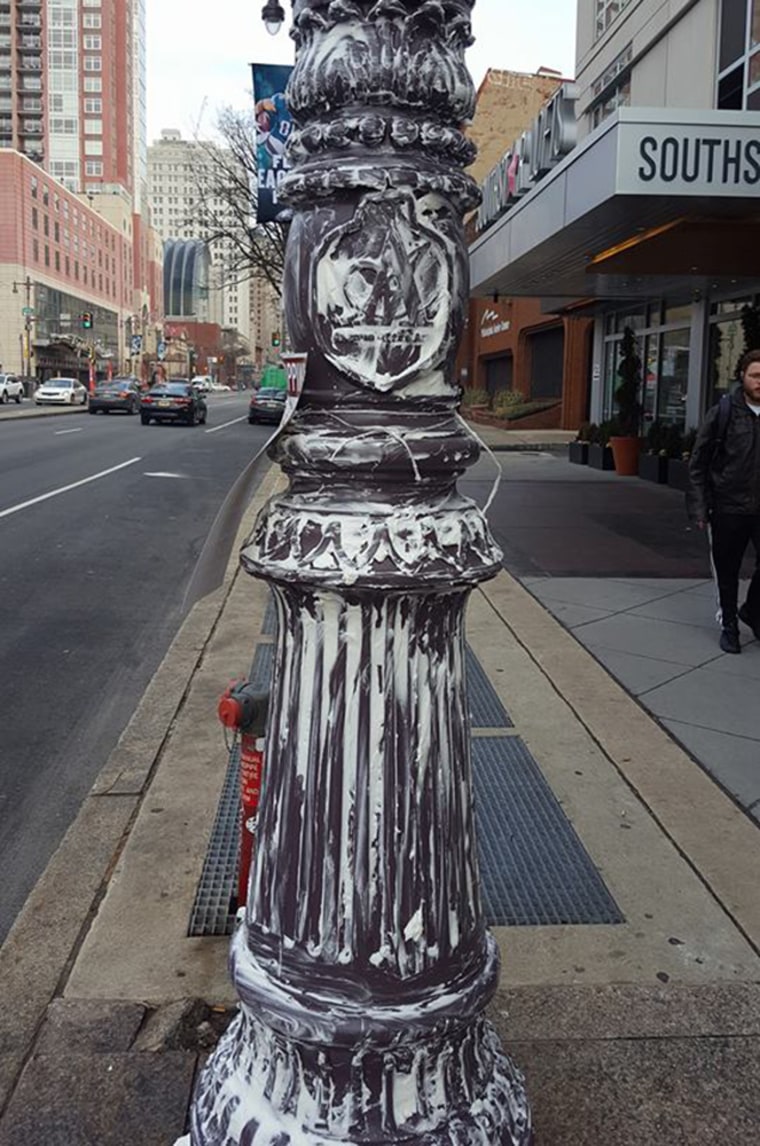 "It would be nearly impossible to predict how many poles will be greased today, as each of the 21 district captains was tasked with identifying 'hot spots' where celebrations are likely occur, and taking the appropriate safety measures," he added.
District captains weren't required to grease poles, Brown added.
While police said they hadn't identified any "credible direct threats" to the safety of the game, they acknowledged that they planned to use crowd control techniques and would be "deploying officers on foot, bikes and horses, as well as using barricades."
Last week, the city warned businesses owners in one area of North Philadelphia to secure their buildings and to "remove anything outside your business" that could be broken or thrown. They also asked that owners who have security cameras to "please have them on."
According to NBC Sports Washington and NBC Philadelphia, fans from the "City of Brotherly Love" have a long, difficult history with other teams, their own teams, one another and even Santa Claus. But they have quite an affinity for D-batteries.
Here are some of the highlights of that problematic past:
In 2016, a Phillies fan threw a beer bottle at slumping slugger Ryan Howard.
Again in 2016, angry fans of the Flyers National Hockey League team threw free wristbands meant to pay a tribute to Flyers owner Ed Snider — who had died from bladder cancer a week before — onto the ice, which eventually got so bad that the Flyers were given a delay-of-game penalty.
In 2014, a fan threw a cheesesteak sandwich at Washington Redskins player Chris Baker after he was ejected from their NFL game against the Eagles.
In 2010, police arrested a Phillies fan for purposefully projectile vomiting on an 11-year-old girl and her father during a game.
In 1999, Phillies fans threw D-batteries at St. Louis Cardinals outfielder J.D. Drew, whom the Phillies had drafted in 1997 but who didn't sign with the team.
In 1999, Eagles fans cheered when Dallas Cowboys wide receiver Michael Irvin suffered a career-ending spinal cord injury.
When the Eagles played Dallas, Cowboys coach Jimmy Johnson had to be escorted off the field by the police because fans were throwing ice, snowballs and beer at him.
In 1983, Philadelphia fans beat Redskins mascot Chief Zee twice, breaking one of his legs.
Finally, in 1968, the Eagles had their annual Christmas-themed halftime show, and fans didn't enjoy the substitute Santa Claus who filled in for the original St. Nick, who had been delayed by winter weather. They pelted the Kris Kringle with snowballs.
To avoid some potential trouble this year, Brown said police directed city workers to grease those poles and moved out police units to prepare for the game.
"'Greasing' poles is one of several techniques we use to help ensure the safety of celebrants," he said.