A Phoenix man, whose family had a gun pulled on them by police over shoplifting allegations in a scene that was captured on a bystander's camera, said Monday he feared his family would be "executed" by the officers.
Dravon Ames and fiancée Iesha Harper both said they're grateful someone taped their May 29 confrontation with police after the couple's 4-year-old daughter allegedly took a doll from a Family Dollar store.
"I thought we were all going to be executed and by the luck of God ... someone was there to video this," Ames told reporters. "Even if we were going to be executed that day, someone would have had it on film."
Phoenix Police Chief Jeri Williams said Sunday, "I apologize to the family, I apologize to the community," while Mayor Kate Gallego called video footage of the arrest "beyond upsetting."
Ames and Harper said they won't take any words from Williams and Gallego seriously until the police officers involved in their arrest are fired.
"It feels like it's a half apology, the officers are still working," Ames said. "It just basically a slap in the face. It's like putting some lemon juice on an open wound. It's hurting us even more that they're still working, nothing is being done."
In the aftermath of the video's release last week, Phoenix police issued a report accusing the little girl of taking the doll and Ames of allegedly lifting a pair of underwear, "like it justified what they did," Harper said of the responding police officers.
"And I didn't like that, so I don't accept her apology," Harper said of Williams.
Also Monday, Arizona Gov. Doug Ducey called video of police pointing guns "disturbing" and "unacceptable" — but urged the public to wait for all the facts to come out.
"What I know is that there's more to this story, so I want to let the investigation play out," the Republican governor told reporters. "I give credit to Chief Williams, who has seemed to be transparent and in the public here to get to the bottom of this."
The couple had just left a Family Dollar store with their daughters, ages 1 and 4, and were in their car when they realized the older girl had swiped the doll.
They drove to the girls' babysitter at a nearby apartment complex when they were stopped by police in the parking lot.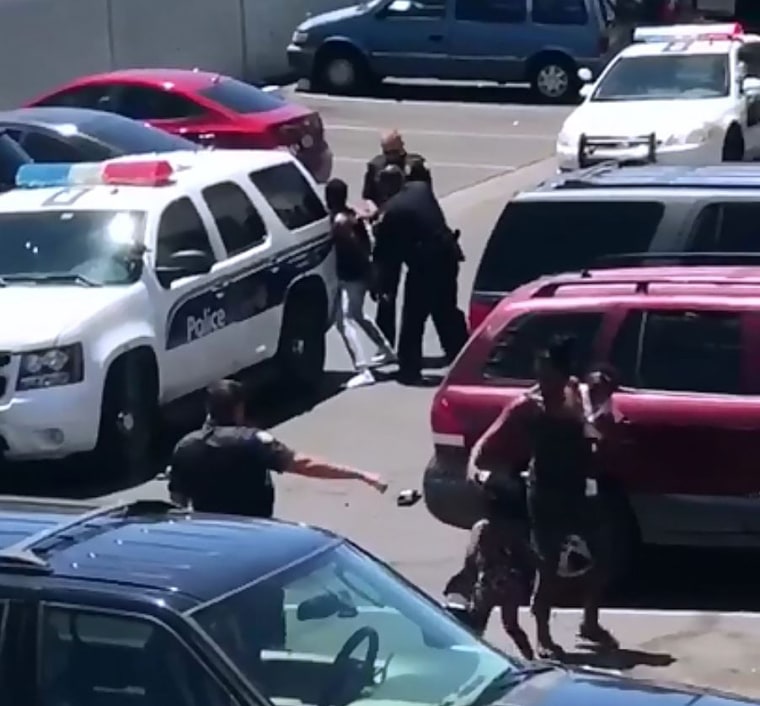 Officers drew guns and shouted expletives during their arrest, according to video shot by a bystander and released by police last week.
"When I tell you to do something, you f------ do it!" an officer could be heard screaming at the handcuffed Ames.
The man, who appeared to be Ames, seemed to be complying as he was picked off the ground and thrown against a police vehicle.
"I'm sorry, I'm sorry," the man said.
The officer repeated, "When I tell you to do something, you f------ do it!"
Footage from another, ground-level angle, showed an officer with a drawn gun pointed at the couple's car and repeatedly yelling, "Get your f------ hands up!"
One of the officers told Harper, "I could have shot you in front of your f------ kids," according to the claim filed by the family's lawyer, Thomas Horne, a former attorney general for the state.