New photos capture the haze that has blanketed New York and other parts of the United States as smoke from wildfires in Canada spreads south through the country.
Millions of people in the eastern U.S. are grappling with unhealthy air quality conditions as a result of the haze. In some areas, the smoke has been so dense that people can smell it in the air.
The wildfire smoke moving southward out of Canada over the northern part of the U.S. has so far triggered air quality alerts over parts of the Northeast into the southern mid-Atlantic, the National Weather Service said early Wednesday.
In New York City, heavy smoke could be seen shrouding buildings Tuesday.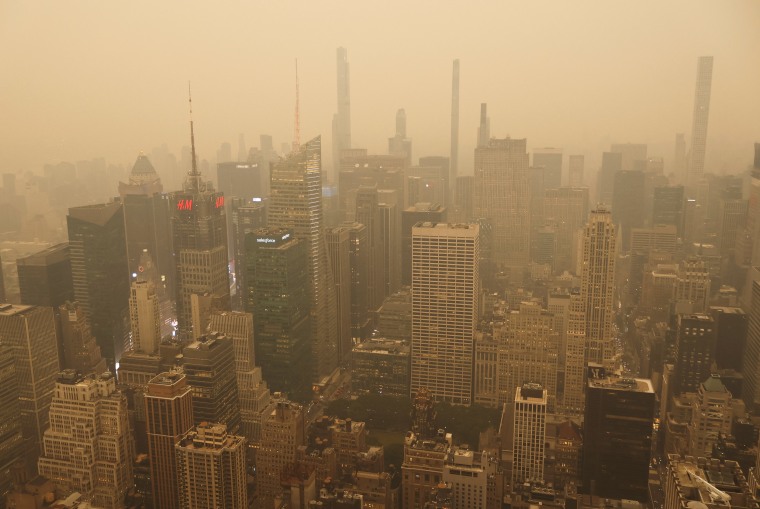 Life in the "city that never sleeps" appeared to largely go on as normal, however, with crowds of people still filtering through Times Square despite the eerie glow hanging over the area.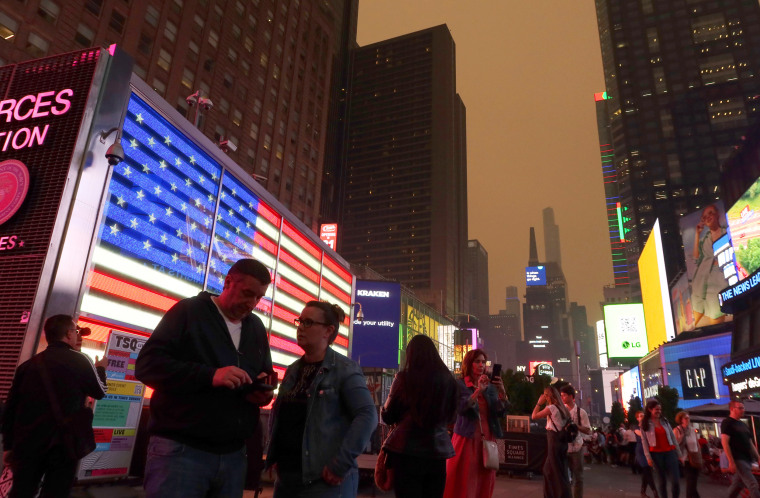 The Statue of Liberty also appeared veiled by a reddish haze as a result of the wildfires raging in the Canadian provinces of Quebec and Nova Scotia.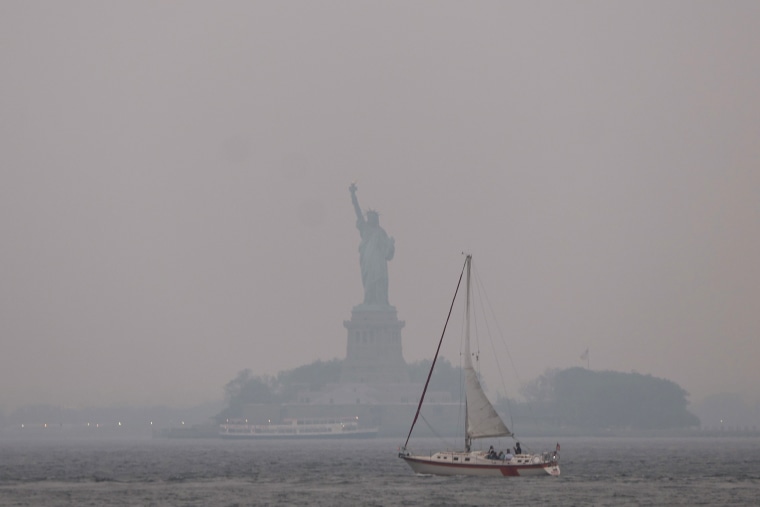 An air quality advisory was in effect for several regions of New York state as of early Wednesday, with several areas, including the metro New York City area and Long Island, listed as having an air quality that is "unhealthy for sensitive groups." Other areas, including the lower and the upper Hudson Valley areas were listed as having "moderate" air quality conditions.
Mayor Eric Adams' office issued an air quality health advisory to be in place until 11:59 p.m. Wednesday, warning people with respiratory concerns, such as asthma, to reduce heavy exertion outdoors.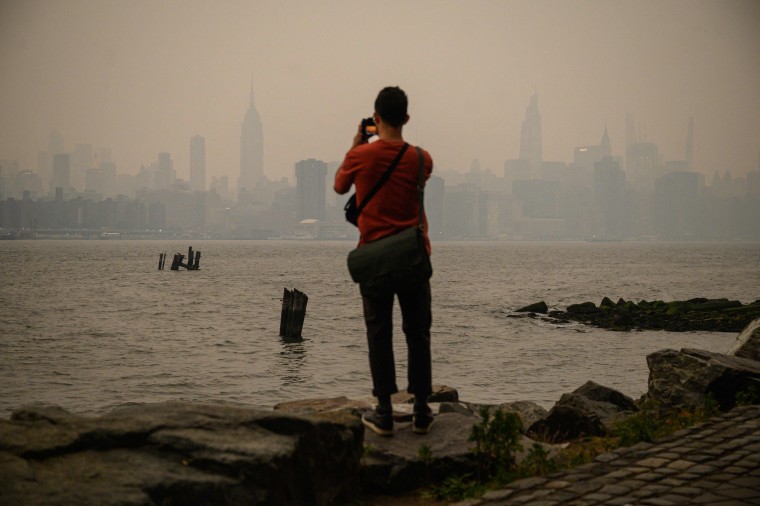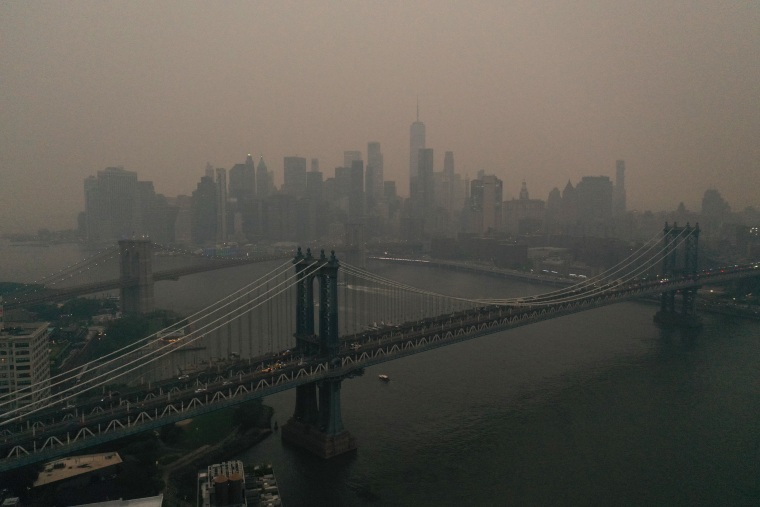 New York City continued to rank second and Detroit fourth among major cities for the worst air quality worldwide as of around 4:30 a.m. ET, according to IQAir, a Swiss air monitoring company.
New York City Public Schools said late Tuesday that all of its schools would cancel outdoor activities over air quality concerns.
Major sporting events did still take place, with a seemingly endless cloud of smoke blanketing Yankee Stadium in the Bronx borough during Tuesday's game between the New York Yankees and the Chicago White Sox.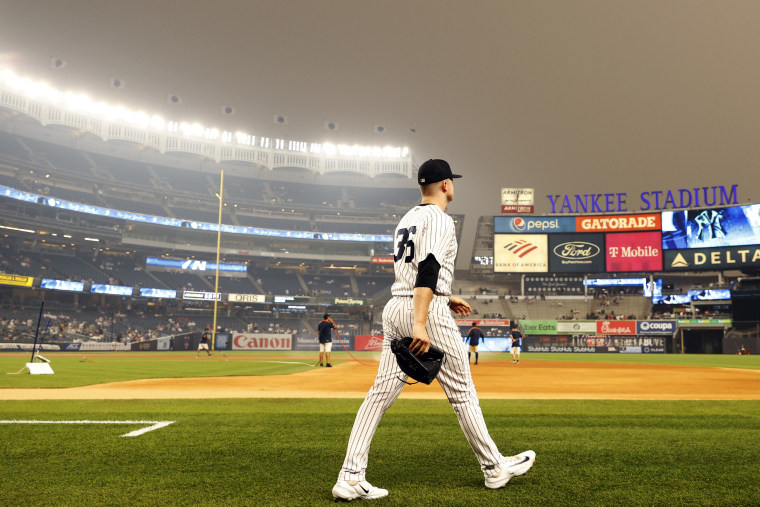 On Owasco Lake, the third easternmost and the sixth largest of the Finger Lakes, people could be seen fishing surrounded by a smoky haze, undeterred by the poor air quality conditions.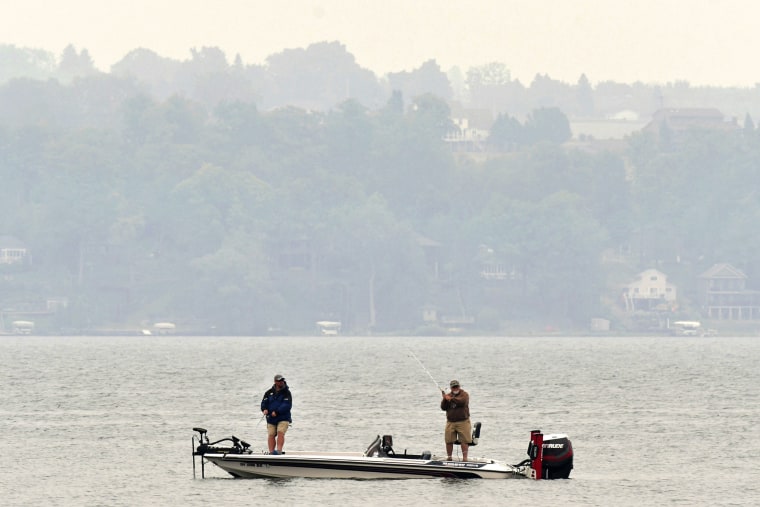 New York was not alone in suffering the air pollution.
The New Jersey Department of Environmental Protection also issued an air quality alert for parts of the state, with Gov. Phil Murphy warning that wildfire smoke from eastern Canada was "affecting much of the state," with conditions expected to continue through Wednesday.
"If you are in a sensitive group, consider staying indoors or limit your outside exposure," the state agency said.
Air pollution from wildfire smoke has become a growing health risk in the U.S., with Stanford University researchers finding that the number of people who experienced at least one day with unhealthy air quality because of smoke rose by 27 times over the last decade.
Small particles in smoke less than 2.5 micrometers in diameter are particularly concerning to air quality researchers.
Exposure to this pollution can cause inflammation and weaken the immune system, particularly if the tiny particles penetrate the lungs and enter the blood stream.
Particulate pollution can also increase the risk of asthma, lung cancer or other chronic lung diseases, particularly in the vulnerable, such as older people, pregnant women, infants and children.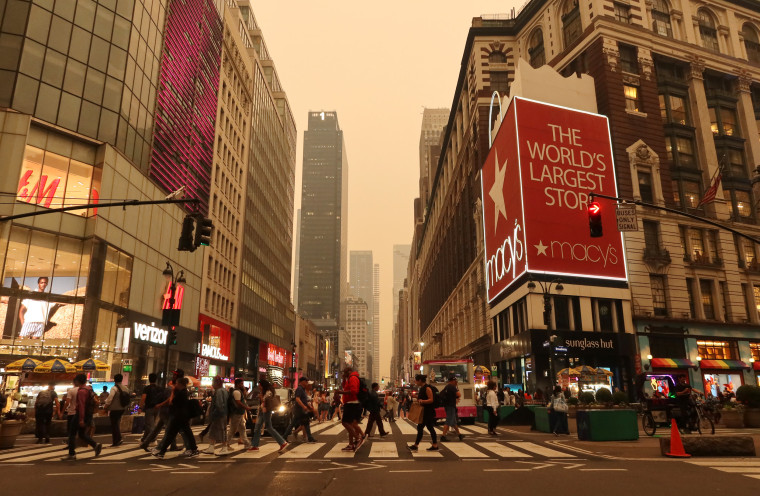 Experts have advised checking air quality alerts regularly, with AirNow.gov, the EPA's website, allowing people to track air quality by entering their ZIP codes. Many smartphones have apps that also track air quality.
It's also important to consider pets, such as cats and dogs, who may be affected by the air quality, with experts advising they should be kept indoors as much as possible while air quality alerts are in effect.