The pickup truck driver who slammed into a church bus in Texas in March, killing 13 people, was seen swerving into oncoming lanes 19 times before the crash, the National Transportation Safety Board said in a report released Thursday.
The NTSB's preliminary report doesn't make any conclusions about the March 29 crash on U.S. Highway 83 near Concan, which occurred around 12:20 p.m. (1:20 p.m. ET).
But the report says a 14-minute cellphone video recorded by another driver shows the 2007 Dodge Ram 3500 pickup cross over the white line on the right 37 times and cross the double yellow lines 19 times — including one instance in which the vehicle traveled completely on the wrong side of the road.
Driver Jack Dillon Young, 20, told police he had been texting on his phone and had taken prescription medication before the crash, according to a crash report released last month by the Texas Department of Transportation. He has not yet been charged.
The bus driver and 12 passengers who were in the van, which was carrying a group of seniors from First Baptist New Braunfels Church returning from a three-day retreat, were killed, authorities have said.
The NTSB report also says prescription medicine and marijuana were found in the pickup truck, but it does not say Young was under the influence of marijuana, and it says toxicology reports are pending. Neither report names the medication.
The NTSB said the truck did not appear to be speeding before the crash, and based on the cellphone video, it estimated the speed at 67 to 71 mph; the speed limit on the highway is 70 mph.
A witness who called 911 had warned that the pickup truck was "all over the road" prior to the crash.
Witness Jody Kuchler told NBC News that the truck swerved into the oncoming lane and that the bus tried to move out of the way, going over the white line toward the guardrail, but it was unable to move any further and they collided.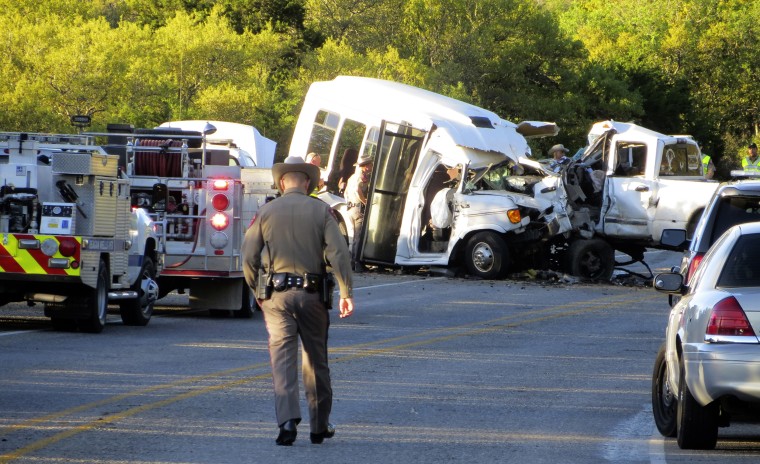 The crash remains under investigation by the Texas State Department of Public Safety and the NTSB, the federal agency said.
Uvalde County District Attorney Daniel Kindred told NBC affiliate WOIA of San Antonio on Thursday that he hopes to have a case prepared to submit to a grand jury in June but that his office is awaiting a final report from the Department of Public Safety.
Last month, the estate of one of the victims sued Young seeking more than $1 million in damages, WOAI reported.