ROME — The Roman Emperor Caligula is renowned for his sadistic, debauched rule of ancient Rome that led to his assassination after just four years in power.
Now Italian and American authorities are wondering how a piece of his decadent lifestyle — an elaborate inlaid marble mosaic from one of his ceremonial ships — wound up as a coffee table on Manhattan's Upper East Side.
To antiques dealer Helen Fioratti it's quite simple: She and her husband Nereo, an Italian journalist, bought the antiquity more than 45 years ago from an Italian aristocratic family, who lived on the shores of Lake Nemi.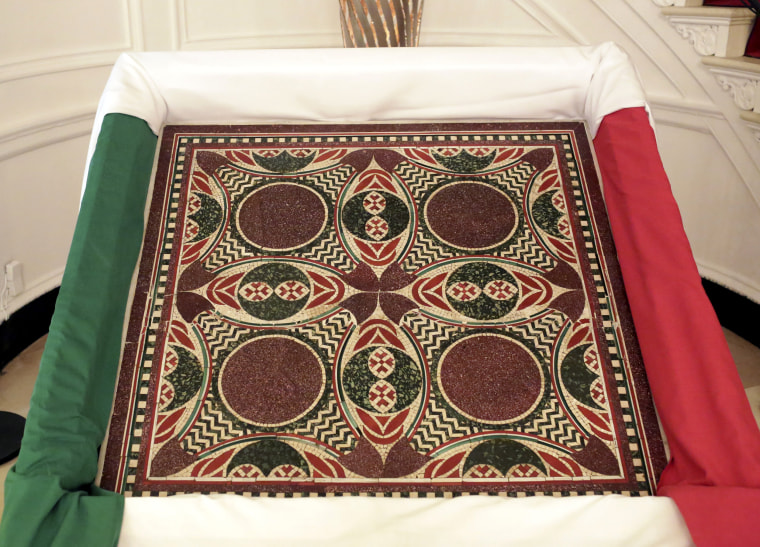 "It was found in the waters of the lake in the 19th century," Fioratti said in a phone interview, although she said she didn't know who originally discovered it.
By the time the couple came to purchase the object in the 1960s she said they had no reason to question the ownership. "They thought they owned it. We thought they owned it. Everyone thought they owned it."
But the Italian military police's Art Recovery Unit, which is responsible for recovering looted artifacts, says the antiquity made of porphyry cobbles configured in a colorful geometric pattern dates back to Caligula's reign, 37- 41 A.D., and is believed to have been part of the flooring of one of the notorious emperor's two pleasure ships.
Described as "floating palaces" by the Museum of Roman Ships, which houses the remnants of the vessels, they were famous for their opulence and are believed to have been the site of wild parties that lasted for days.
At over 230 feet in length and 65 feet in width, the ships would have struggled to maneuver in the volcanic waters of Lake Nemi, outside Rome, where they eventually sank, according to the museum's website.
Most of the marble flooring was only found during excavations of the shipwreck between 1928 and 1932, under the Italian dictator Benito Mussolini. The fascist government then built the museum for the ships and the Italian authorities believe the flooring was looted from that site following World War II.
But Fioratti said her purchase was "completely innocent" and was arranged by an Italian policeman. Fioratti could not remember how much she and her husband paid for it, but said that it cost thousands of dollars.
She said it was arranged for the approximately four-foot-square antiquity to be shipped to New York where the couple mounted it on a stand and used it as a coffee table.
While the art dealer said she didn't know how the Italian police became aware of the artifact she wondered if they had seen it in a magazine shoot of their apartment.
"We had our apartment featured a long time ago in Architectural Digest and I'm sure there was a photograph of the table in front of the sofa," she said.
Related: U.S. Returns Looted Antique Artifacts Worth Millions to Italy
The mosaic was seized by the Manhattan district attorney's office based on evidence provided by the Italian military police and experts in the field.
The rare antiquity is part of a wider collection of stolen-Italian artifacts found in the U.S. between March and May of this year, which was formally handed back to the Italians in a repatriation ceremony in New York on Thursday.
Among other finds was an Apulian red figure krater dated to around 360-350 B.C. which was found at the Metropolitan Museum of New York. An investigation by the Italian authorities found that the krater — an ancient vessel used for mixing wine and water — had been illegally exported by a well-known Italian international artifacts trafficker.
The trove of treasurers also included ancient coins, antique books and manuscripts, and bronze prehistoric statuettes, the Italians authorities said.
The Manhattan district attorney's office said no criminal charges have been filed against Fioratti.
She said she does not intend to fight the repatriation of the object in court because her lawyer said it could take up to 20 years to fight. "I'm A, too old and B, too poor," she said.
But the widow said she was saddened to lose the piece.
"I don't know if anyone is going to see it as much as they did in my place. I had people who were interested in antiquities admiring it in my home all the time. Now it will be in a museum with a lot of other things," she said.
Claudio Lavanga reported from Rome. Saphora Smith reported from London.