Authorities have said that marijuana "grow operations" were found at crime scenes where eight members of the same family were killed "execution" style — but they cannot confirm that the motive for the killings was related to drugs.
"Well, I think we can speculate what the motive was — you talk about revenge, you can talk about drug-related. But frankly, we just don't know," Ohio Attorney General Mike DeWine told NBC News.
Investigators were looking into a Facebook threat that was allegedly made against one of the victims, a spokesman for the attorney general's office said. The content of the alleged threat was not immediately clear.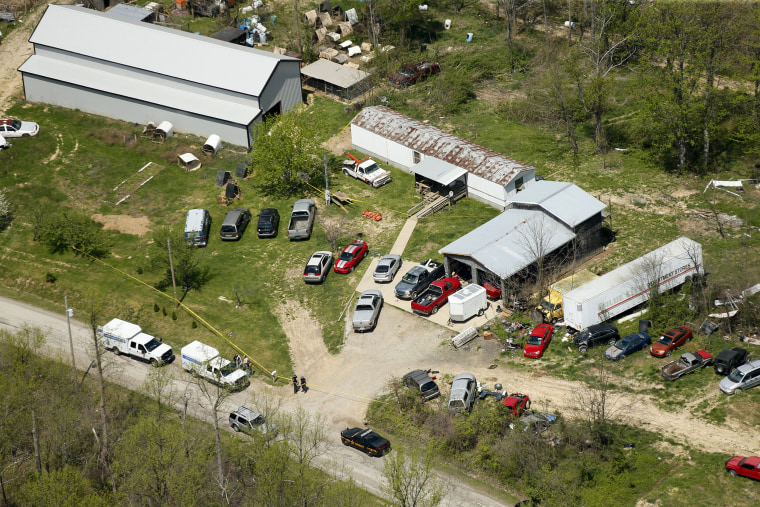 He and Pike County Sheriff Charles Reader announced Sunday that investigators found three marijuana "grow operations" at some of the four Pike County scenes where eight members of the Rhoden family were found massacred.
A killer or killers were still on the loose, and officials wouldn't give many details on the investigation in fear of hindering search efforts, but they did say the killings were "pre-planned."
"This was not something that just happened," said Reader. "Most of (the victims) were targeted while they were sleeping."
He said Sunday that he told the surviving members of the Rhoden family that they are also a target while the killer or killers are at large. "I told them to be armed," he said.
Reader also said anyone in Pike County who feels threatened should also arm themselves.
"Ultimately, there is a threat because there is someone who's done this and they're still at large. And I would consider them armed and dangerous," Reader told NBC News. Authorities won't say whether they have identified a suspect or suspects.
The victims were identified Saturday as: Hannah Gilley, 20; Christopher Rhoden, Sr., 40; Christopher Rhoden, Jr., 16; Clarence "Frankie" Rhoden, 20; Dana Rhoden, 37; Gary Rhoden, 38; Hanna Rhoden, 19; and Kenneth Rhoden, 44. A 4-day-old, a 6-month-old and a 3-year-old survived.
Autopsies on all eight victims were completed Monday, according to the Pike County Attorney General's Office.
Gary Rhoden's brother, Jamie Rhoden, said he had never heard of anyone in the family growing marijuana. "Today is the first day I've heard of that," he told NBC News. "It doesn't make a difference. That doesn't change what happened."
Leonard Manley, 64, told NBC News that the thing he would miss most about his daughter, Dana, is "being with her."
"She went out of her way to help people," he said.
Manley said if he had to guess, the suspect or suspects knew the family because one of the scenes where the bodies were found had dogs that "would eat you up" if they were unfamiliar with the visitor.
An incident report regarding one of the killings released by the Pike County Sheriff's Office on Monday said the crime scene showed no signs of forced entry.
Reader said Sunday that he had never had contact with the family "in a criminal nature." He and DeWine said, however, that the area and the state of Ohio have "a drug problem."
Dan Tierney, the director of communications for Ohio's Attorney General's Office, said the state has long had a marijuana eradication program in which they use aerial surveillance to spot grow operations.
In 2012, a grow operation with suspected ties to a Mexican drug cartel was discovered in Pike County. More than 1,600 marijuana plants, valued at more than $1,000 a piece, were seized, according to a statement from the attorney general's office at the time.