A chain-reaction crash shut down a Missouri highway Saturday after a Greyhound bus slammed into a tractor-trailer and caused a 25-vehicle pileup west of St. Louis, authorities said. Elsewhere on the same interstate two people were killed in a crash as snow moved through the state.
In the chain-reaction wreck, at least 25 vehicles crashed into one another after a Greyhound bus carrying 55 people rear-ended a tractor trailer on Interstate 44 near the town of Rolla, the Missouri State Highway Patrol said. Crumpled tractor-trailers and cars were seen scattered all over the roadway and in a ditch after the 1:30 p.m. crash.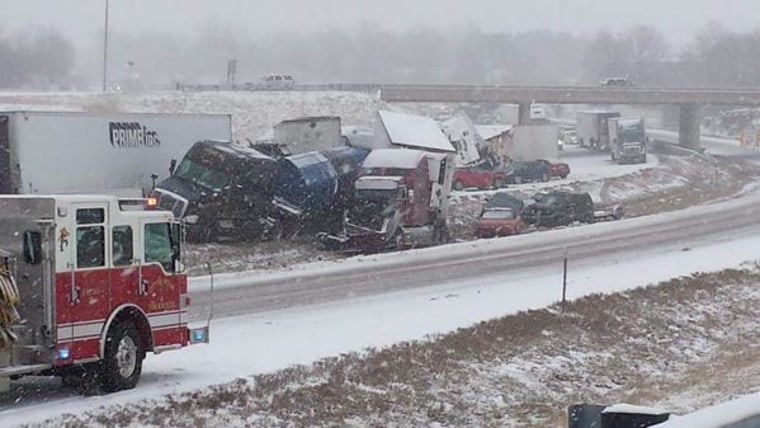 Eleven people on the bus were sent to a local hospital with minor to moderate injuries. One of the trucks involved in the later crashes was carrying a flammable and corrosive chemical and some of it spilled, but the highway patrol said the spill was minor.
Hours after that pileup, two people were killed after several cars crashed at around 4 p.m. on I-44 near Lebanon, about 60 miles west of Rolla, the highway patrol said. Snow began falling Saturday morning as a winter storm moved through, making roads treacherous.
The National Weather Service said heavy snow falling at a rate of one to two inches was possible in the heaviest parts, and the area where the crashes occurred is expected to get between four to eight inches of snow.
SOCIAL
— Phil Helsel