A pilot was killed and two others were injured after a medical helicopter crashed outside of a Colorado hospital and burst into flames Friday, officials said.
There were no patients on board the Flight for Life Colorado helicopter, said Christina Brodsly, spokesperson for medical transportation company Air Methods. A flight paramedic and flight nurse on board were also injured, she said.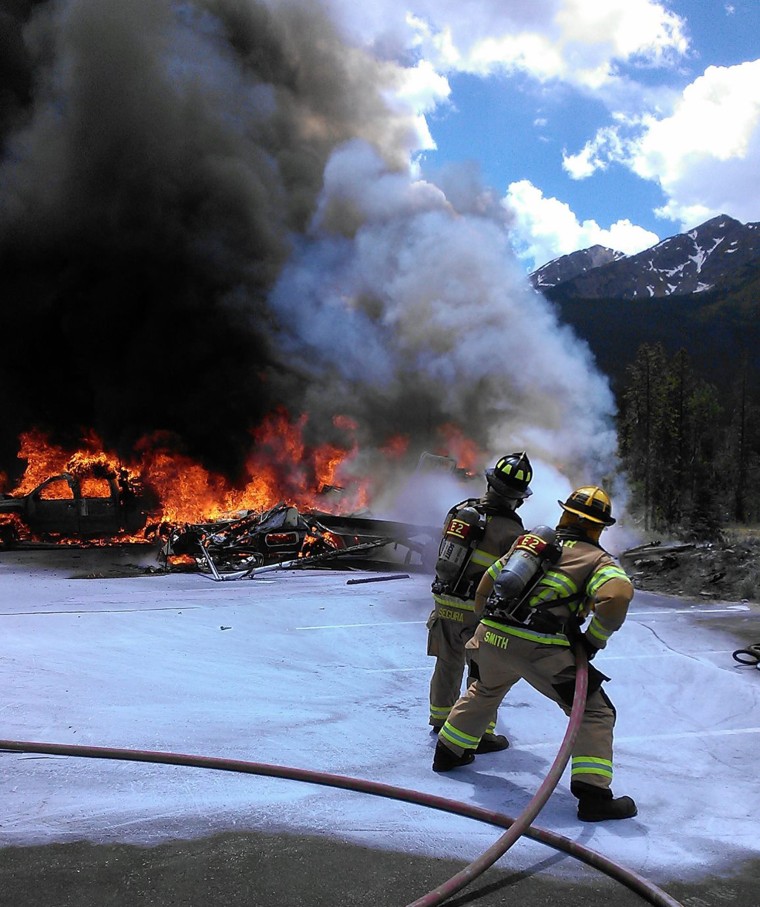 "We are deeply saddened by the news that our pilot was fatally injured, and our hearts go out to the pilot's family," Brodsly said.
The Airbus AS350 helicopter was taking off from St. Anthony Summit Medical Center in Frisco when it crashed at around 1:40 p.m. local time (3:40 p.m. E.T.), landing in the parking lot of the hospital, officials and witnesses said.
The helicopter was not on a medical call when the crash occurred, Lake Dillon Fire-Rescue said.
Lake Dillon Fire-Rescue said the aircraft was "fully engulfed in flames" when firefighters arrived. A witness told NBC affiliate KUSA that the helicopter appeared to be taking off in windy conditions when it spiraled out of control and crashed.
The pilot killed in the crash was identified as Patrick Mahany, 64. He had been a pilot for Flight for Life since 1987, and was a Vietnam veteran who received the bronze star and purple heart, Summit County government said in a news release.
The names of the two people injured were not released. The two crew members were airlifted to hospitals in the Denver area, the fire department said. A hospital worker who responded to the fiery crash also suffered minor injuries. The fire also destroyed two vehicles in the parking lot, Lake Dillon Fire-Rescue said.
The National Transportation Safety Board said it is investigating the crash. The Federal Aviation Administration also sent a team of investigators to the crash scene, the fire department said.
Frisco is a town of a little more than 2,600 about 70 miles west of Denver.