A Massachusetts Air National Guard F-15C fighter crashed and burned Wednesday morning in Virginia's Shenandoah Valley, shortly after the pilot reported an emergency.
"There is an ongoing rescue mission," Col. James Keefe, commander of the 104th Fighter Wing, said at an afternoon press conference. "At this time we have no had contact with our pilot."
It was unknown if the pilot, who was very experienced, managed to eject from the single-seater plane before crashed, leaving a deep crater and a large field of debris. Helicopters and ground rescue crews were still searching late Wednesday for the airman in a remote area near the town of Deerfield.
"It's deeply wooded and a lot of hills and mountains," Keefe said, adding that there was no cellphone service in the area and it was possible the pilot ditched his radio if he bailed out. "We're thinking about the family. Keep your thoughts and prayers with him," Keefe said.
The plane was en route from Massachusetts to New Orleans to get a new radar system when it went down with a window-rattling bang that was heard and felt for miles around.
"I was laying in bed and I felt a jolt. It shook my house. I heard a big boom and a roar afterward," Lisa Dula told NBC News. Dula said she ran out and tried to drive to the scene but could not get close to the wooded area at the foot of the mountain. "You could see the smoke going up in the air," she said.
Garrett Beck, who works on a farm a mile from the crash site, said he heard two booms and ran outside to see if a tire on a truck had blown. "I turned around and there was a mushroom cloud. It looked like something you see in a movie after they dropped a bomb," he said.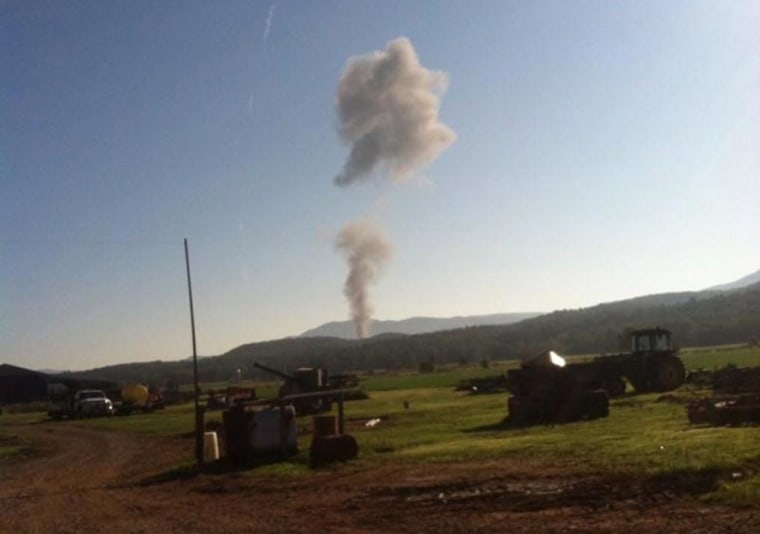 SOCIAL
— Jim Miklaszewski and Tracy Connor