The pilot and sole survivor of the March 11 helicopter crash in New York City's East River told federal investigators that a passenger's restraint tether tripped the aircraft's emergency fuel cutoff switch, causing engine failure.
Richard Vance's account of the doomed flight, which killed all five passengers aboard the open-air helicopter, were revealed Monday with the release of the National Transportation Safety Board's six-page preliminary report into the crash.
That tether may have gotten tangled with the switch while the helicopter — operated by Liberty Helicopters Inc., on behalf of FlyNYON — flew over Central Park, Vance told the NTSB team. He reported that the engine trouble started after "the front-seat passenger turned sideways, slid across the double bench seat toward the pilot, leaned back, and extended his feet to take a photograph of his feet outside the helicopter."
After attempting unsuccessfully to restart the engine, Vance said he glided the craft toward the river rather than attempt a landing in the more populated Central Park.
Video footage showed the Airbus Eurocopter plunging into the frigid waters of the East River with its propellers still churning, and then toppling upside down, despite the deployment of safety pontoons that were supposed to keep the craft upright.
"Examination of the emergency float system revealed that the three floats installed on the left landing gear skid appeared to be more inflated than the floats on the right landing gear skid," the NTSB report noted.
Vance managed to free himself from the overturned craft and was rescued by a passing tugboat.
His passengers were not so lucky.
All five of the victims — identified as Carla Vallejos Blanco, 29; Brian McDaniel, 26; Trevor Cadigan, 26; Tristan Hill, 29; and Daniel Thompson, 34 — drowned as the helicopter submerged, according to the city medical examiner.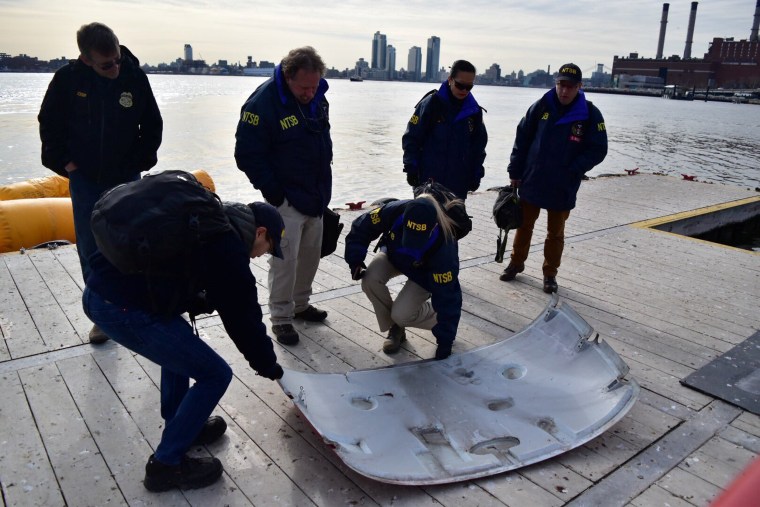 To allow for unimpeded photo opportunities of the New York skyline from the open-door craft — the selling point of the fights by Liberty Helicopters — passengers are secured in tight harnesses.
But those safety measures apparently doomed the victims, who were trapped in their seats as the craft was dragged, upside down, by the river current until rescue divers managed to cut them free, New York City Fire Commissioner Daniel Nigro said on the day of the crash.
"It's a great tragedy that we had occur here on an otherwise quiet Sunday evening," Nigro said.
It was the third crash involving a Liberty Helicopters craft in the last 11 years, according to the Federal Aviation Administration — including a deadly 2009 collision with a small airplane that left nine dead.
The NTSB did not issue any findings on the cause of the crash, and is continuing its investigation.