Pipe-bomb suspect Cesar Sayoc on Monday made his first appearance before a federal judge in Miami, as law enforcement sources revealed that he kept a list of more than 100 potential targets.
Sayoc, 56, had his hair pulled back in a ponytail and hands cuffed at the lap during the hearing before Magistrate Edwin Torres in U.S. District Court.
Defense lawyers asked Torres if they could meet with Sayoc in a room with a table, instead of through glass. The judge said he'd ask jailers to provide Sayoc and his lawyer a private room.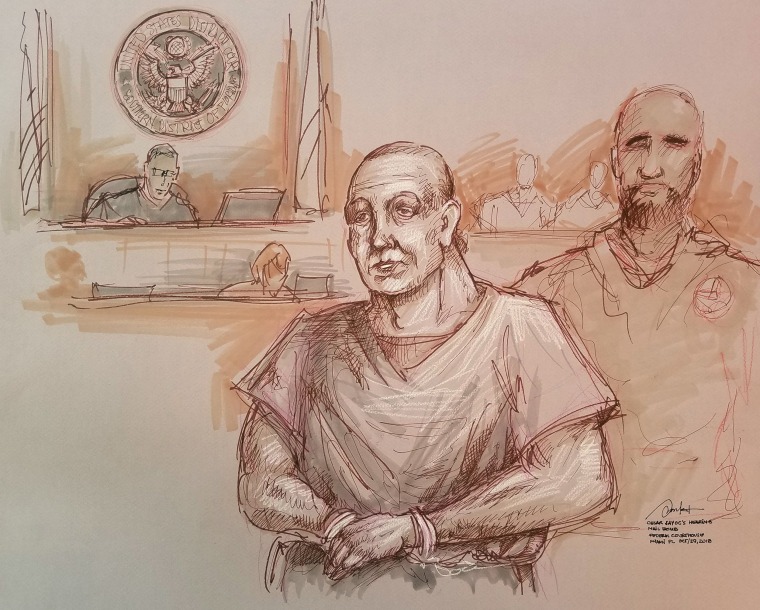 The defense said it couldn't go forward with any other proceedings, and the judge ordered both sides back to court on Friday.
As he was led out of court by jailers, Sayoc mouthed the words, "I love you," to a half-sister in attendance at Monday's pre-trial hearing. He was seen crying in court before the hearing started.
Outside of court, defense lawyer Jamie Benjamin insisted the government has a steep burden of proof to tie his client to the pipe bombs. In a criminal complaint filed on Friday, prosecutors claimed they have fingerprint and DNA evidence, linking Sayoc to the dangerous mailings.
"This rush to judgment that everybody is doing is not fair," Benjamin told NBC News. "There is no indication that there are bombs out there that are dangerous that have anything to do with Mr. Sayoc."
For now, Sayoc has been charged with five federal crimes connected to his alleged mailing of 14 pipe bombs to a wide variety of people who have been critical of President Trump.
Law enforcement sources told NBC News that Sayoc had a list of more than 100 potential targets and did online research on the political figures, journalists and entertainers.
The FBI agents are working to notify anyone on Sayoc's list. Even if they didn't get a suspicious package, federal authorities believe it's their "duty to warn" anyone on the list of potential victims.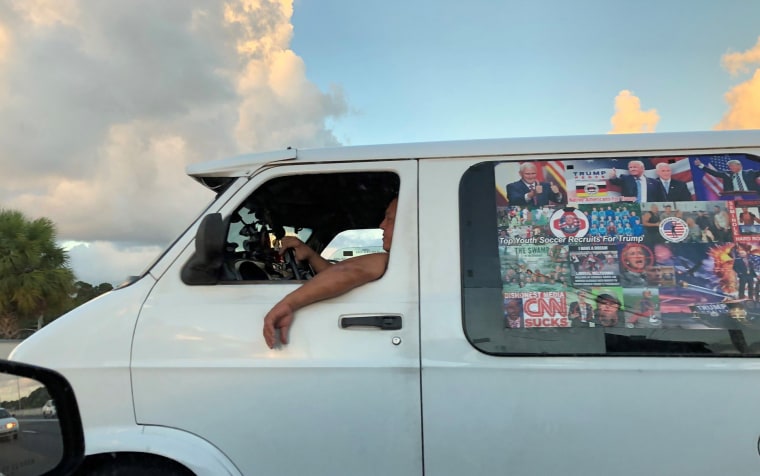 Sayoc's court appearance came hours after a downtown Atlanta post office was evacuated after a suspicious package, addressed to CNN headquarters, was intercepted, officials said.
This latest package is similar to two previous mailings addressed to CNN's New York office, the FBI said, but they did not definitively connect it to the other packages.
Sayoc's van, where he is believed to have constructed the pipe bombs, was plastered with anti-media and pro-Trump stickers.
Hours before his arrest, Sayoc was spinning records at Ultra Gentlemen's Club in West Palm Beach where he worked as a DJ.
While the Department of Justice has vowed to prosecute Sayoc and decried political violence, President Trump on Monday continued to target journalists as "the true Enemy of the People."
"There is great anger in our Country caused in part by inaccurate, and even fraudulent, reporting of the news," Trump tweeted.
"The Fake News Media, the true Enemy of the People, must stop the open & obvious hostility & report the news accurately & fairly. That will do much to put out the flame of Anger and Outrage and we will then be able to bring all sides together in Peace and Harmony. Fake News Must End!"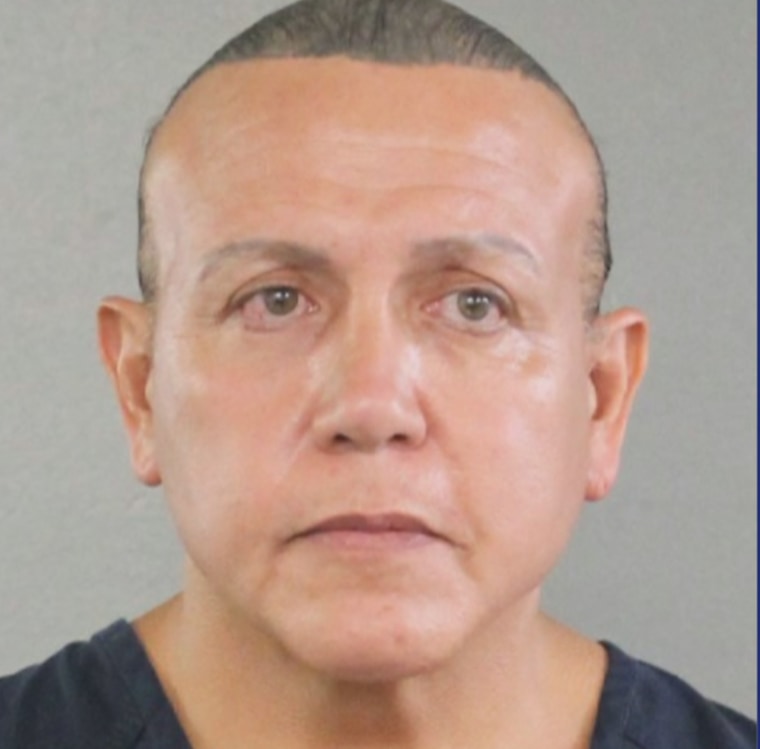 Sayoc has been charged with interstate transport of explosives, mailing of explosives, threats against former presidents, threatening interstate communication and assault of a current or former federal officials.
Targets included former President Barack Obama, former Secretary of State Hillary Clinton, former CIA Director John Brennan, former Attorney General Eric Holder, Rep. Maxine Waters, D-Calif., former Vice President Joe Biden, actor Robert DeNiro, Sen. Cory Booker, D-N.J., Sen. Kamala Harris, D-Calif., prominent Democratic donor George Soros and liberal activist Tom Steyer. Sayoc allegedly sent Waters and Biden two suspicious packages, authorities said.
He faces 48 years in prison if convicted of all charges.