Multiple senior law enforcement officials briefed on the investigation into the pipe bombs allegedly built by Cesar Sayoc tell NBC News they believe the devices were constructed in his van.
As NBC News reported Friday, the Florida man lived in his vehicle — it appears to be a 1990s Dodge Ram Van — which was covered in pro-Trump images and right-wing propaganda.
Law enforcement officials continue to believe that Sayoc, 56, acted alone, but the investigation is ongoing. On Friday, the FBI said they had him in custody.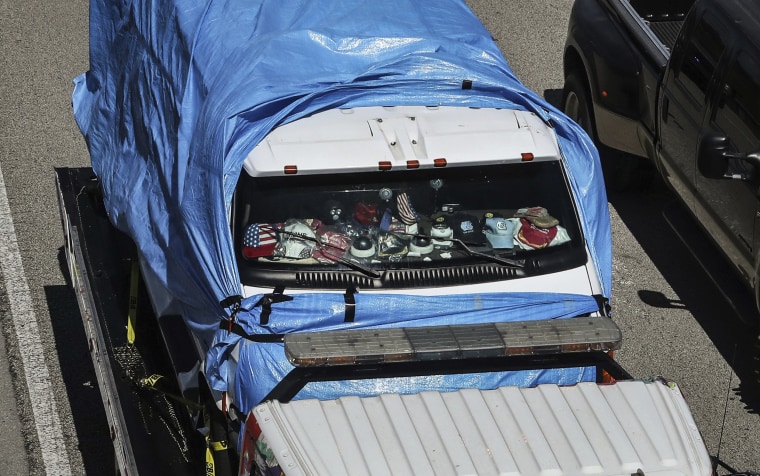 Sayoc is accused of sending 14 bombs through the U.S. Mail to former President Barack Obama, former Secretary of State Hillary Clinton, ex-Vice President Biden, Democratic Party backer George Soros, actor Robert De Niro and others.
Most of the targets, including CNN, are also frequent targets of presidential tongue lashings on twitter and at political rallies.
Committee to Protect Journalists deputy executive director Robert Mahoney called on Trump to tone down his criticism.
"Journalists across the country feel unsafe because of the constant hostility and belittling of their role in our democracy by the head of state," he said in a statement. "It needs to stop."
The packages turned up between Monday and Friday in New York, California and Washington. A fingerprint from a package sent to U.S. Rep. Maxine Waters (D-Calif.) led authorities to Sayoc, FBI Director Christopher Wray said at a press conference on Friday.
Multiple senior law enforcement sources told NBC News that Sayoc denies being behind the package bomb campaign.
Sayoc, described by relative as a former strip club dancer and bouncer, has a record of past run-ins with the law, including over issues such as domestic violence, possession of steroids, battery and theft, according to court documents.
Sayoc faces multiple federal allegations, including making "threats against former presidents," in connection with the package bomb campaign. If convicted, the counts could bring 48 years behind bars.
Sayoc's first appearance in federal court was scheduled for Monday in Miami.