The gunman who opened fire at a Pittsburgh synagogue in 2018, killing 11, was found guilty Friday on all 63 federal counts — some of which are punishable by death — for his role in the deadliest antisemitic attack in U.S. history.
The verdict in Robert Bowers' trial was announced after a jury deliberated for five hours over two days.
Bowers appeared calm, and the courtroom was pin-drop quiet during the verdict reading. By the time the reading was over, some sniffles could be heard from the public section of the courtroom. 
Bowers had pleaded not guilty to 63 federal criminal counts, including hate crimes.
He was found guilty on 11 counts of obstructing the exercise of religious beliefs resulting in death, a capital offense punishable by death. He was further found guilty on 11 counts willfully causing bodily injury because of actual or perceived religion resulting in the death and 11 counts of use of a firearm to commit murder in relation to a crime of violence.
As a result, the trial will move into a penalty phase where the jury will decide whether to sentence him to death or life in prison.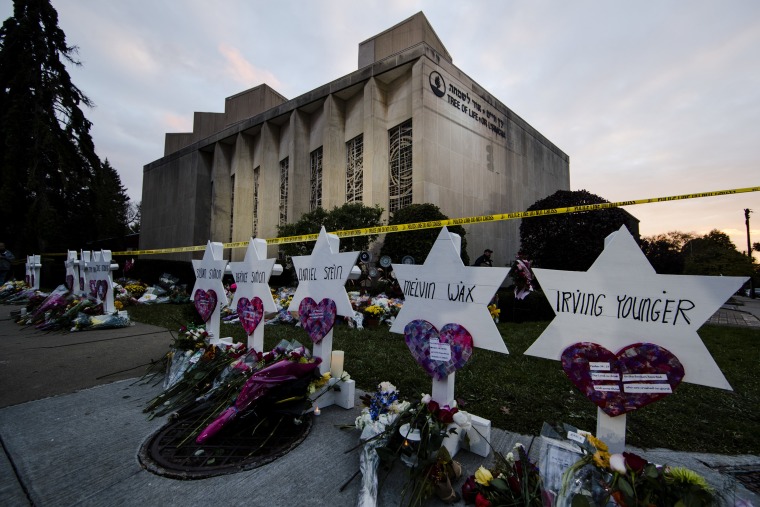 Bowers' defense will have 24 hours to pursue a mental health defense, with reports due to the court by Sunday. 
The court will reconvene on June 26 for the next phase of the trial. 
Seven others were injured when Bowers stormed the Tree of Life synagogue in the Squirrel Hill neighborhood on Oct. 27, 2018, armed with an assault rifle and three guns.
Lawyers for Bowers admitted that he was responsible for the deadly attack, but had tried to spare his life as federal prosecutors are seeking the death penalty. Prosecutors had rejected Bowers' offer to plead guilty in exchange for taking the death penalty off the table. 
The prosecution rested its case Wednesday, and attorneys for Bowers did not put on a defense.
The three-week trial saw survivors, victims' family members and police officers give at times emotional testimonies.
Over the course of the trial, prosecutors showed how Bowers voiced a hostility toward Jewish people on social media.
On the platform Gab, which is popular with the far right, his profile said that "Jews are the children of Satan." He posted other offensive content and spoke approvingly of Hitler and the Nazi genocide of Jews. 
Those killed in the massacre were: Joyce Fienberg, 75; Richard Gottfried, 65; Rose Mallinger, 97; Jerry Rabinowitz, 66; Cecil Rosenthal, 59; David Rosenthal, 54; Bernice Simon, 84; Sylvan Simon, 86; Daniel Stein, 71; Irving Younger, 69; and Melvin Wax, 87.
Jonathan Greenblatt, CEO of the Anti-Defamation League, praised the jury's stance saying: "We welcome the jury's verdict today and believe that justice has been served."
"This attack was the deadliest act of antisemitic violence in American history — but the hate and conspiratorial thinking that fueled this violence has not gone away," he said. "We thank the jurors for their service, and we hope this brings closure to those who lost loved ones five years ago."