PITTSBURGH — Robert Bowers, the man accused of killing 11 people when he opened fire at a Pittsburgh synagogue during services Saturday morning, showed no emotion as he arrived for his first court appearance Monday wearing shackles in a wheelchair surrounded by U.S. marshals.
Bowers, 46, was charged with 29 felony counts, including 11 counts of use of a firearm to commit murder and 11 counts of obstruction of the exercise of religious beliefs resulting in death.
He also faces 11 state charges, including attempted homicide and aggravated assault.
Bowers was dressed in a blue sweatshirt. His handcuffs were removed at one point during the hearing so he could sign papers.
He waived a reading of criminal complaints and a detention hearing and asked to have counsel appointed for him, which U.S. Magistrate Judge Robert C. Mitchell agreed to. Bowers was then wheeled back out of the courtroom without having said anything beyond his short answers to the judge's questions.
U.S. Attorney Scott Brady said that Bowers was being held without bond and that a preliminary hearing was scheduled for Thursday. Federal prosecutors also plan to seek the death penalty, the U.S. attorney's office said Sunday, and Attorney General Jeff Sessions, who would have to sign off on pursuing a capital case, predicted Monday at an appearance in Boston that Bowers "could be subjected to the death penalty."
Sabbath services were underway at Tree of Life synagogue in Pittsburgh's Squirrel Hill neighborhood when police say Bowers walked inside just before 10 a.m. ET and opened fire. Worshipers told MSNBC that a bris, or circumcision celebration, was taking place at the time the shooting started.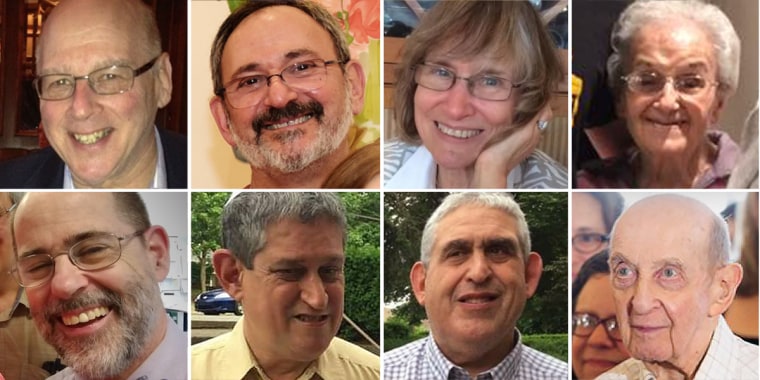 Bowers was armed with an assault rifle and three handguns when police arrested him, officials said. He reportedly yelled "All Jews must die" before opening fire.
At least 11 adults were killed in the massacre, and six other people were injured, including four police officers. University of Pittsburgh Medical Center-Presbyterian said Monday that three men, including an officer, remained in critical condition, while a 61-year-old woman was listed as stable.
Pittsburgh Public Safety Director Wendell Hissrich said the crime scene at Tree of Life was "one of the worst" he's ever seen.
Bob Jones, an FBI special agent with the Pittsburgh field office, said Bowers and a Pittsburgh officer exchanged gunfire as Bowers was leaving the synagogue. Bowers allegedly shot the officer and then retreated into the building, where he hid from SWAT officers.
Another officer and two SWAT members were also shot, police said. Bowers was shot multiple times by police before his arrest and was taken to the hospital before federal officials took him into custody.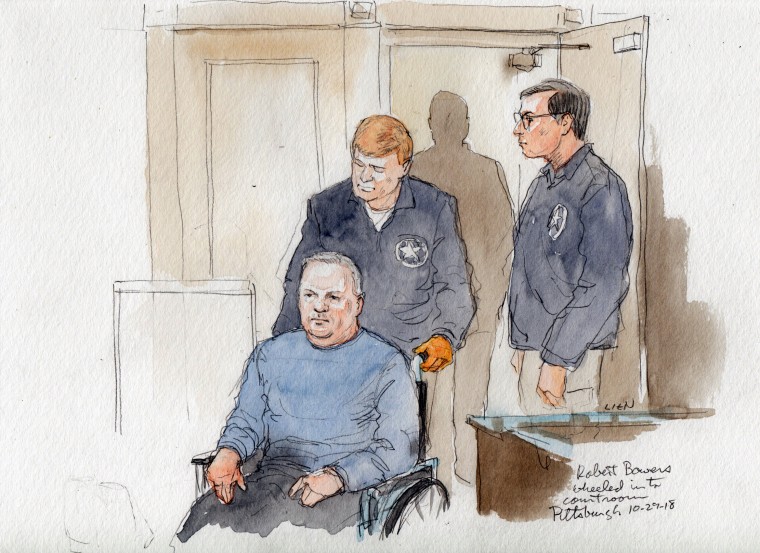 Hours before the attack, Bowers reportedly threatened the Jewish community on the social networking site Gab, writing that the Hebrew Immigrant Aid Society, a nonprofit humanitarian group, had brought immigrants into the country to do violence.
The post allegedly read: "Screw your optics, I'm going in."
White House Press Secretary Sarah Sanders, who said at a White House briefing on Monday that President Donald Trump will visit Pittsburgh on Tuesday, defended the president against criticism that he hasn't done enough to denounce white nationalism.
"He's denounced racism, hatred and bigotry in all forms on a number of occasions," Sanders said. " (He) will continue to do that. I'm doing it here today."
Rabbi Jeffrey Myers, who was presiding over the congregation when the shots rang out, said on "Today" that it would be his "honor" to welcome Trump to the city, while Lynette Lederman, a former president of Tree of Life, said on CNN that she doesn't think Trump should visit because he's the "purveyor of hate speech."
"I do not welcome this president to my city," Lederman said.
"The hypocritical words that come from him tell me nothing," she said. "We have people who stand by us who believe in values, not just Jewish values, but believe in values, and those are the not the values of this president, and I do not welcome him to Pittsburgh."