Robert Bowers, the Pennsylvania man accused of a fatal shooting at a Pittsburgh synagogue on Saturday morning, posted prolifically online about conspiracy theories and repeatedly threatened Jews.
Bowers frequently wrote on the social network Gab, where he made a specific threat against Jews hours before Saturday's attack, alleging that the Hebrew Immigrant Aid Society, or HIAS, a humanitarian nonprofit group that assists refugees, brought immigrants to the United States to do violence.
"Screw your optics, I'm going in," he wrote.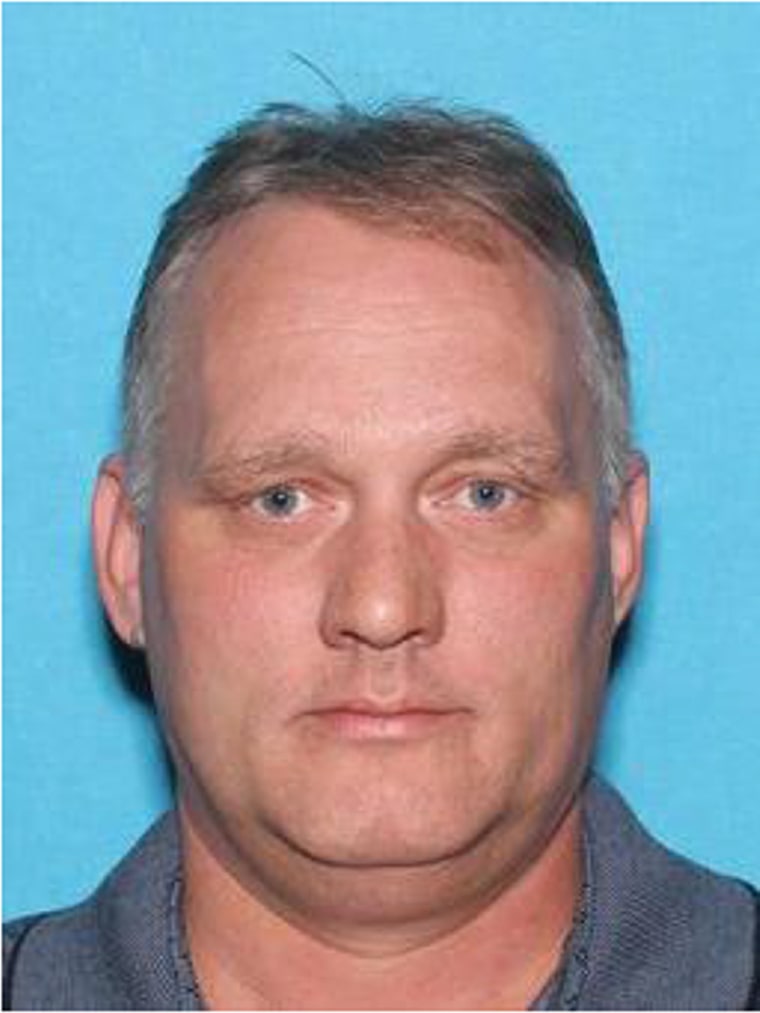 Scott Brady, the U.S. attorney for Pittsburgh, said federal prosecutors were seeking approval from the Justice Department to pursue the death penalty, The Associated Press reported Sunday night.
Bowers frequently posted about the "migrant caravan," a group of several thousand refugees walking to the U.S.-Mexico border from Honduras to seek asylum. Preventing refugees in the caravan from entering the United States has been a major talking point among right-wing commentators and President Donald Trump, who has spoken about it in recent pre-midterm election stump speeches.
Bowers' anti-Semitic posts and his apparent disdain for the caravan are tied to a viral image that appears to show refugees hopping onto the bed of a truck with a Star of David on the side. The image has been widely shared on far-right forums like 4chan and the Russian propaganda operation USA Really. He reposted a screenshot of a video of the caravan that had aired on Fox News, as well as other networks, that does not mention the symbol.
Bowers frequently reposted conspiracy theories about the image of the truck and reposted comments about it from other Gab users.
In another post, he linked to a directory of synagogues participating in National Refugee Shabbat, which HIAS held this month, saying he "appreciated" the list.
Bowers also reposted a user who implored others to be forewarned of a "false flag" attack before the midterm elections — a false claim repeated by far-right and some mainstream conservatives about the 14 explosive devices sent to prominent Trump critics.
Bowers appeared disillusioned with Trump for not having shared his ' anti-Semitic and extremist views. Days after Trump declared himself a nationalist at a campaign event, Bowers claimed that Trump was a "globalist" and not a nationalist.
The biography section of Bowers' Gab profile used his full name and said he was a verified user on the platform. His profile's banner image included what seems to be a radar gun showing the numbers 1488, a white supremacist numeric symbol.
Bowers posted pictures of his gun collection on the page a month ago, calling it "my glock family."
Gab is a site often promoted as an alternative to Twitter for those banned from the platform for racism or harassment, like Alex Jones of InfoWars. A study of Gab's top posts this year, which analyzed 22 million posts, said the network mostly "attracts alt-right users, conspiracy theorists, and other trolls."
Gab Chief Executive Andrew Torba mostly defended the network in a statement, saying the company was alerted to Bowers' profile shortly after the attack. It has since been removed.
"Gab took swift and proactive action to contact law enforcement immediately. We first backed up all user data from the account and then proceeded to suspend the account," Torba said in the statement. "We then contacted the FBI and made them aware of this account and the user data in our possession. We are ready and willing to work with law enforcement to see to it that justice is served."
HIAS, the humanitarian aid group, said in a statement Saturday: "There are no words to express how devastated we are by the events in Pittsburgh this morning."
"This loss is our loss, and our thoughts are with Tree of Life Congregation, our local partner Jewish Family and Community Services (JFCS) of Pittsburgh, the city of Pittsburgh and all those affected by this senseless act of violence," HIAS said. "As we try to process this horrifying tragedy, we pray that the American Jewish community and the country can find healing."