Planned Parenthood has been canceling abortion appointments for women in Arkansas this week, after the U.S. Supreme Court declined to hear a challenge to a state law restricting the procedure.
The Supreme Court on Tuesday effectively let Arkansas' law restricting medication abortions — in which women are given pills that cause a process similar to a miscarriage in the early stages of pregnancy — go back into effect, making Arkansas the only state to restrict use of the abortion pills.
"The law that we were trying to get blocked went into effect immediately, and the immediate results were we had to turn away from the clinic people who were scheduled to take the pill," Dr. Stephanie Ho, a physician at Planned Parenthood Great Plains in Fayetteville, Arkansas, told NBC News on Wednesday.
Attorneys for the three abortion clinics in the state — Planned Parenthood runs two, in Fayetteville and Little Rock, and Family Planning Services, also in Little Rock — asked a federal district court judge on Wednesday to block the law again. But in the meantime, women in Arkansas do not have access to the abortion pills.
Ho didn't know how many appointments had been canceled, but she said the clinics were still trying on Wednesday to get in touch with women who had already scheduled appointments.
"It's incredibly disheartening to call a patient and say you qualified for this last week but your government says that's a decision you no longer get to make," Ho said.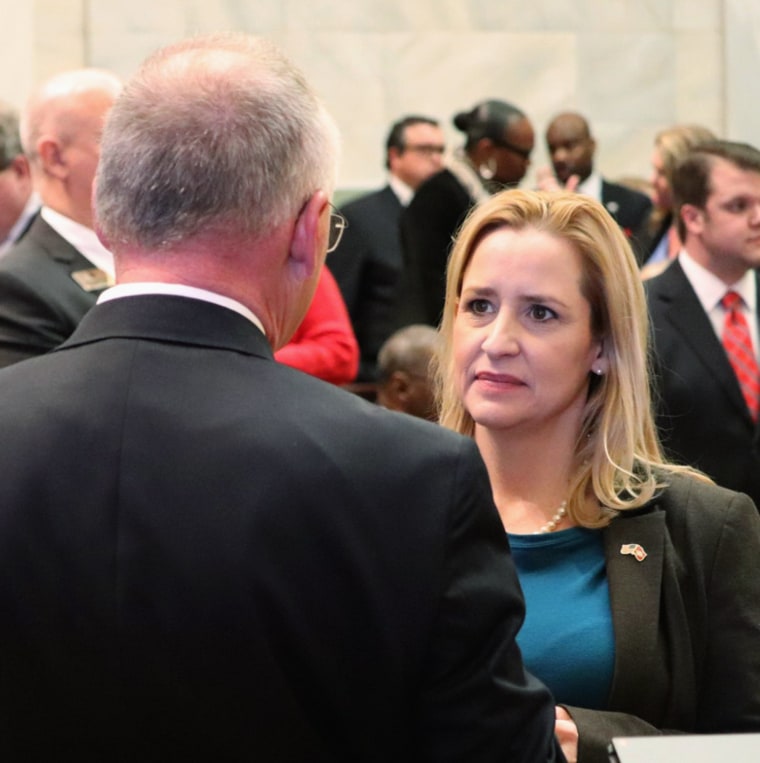 The two Planned Parenthood clinics, including Ho's, and Family Planning Services had offered medication abortions. Now the only abortion procedure available in the state are surgical abortions offered by Family Planning Services.
U.S. District Court Judge Kristine Baker had blocked the state law restricting medication abortions but she was overturned by the 8th District Court of Appeals, which said more data was needed on how many women would be affected. Planned Parenthood had said in court documents that a quarter of medication abortion patients and 36 percent of women in the Fayetteville, Arkansas area would lose access to safe, legal abortions.
Even if Planned Parenthood wins another temporary restraining order, the state could appeal again, and a full trial could push a decision and any appeals well into next year, said Bettina Brownstein, attorney for the Family Planning Center.
Ho said, "Women who are eligible for the service are not going to be able to obtain the service because the courts are such a slow process at times."
Jerry Cox, president of the Family Council, an anti-abortion rights group in Little Rock, said he believes "ultimately this law will stand."
The Arkansas law requires medication abortion providers to have a contract with a doctor who has hospital admitting privileges. Planned Parenthood has said it has been unable to find a physician to contract with.
"There are 6,000 doctors in Arkansas," Cox said. "I find it hard to believe in the whole state of Arkansas, no one doctor out of 6,000 doctors would contract."
Lawmakers who crafted the law said it was intended to keep women safe and to ensure that they could be treated quickly if complications arise at home.
"A woman bleeding shouldn't have to check herself into an emergency room and have a doctor figure out what the problem is — her records should follow her," Cox said.
A medication abortion involves taking two types of medicine, one in the doctor's office and the other at home. The procedure is often referred to as the "abortion pill."
It is available to women only in their first 10 weeks of pregnancy.
Ho said in all abortions, both medication and surgical, less than 1 percent result in complications. Recent studies have shown low incidences of complications from medication abortions, particularly when follow-up counseling is provided.
An analysis of data published in the medical journal Obstetrics & Gynecology found that out of 233,805 medication abortions at Planned Parenthood clinics nationwide in 2009 and 2010, 0.16 percent of cases resulted in a "significant adverse" outcome such as hospital admission, blood transfusion, emergency room treatment, intravenous antibiotics or an infection. One death occurred because of an undiagnosed ectopic pregnancy.
The women whose appointments were canceled in Arkansas this week had already fulfilled a 48-hour waiting period from when they first sought the medication abortion and had undergone counseling and preliminary exams or lab tests, Ho said. Should women experience complications, they have access to a 24/7 nurse line, Ho said.
"These are human beings who deserve control of their lives," Ho said.
Many of the people served by Planned Parenthood are low income. With only surgical abortions now available in the state at Family Planning Services in Little Rock, women served by Ho's clinic in Fayetteville will have to drive 380 miles to have the procedure. Surgical abortions are also more expensive than the pills.
"For a good portion of women in Fayetteville, Arkansas," Ho said, "this means that abortion is banned for them."