The alleged gunman who is accused of killing three people at a Colorado Springs Planned Parenthood clinic said in court Wednesday that he's guilty and is a "warrior for the babies."
Robert Lewis Dear, 57, made the comments during a court appearance nearly two weeks after the Nov. 27 rampage.
"I'm guilty — there is no trial," Dear said. Dear also said "protect the babies," during the court appearance.
Dear surrendered after an hours-long standoff. He was in court Wednesday to be formally charged in the killings.
A criminal complaint was filed Wednesday charging Dear with 179 felony counts, including eight counts of first-degree murder and 131 counts of attempted first-degree murder, 4th Judicial District Attorney Dan May said, although some of those counts are duplicates based on different theories in the case.
Law enforcement officials have told NBC News that after Dear was arrested, he talked about "no more baby parts" in reference to Planned Parenthood.
Killed in the attack were Jennifer Markovsky, 36, Army veteran Ke'Arre Marcell Stewart, 29, and police Officer Garrett Swasey.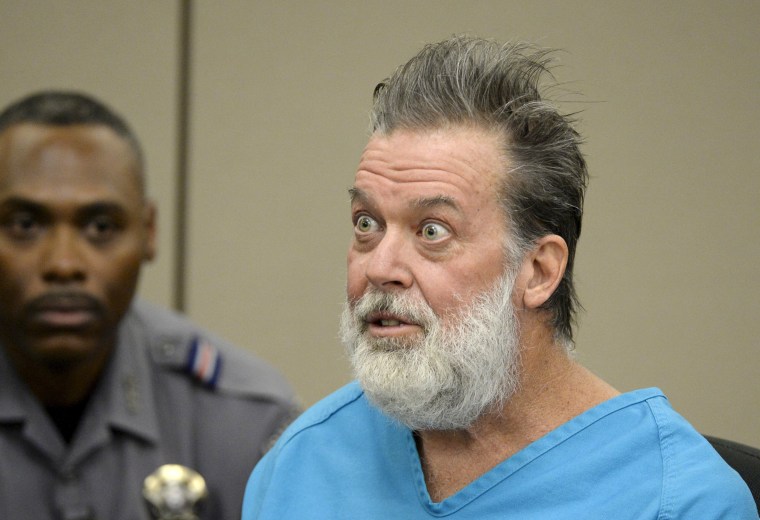 A motive in the shooting has not been released, but Vicki Cowart, president and CEO of Planned Parenthood of the Rocky Mountains, said it was motivated by an opposition to abortion and decried "hateful rhetoric" and "hatred and vitriol that fueled this tragedy."
In court Wednesday, Dear objected to efforts of public defenders to limit online postings of some court pleadings in the case.
Dear yelled, "You'll never know what I saw in that clinic. Atrocities. The babies. That's what they want to seal."
Related: Planned Parenthood Shooting Suspect Seemed Strange, Neighbors Say
Dear's attorney, public defender Daniel King, was one of the attorneys who represented Aurora movie theater shooter James Holmes.
"Do you know who this lawyer is? He's the lawyer for the Batman shooter that drugged him all up and that's what they want to do to me," Dear said.
King said he has "serious concerns" about Dear's competency. A hearing to discuss Dear's competency was scheduled for Dec. 23.
Dear could face the death penalty, but prosecutors have not decided whether to seek the death penalty, and that would not occur until after Dear is arraigned, May said.