Police in Tennessee believe a large chunk of concrete that crashed through a driver's windshield and killed him Tuesday was thrown off a bridge, and they're trying to find out who is responsible.
Joe C. Shelton Jr., 54, was driving to work on I-24 near downtown Nashville Tuesday morning when the concrete blew through his windshield, hit him in the face and killed him, according to the Metro Nashville Police Department.
The Nissan GT-R sports car Shelton had been driving then sideswiped a Toyota pickup truck and hit a guardrail before coming to a stop. No one else was injured.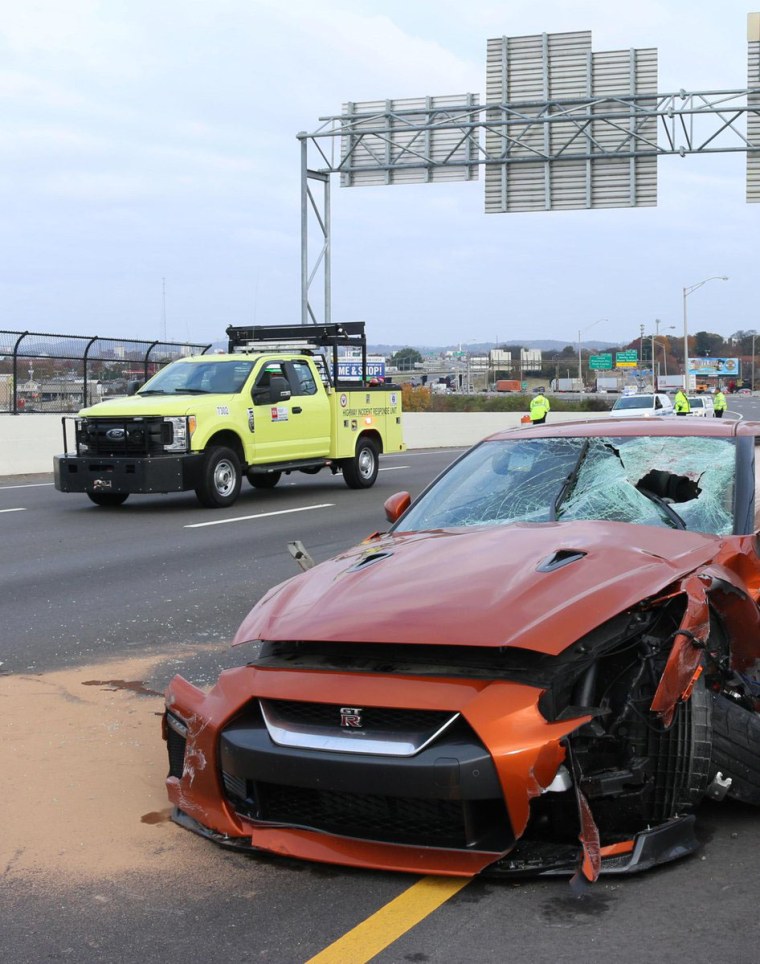 "At this point in the investigation, it appears likely that the chunk of concrete was thrown from the Shelby Avenue Bridge," police said in a statement.
The concrete doesn't appear to have been a part of the bridge that could have randomly fallen, but rather a piece of the "roadway curb," according to Tennessee Department of Transportation investigators.
Police have reviewed surveillance video of the bridge, but have not identified a suspect. In a tweet, they asked for information from anyone who may have witnessed anything suspicious on the bridge Tuesday morning.
Shelton was driving to his job at the Nissan plant in Smyrna when he was killed, according to NBC affiliate WSMV. A company spokeswoman told NBC News that he was an area manager who had been with the company for 28 years.
"We are saddened to learn of Joe's passing. Our deepest sympathies are with his family members, friends and colleagues at this difficult time," the company said in a statement.
In 2017, five boys were charged with second-degree murder after a man was killed in Michigan when a rock one of them allegedly threw off a bridge crashed through his windshield.
Four of the boys have agreed to accept a lesser charge of manslaughter. The teen who is accused of throwing the rock that led to the driver's death pleaded guilty to second-degree murder in October.